Flying mouse-traps clean up fields
d773807c-65c1-41d8-8062-32d54f92681a
Barn Owls and Common Kestrels are being encouraged by farmers in Israel, Jordan and the Palestinian Authority to control agricultural pests instead of using harmful chemicals. "The two species provide round-the-clock predation of mice, rats and voles and have been used throughout history as natural pest controllers", said Dr Yossi Leshem, Society for the Protection of Nature in Israel (SPNI; BirdLife in Israel). "A pair of Barn Owls alone can eat over 2,000 rodents in a year!"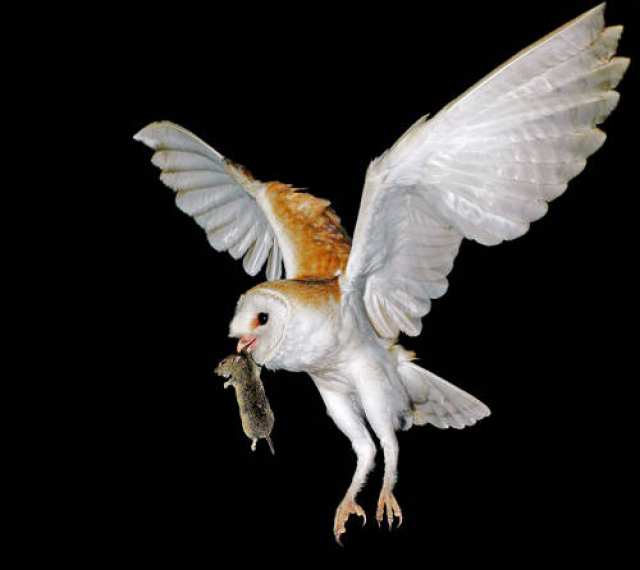 Barn Owls have been used as agricultural pest controllers around the world. (Photo: Amir Ezer)
"Israel is very important for birds of prey — raptors living here year-round are joined by migrants which soar through on thermals in the spring, and birds which stay the winter", noted Yossi. Sadly, in 1997 large numbers of raptors were accidentally poisoned in Israel's Bet-She'an and Hulas Valleys after eating prey which contained harmful levels of pesticides. We needed an alternative to using chemicals, and knew that Barn Owls and Common Kestrels — two of the most abundant raptors living in Israel — have been used as agricultural pest controllers around the world". However, modern development has reduced the number of suitable nest sites available in barns, attics and deserted buildings. "This was easily remedied by proving next boxes which were eagerly inhabited by the birds", said Dr Leshem.
The first boxes were erected for Barn Owls in the fields of an environmentally-friendly Kibbutz Sde Eliyahu (communal farm) in the Bet-She'an Valley. Boxes have now been peppered throughout the valley, and 70% are already occupied by owls. "We estimate that Barn Owls are removing at least 80,000 rodents from Bet-She'an's fields each year", said Shauli Aviel, farmer at Kibbutz Sde Eliyahu. "This has ensured a reduction in the damage pesticides cause to people, soil, water, wildlife and migrating birds".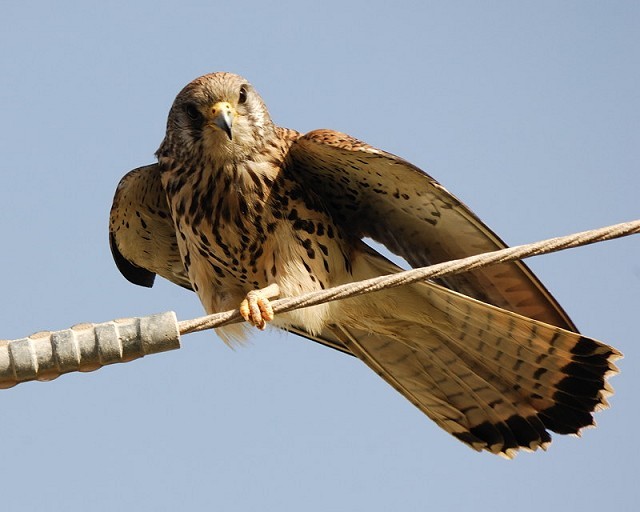 Common Kestrel, Bahrain (Photo: Adrian Drummond-Hill)
The successful project was soon expanded to also include Common Kestrels, with nesting boxes erected throughout Israel. "Kestrels hunt during the day and Barn Owls at night", said Motti Charter a researcher at Tel-Aviv University. "This constant 24-hour threat of predation has caused changes in the pest's behaviour and resulting in less crop damage".
During 2005–2008 the project was expanded beyond the borders of Israel, and 37 nesting boxes were erected in Jordanian fields to the east of the Jordan River. In the Muslim tradition, Barn Owls symbolize bad luck and many of the Jordanian farmers were hesitant to cooperate at first. "Once a few Jordanian farmers used Barn Owls instead of chemical pesticides with tremendous success, others were quick to follow suit and were proud of the Barn Owls attracted to their fields by the nesting boxes", said Dr Leshem.
Content continues after advertisements
In parallel, Imad Atrash, Director of the Palestine Wildlife Society (PWLS; BirdLife in Palestine), erected 10 nesting boxes for Barn Owls in the fields of Jericho in the Palestinian Authority. The success of using birds of prey to control rodents now continues to go from strength to strength. In Israel the General Directors of the Ministry of Agriculture and the Ministry of Environmental Protection decided to promote a three-year national project (2008–2010) using Barn Owls and Common Kestrels countrywide, together with the Baracha Foundation, the SPNI (BirdLife in Israel) and Tel-Aviv University. Furthermore, USAID-MERC (Middle East Regional Cooperation) recently provided funds for a research project to compare experimental results of using Barn Owls and Kestrels in Israel, Jordan and the Palestinian Authority.
"At present we have 1,480 nesting boxes located throughout Israel, with approximately 600 pairs of nesting Barn Owls", said Dan Alon, Director of the Israel Ornithological Center and SPNI. SPNI are now seeking to develop the project further and create a regional project with the Palestinians and Jordanians. "We hope in the future to extend the project even further afield to African countries, thus developing a cross-continental environmental concept that will drastically diminish the harm to local and migrating birds", concluded Dan Alon.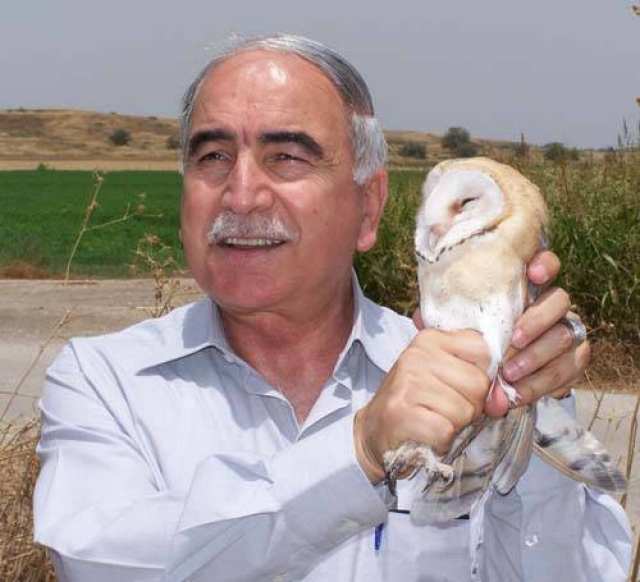 Jordan's General Abu Rashid Chairman of the Amman Center for Peace (Photo: Motti Charter)
Conserving many species, especially migratory birds, requires international action to work across physical and political borders. Soaring migratory birds, including large-bodied birds of prey, glide between areas of rising hot air to aid their long-distance flights. However, soaring cannot be used over large water bodies or high mountains and concentrates birds into narrow geographic corridors. Making soaring migratory highly vulnerable to localised threats — such as pesticide use — in countries like as Israel, Jordan and the Palestinian Authority.
In response, BirdLife has launched a new 'Migratory Soaring Birds' project to tackle wider threats to soaring birds in the Middle East and Africa. To find out more, please click here. To view a live Barn Owl Webcam from Israel's Kibbutz Tirat Tzvi in the Beit She'an Valley, please click here.