Fifty years since Torrey Canyon disaster
03a6584a-8a97-40bb-8210-51e3ea612ec2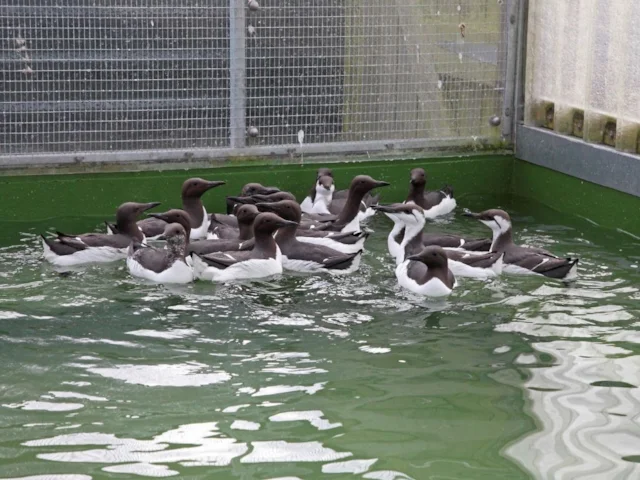 Environmentalists are looking back on an epic wildlife rescue mission to save oil slick birds, on the 50th anniversary of the UK's worst environmental disaster.

The RSPCA and other wildlife welfare organisations have been reflecting on how the rehabilitation of oiled birds has changed and their discovery that Fairy Liquid is the best detergent! It was the worst oil spill ever to hit British shores and almost 8,000 sick and dying seabirds were attempted to be saved by the efforts of the charity.

Fifty years ago on the 18 March 1967, the oil tanker Torrey Canyon ran aground on Seven Stones, off the Isles of Scilly. The events of the days following this resulted in the worst oil spill ever in UK waters, with oil arriving on the Cornish coast from Newquay to the Lizard, and slicks seen from Hartland Point in north Devon to Start Point in the south.

The size of the spill had a major impact on wildlife and the RSPCA launched a massive rescue operation in response to the disaster, in an effort to save the thousands of oiled and dying seabirds that were so badly affected by the slick.

Reflecting on that fateful day in 1967, RSPCA Head of Wildlife Adam Grogan said: "Initially birds were sent to the small wild bird hospital in Mousehole, with the first arriving on the 24 March – Good Friday. After they received 250 birds over the Easter weekend, plans were made to open up bird cleaning stations at other locations around Cornwall, such as St Ives, Hayle and Perranporth.

"By Easter Monday, the hospital at Mousehole had received [more than] 600 birds, with more coming at regular intervals. By 30 March, [more than] 1,000 birds had been rescued with more coming in. RSPCA staff at Mousehole worked flat out from 7am to 11pm, struggling with facilities that were not equipped to deal with such an avalanche of birds."

Over the next few weeks almost 8,000 birds were found – many still alive – and taken to various RSPCA centres established round the south-west coast. However, many were unable to be saved due to the sheer numbers of birds and the lack of facilities and knowledge available at the time.

Adam said: "Things have changed a great deal since then. Disasters like the Torrey Canyon and Sea Empress in 1996 in the UK, the Erika in France in 1999 and The Exxon Valdez in Alaska in 1989 have all forced oiled bird rehabilitation to become more professional.

"Scientific research has been conducted to determine the impacts of oil on wildlife, the best detergents to use to clean the animals and the tracking of wild animals after they have been cleaned, rehabilitated and released to investigate how they survive long term. We've played a major role in the improvements in treatment and care of oiled wildlife casualties, in developing collaborations with universities, such as Newcastle who determined that Fairy Liquid is indeed the best product to clean the oil off contaminated animals.

"Now we have four dedicated wildlife centres equipped with specialist facilities for cleaning oiled birds. Although we do not see the numbers of oiled birds we used to admit, we still receive birds that have been oiled in small spills, both inland and at sea. Our experience and knowledge of rehabilitating oiled birds is respected around the world and we have been involved in many international responses in the past, such as the MV Treasure in South Africa in 2000 and the Prestige off the coast of Spain in 2002.

"More recently we have been working with groups from eight different countries in Europe to develop better oiled wildlife response capabilities in Europe. We're also working with a number of other oiled wildlife rehabilitation organisations from as far away as New Zealand, Brazil and America on a collaborative global approach to oiled wildlife rehabilitation.

"Thankfully, major incidents like this are rare but by sharing our combined knowledge and experience we can provide a better response when wildlife is oiled, especially in areas of the world where there is no local capacity to help."