Energy company's delaying tactics over Flow Country wind farm
ce23695d-67d1-41b3-b1db-84dfe1b82628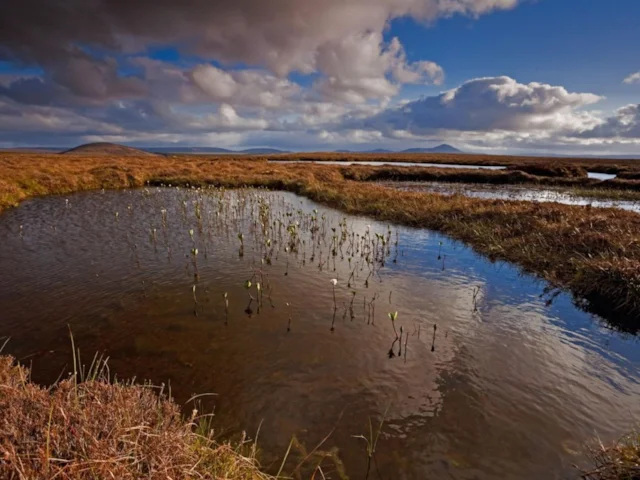 RSPB Scotland has expressed its frustration at Scottish and Southern Energy's delaying tactics at the Flow Country wind farm inquiry.
A public inquiry, which was due to start on Monday (20 April), into Scottish and Southern Energy's
controversial wind farm proposals at Strathy South in the Flow Country
of Sutherland, has had to be delayed following a last-minute procedural error by the energy giants.
The company changed their plans for managing the sensitive peatland habitats, and triggered the need to advertise the plans and start a new consultation with other interested parties. Unfortunately, SSE changed their plans so late that there was insufficient time to allow the new plans to be fully scrutinised before the inquiry started, forcing the delay.
The inquiry is administered by an independent 'Reporter', appointed by Scottish Ministers. In an almost unprecedented move, with the inquiry due to start at 10 am on Monday morning, the Reporter was forced to delay proceedings at 5 pm on the previous Friday evening. The wind farm's impacts on birds will not now be considered until June and the inquiry is instead scheduled to start on Thursday 23 April with only the impacts on peatland habitats to be considered.
RSPB Scotland is calling for the peatland session to be delayed until June as well, to ensure there is sufficient time to consider SSE's new peatland management plans.
Aedán Smith, RSPB Scotland Head of Planning and Development, said: "The whole approach to this site by Scottish and Southern Energy has been extremely disappointing. RSPB Scotland first made it clear to SSE over 10 years ago that this was a completely unsuitable site for a wind farm. It is one of the best places for wildlife, not just in Scotland but anywhere in Europe. We continue to urge SSE to concentrate instead on delivering much needed wind power from less damaging sites.
"Unfortunately, SSE have not heeded concerns from others about the damage their development would cause and it seems they have carried this approach into the inquiry. While all other parties have done their best to stick to deadlines, SSE have been late for almost every one. This has put the Reporter in a very difficult position and forced this delay, inconveniencing all involved.
"Given the circumstances, we fully support the Reporter's decision to delay consideration of bird impacts until June, but this is one of Europe's best peatland habitats. The implications of SSE's new peatland habitat management proposals need to be scrutinised in detail, and there's now simply insufficient time to do this before Thursday. We are very worried that this shortage of time will mean RSPB Scotland cannot present full information to the inquiry, prejudicing our case. Frustratingly, this is only of further advantage to SSE, who caused these problems in the first place."
¬¬¬
Content continues after advertisements