Egyptian Vulture arrives on Scilly
ad1a7fe1-3d63-4364-bfc4-7857b18bc6c3
An Egyptian Vulture has appeared on Scilly today [14 June 2021], perhaps marking the first wild occurrence of the species in Britain since 1868.
The bird was photographed by Jennie Trevithick this morning flying over Peninnis Head on St Mary's before being relocated by Will Wagstaff on Tresco, where it was perched in a pine during the middle of the day.
There are two accepted British records of Egyptian Vulture, both shot: an immature at Bridgwater Bay, Somerset and Bristol, in October 1825 and an immature at Peldon, Essex, on 28 September 1868. The latter bird was killed by a farm worker who'd spotted a 'strange bird' feeding on a pile of recently shot geese.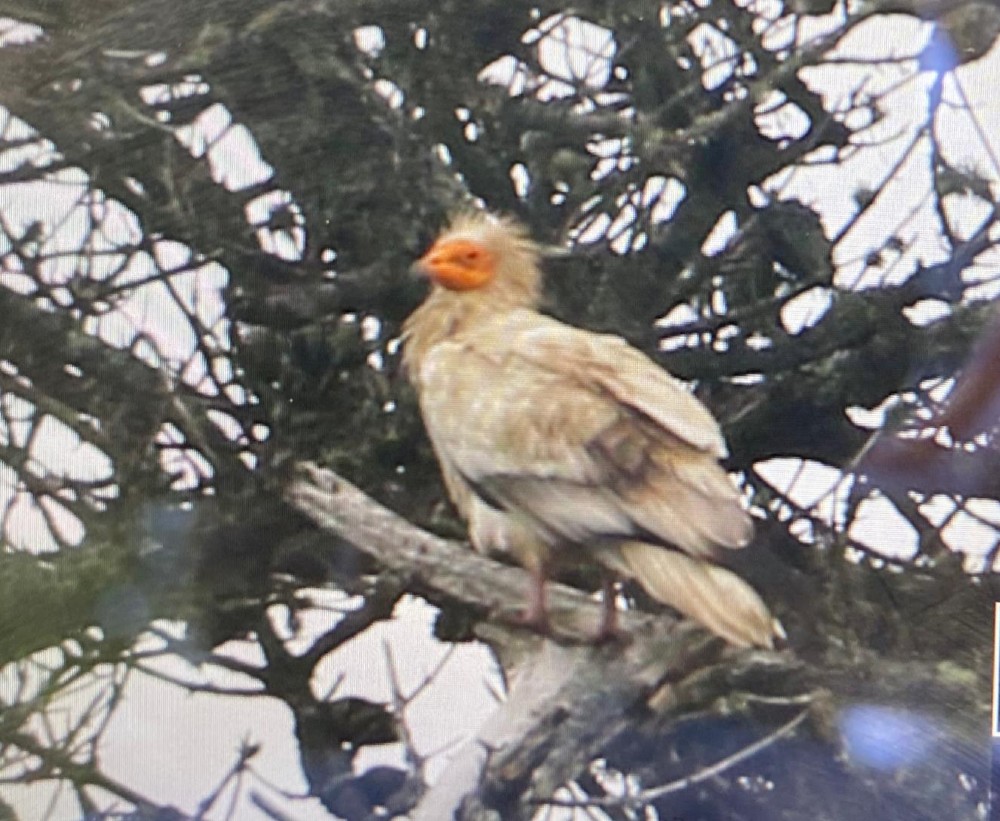 The Egyptian Vulture perched in a tree on Tresco this afternoon (Scott Reid).
Both these autumn records presumably involved post-breeding wanderers, probably from eastern European populations. Given the large retraction in range and decline in that part of its distribution since the mid-1800s, it seems unlikely that a repeat scenario could occur in the modern day. However, all of the western European and southern Scandinavian vagrants to have occurred since 2000 have involved overshooting adults in spring and early summer – the most recent of which were in Belgium on 7 May 2020 and Denmark on 4 June 2017 – perhaps from Iberian or south-eastern French populations.
There was also a Belgian record on 22 April 2011 and Dutch birds on 25 April 2009 and 24-25 May 2001. These records place an element of intrigue over an adult at Scoulton, Norfolk, on 28 April 2007, though Egyptian Vulture is fairly commonly kept in captivity and the handful of other British records, since the last accepted bird in 1868, are on Category E, although an adult over Donna Nook, Lincolnshire, on 12 June 1970 stands out and was deemed non-proven due to a lack of documentation.
More recently, there was a report of an adult Egyptian Vulture seen flying high over Willingham by Stow, Lincolnshire, on 13 May 2021, although nothing more about that sighting has yet been published.