Egrets, we've had a few: changes to the BirdGuides news service in 2021
45398af3-819e-44c1-bdda-b9ee5e2cd6e5
With the new year comes a key change to BirdGuides bird news reporting. From 1 January 2021, Great Egret will no longer be used as a main species in England and Wales, with the exception of the northern English counties of Yorkshire, Durham, Northumberland, and Cumbria. There will be no change to the species in both Scotland and Ireland, where the species remains scarce.
More than 8,300 reports of Great Egrets made our news page during 2020, at least 2,300 of which were 'first reports' from new locations. It is now the most common main species reported across our news services, averaging some 10% of all daily reports.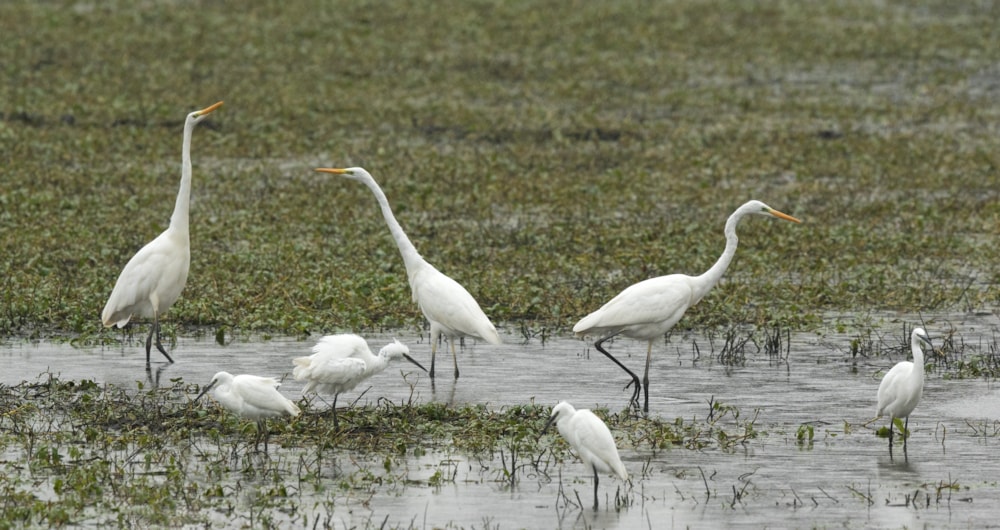 Great Egrets have become a regular feature of many British and Irish wetlands (Paul Coombes).
The rate of reporting this year has shown a notable increase over the previous two years: it compares to 6,676 reports in 2019, with 1,706 first reports, and 6,387 reports in 2018, with 1,604 first reports. A look back over the 10 years prior to 2020 shows a similar story, with gradual increases year on year from 1,085 reports back in 2010. In much the same vein, reports of Great Egrets exploded in the latter half of 2020, with 2,424 reports between January and the end of June compared to no fewer than 5,860 reports since the beginning of July. This reflected a notable 'feel' that the species has become much more numerous in many areas this winter.
| | |
| --- | --- |
| 2017 | 4,683 reports |
| 2016 | 3,895 reports |
| 2015 | 3,107 reports |
| 2014 | 2,703 reports |
| 2013 | 1,957 reports |
| 2012 | 1,576 reports |
| 2011 | 1,300 reports |
| 2010 | 1,085 reports |
Total records of Great Egret between 2010 and 2017.
This increase mirrors the remarkable range expansion of the species across the continent. In the last 35 years, the European breeding population has increased from an estimated 150-200 pairs in the early 1970s to between 11,000 and 24,000 pairs by 2000.
It is the sheer volume of reports, as well as a high volume of repeat reports from sites where the species has become a semi-permanent resident, that have led us to this decision, with the expectation that the species will continue to become even more commonplace over the coming months and years.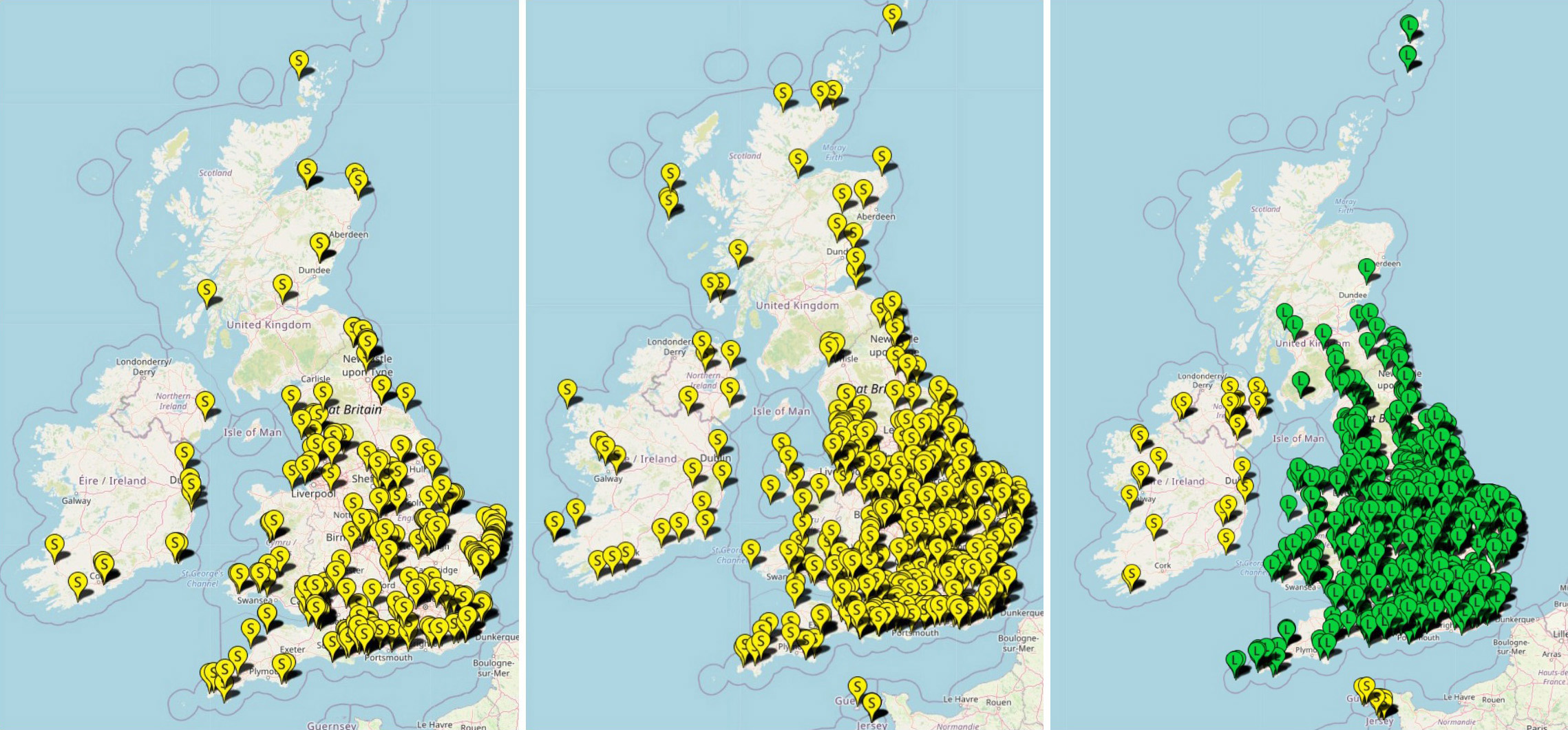 First reports of Great Egrets from 2010 and 2015 compared with the period of October-December 2020 (BirdGuides).
Although also seeing a marked increase in records over recent years, Western Cattle Egret remains a scarcer bird than its close relative. Reported more than 4,000 times in 2020, the species was reported from over 870 new locations – as recently as 2016 there were as few as 1,339 reports throughout the entire year.
Many of these flocks seem to be now-permanent fixtures, and there have been a number of two- and three-figure flocks recorded across southern and central England over the past couple of years. This has been complemented by a multitude of breeding records, including the first occurrences in West Sussex and Norfolk in summer 2020. Despite the healthy fortunes of the species down south, it remains a rather rare find in many Scottish and Irish areas – North-East Scotland, for example, only scored its first as recently as September.
The species will be downgraded to a local rarity for the entirety of England and Wales, although in Scotland and Ireland – where the species remains a rare visitor – it will retain its scarcity status. This means that it will no longer appear in filtered news lists for scarce and rarer species in England and Wales, meaning subscribers may wish to amend their filters to continue receiving reports of Western Cattle Egrets.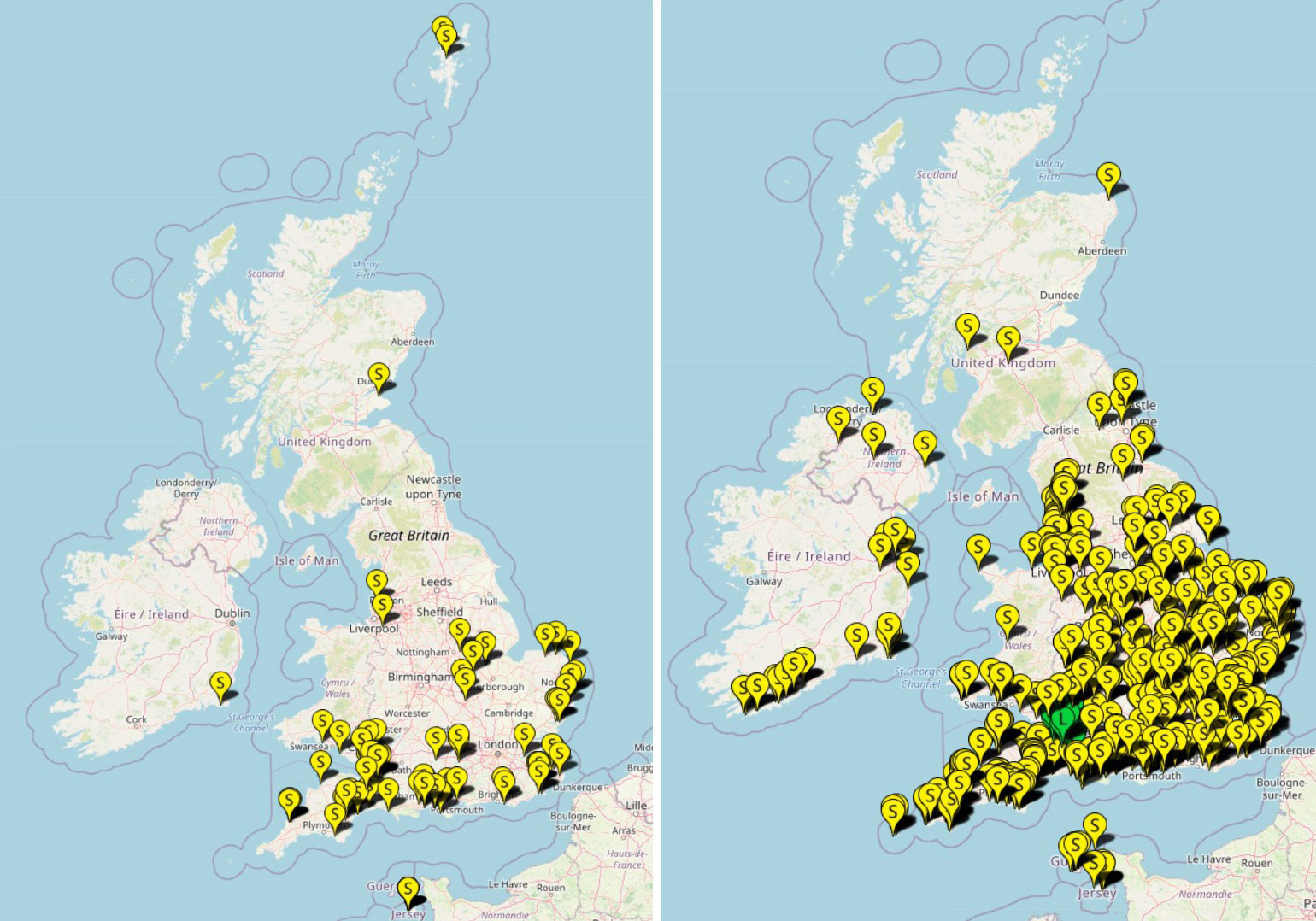 First reports of Western Cattle Egrets from 2015 compared to those recorded throughout 2020 (BirdGuides).