Egg collector 'exported' crimes from UK to Bulgaria
e724ba7b-ad78-4399-a234-5c60a8dd00ae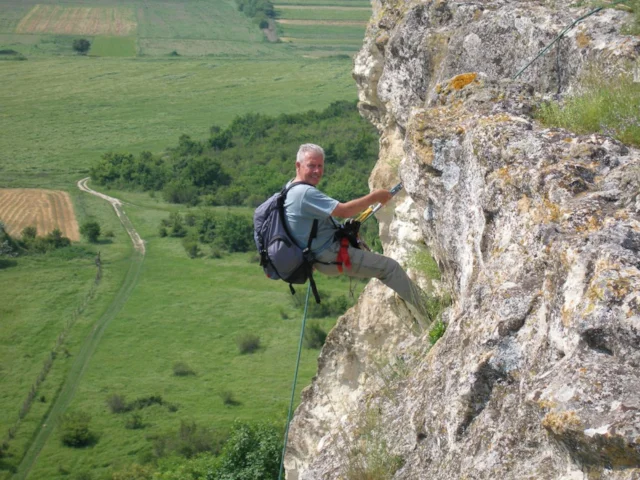 An English egg collector was given a six-month prison sentence in Bulgaria after pleading guilty to the illegal possession of 16 birds' eggs and three taxidermy specimens.
The court in Burgas, Bulgaria, dealt out the sentence after a lengthy investigation by the Burgas Police, assisted by The Bulgarian Society for the Protection of Birds (BSPB) and the RSPB.
Jan Frederick Ross, formerly from Bury, Greater Manchester, was handed a six-month prison sentence, suspended for three years, and a 5,000 Lev (£2,024) fine after pleading guilty to the crimes. He is believed to have moved to Bulgaria around 2004 following three convictions for egg collecting in the UK. After reports that Ross was continuing his illegal collecting overseas, a Bulgarian police investigation proceeded following approaches from the BSPB and RSPB.
A BSBP staff member at an Egyptian Vulture nest site believed to have
been raided by Ross in 2010. Photo: Guy Shorrock (www.rspb-images.com).
In December 2011, Ross's seafront apartment in Burgas was raided by the police supported by representatives from both conservation charities. Sixteen birds' eggs were found, all taken during 2011, including the egg of a Griffon Vulture, a rare breeding bird in Bulgaria with just 60 pairs in the country. Furthermore a selection of climbing equipment was found during the raid, used to access cliff and tree nest sites.
The investigation also uncovered detailed diaries and photographs hidden behind artwork on the lounge wall, which suggested that Ross' egg collecting in Bulgaria stretched much further than the 16 eggs found at his apartment. His diaries revealed over a thousand potentially illegally collected bird's eggs, including a number of very rare breeding species. Mentioned were a clutch of eggs from the Globally Endangered Egyptian vulture (which numbers 24 pairs in Bulgaria) and three clutches of Eastern Imperial Eagle (which also numbers just 24 pairs in Bulgaria). However, no charges could be brought against Ross for taking of these eggs, and the location of them remains unknown.
The 16 eggs seized from ross's home during the raid by
Bulgarian police; it is believed from his diaries that considerably
more illegally taken eggs are being kept in hiding.
Photo: Guy Shorrock (www.rspb-images.com).
Dimitar Gradinarov, a Bird Crime Officer for BSPB, said: "We are very grateful for the fantastic response from the police in Burgas and the specialist help from the RSPB, who have years of experience dealing with such crimes. We have been working incredibly hard to protect Eastern Imperial Eagle, Egyptian and Griffon Vultures and others birds in Bulgaria.
"It was shocking to see just how much damage one man can do to rare breeding birds in our country. We hope that this case will emphasise the importance of tackling wildlife crimes in Bulgaria and to remind the authorities of the need to have the necessary resources for this work".
Guy Shorrock, a Senior Investigations Officer for the RSPB, added: "Ross has exported egg collecting to Bulgaria. He plundered the eggs of rare birds from the Bulgarian countryside as he could operate below the radar of the authorities had no knowledge of this strange crime. This has been a lengthy and difficult investigation, and we are grateful for the tremendous help from the police in Burgas and our partners at BSPB. Without their determined efforts, Ross would never have been brought to justice. We believe Ross still holds a substantial egg collection somewhere in Bulgaria, including many eggs previously taken in the UK."