EBBA2 - help required to fill data gaps
ab592103-3332-4faf-a60a-7ba4b16f1bf7
The European Bird Census Council is appealing to birders across the region to help fill in the gaps for the forthcoming European Breeding Bird Atlas (EBBA2).
The Atlas, which is the culmination of five summers of fieldwork across Europe (including European Russia, the Caucasus and Turkey) from 2013–2017, aims to map over 500 breeding species in over 5,000 50×50 km squares. The results will be published in a book by 2020 at the latest.
However, as the fieldwork stage of the project nears its conclusion, many squares are either partly or completely lacking data. This coming summer represents the final opportunity for data to be collected, and many of the lacking squares would benefit from contributions by foreign birdwatchers on holiday.
A new fieldwork challenge — 'Filling EBBA2 Gaps' — has been created and, as an initiative for birders from across the globe to get involved, contributors have the opportunity to win prizes that include three pairs of Meopta binoculars (as well as various other rewards from participating countries) in a lottery-style prize draw.
More information on how to take part in the challenge, and the survey methods required, can be found at www.ebba2.info/contribute-with-your-data/filling-ebba2-gaps-join-our-new-challenge
Content continues after advertisements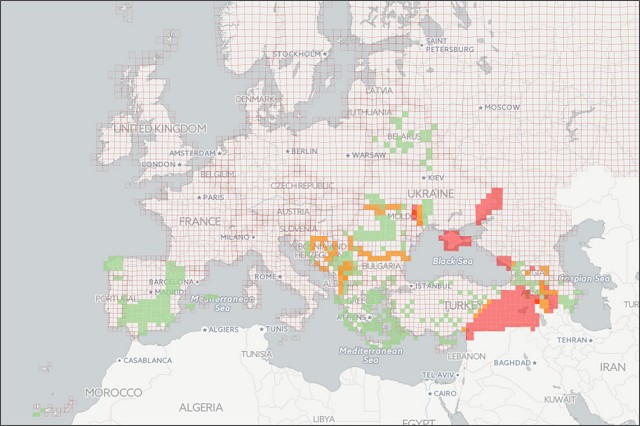 Map showing high-priority areas, where fieldwork is desperately needed, in colour. Those high-priority areas coloured green pose no security issues, those in amber require advice from the respective national coordinator due to security issues in certain parts of square, and those in red are currently considered off-limits due to serious security threats. Data is still welcome from all other squares.
(Source: mapviewer.ebba2.info/gaps)
Helping out in Turkey
As part of the EBBA2 project, Turkey is carrying out its first country-wide breeding bird atlas — and it needs your help.
Turkey is one of the most fascinating countries in the Western Palearctic for birdwatchers, and the country is trying to complete its breeding bird atlas between 2015 and 2018. Random records are as important as systematic atlas surveys so if you have visited Turkey between March and July, you can contribute your data to the atlas. Even better, if you are planning a birding holiday to Turkey this spring, you can spend two days to count one square! Please contact the Turkish Atlas Team via email if you are interested.