Eagle successfully raises chicks from two nests
52da2553-48a5-4920-829c-26d2ba7222b3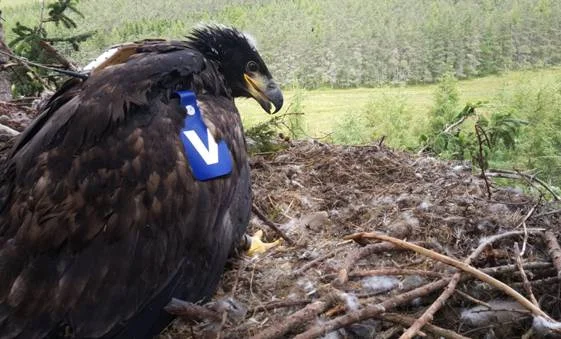 An eight-year-old male White-tailed Eagle known as Turquoise Z has been travelling between Angus and Fife visiting two nests, more than 28 miles apart, and raising chicks with two different females, RSPB Scotland has announced.

This unusual behaviour, known as polygamy, is rarely recorded in sea eagles. It has been seen on the west coast of Scotland on a handful of occasions, but these nests were just a few miles apart and the demands of providing enough food for both nests always resulted in failure.

Despite the vast distance between these two nests, however, there has been a successful outcome. In Fife, Turquoise Z raised a female chick tagged Blue X with his usual partner; he raised a second female tagged Blue V at the nest in Angus with a new partner.

Turquoise Z was released in 2009 as part of the east Scotland reintroduction. It has been breeding in a Forest Enterprise Scotland Woodland in Fife since 2013 with a female released in the same year, known as Turquoise 1.

In April, RSPB Scotland staff were surprised to spot Turquoise Z at a nest site in Angus, sharing the incubation of eggs with another female, a six-year-old eagle known as Red Z. They originally thought that the male had abandoned its mate in Fife for a new younger female in the Angus glens. However, Turquoise Z continued to visit the Fife nest and staff and volunteers watched in astonishment as it incubated eggs and provided food at both nests.

Over the breeding season, the male was seen leaving the Fife nest and arriving at the Angus nest a full 90 minutes later – a long journey for this remarkable bird, who still had to take shifts incubating, provide food for both females and feed himself.

Male White-tailed Eagle Turquoise Z travelled 28 miles between its two nests and successfully raised two chicks at each. Screen shot from a video by Owen Selly.
Andrew Stevenson, Scottish Natural Heritage (SNH) Ornithologist, commented: "Such polygamous pairing or indeed trios of birds attending a nest has occasionally been recorded as the reintroduced population has established, but what's amazing here is the distance between the two nests and the fact that both have been successful. It's really important for the birds breeding in the east of Scotland to be successful in their early years to help establish the population."

Both chicks have now taken their first flights and will soon be hunting for themselves. They have been fitted with wing-tags and satellite transmitters so that their movements can be followed over the coming months as they leave their parents' territories and start to explore Scotland.

Owen Selly, RSPB Scotland Sea Eagle Project Officer, thanked the "dedicated team of local volunteers from RSPB Scotland and the Tayside Raptor Study Group, who have been our eyes and ears on the ground, helping monitor the movements of Turquoise Z and the activity at each of the nests."
Content continues after advertisements