Drone crash causes tern colony to abandon 3,000 eggs
27d66fa3-4003-4790-b63e-32a34c8e8510
Thousands of Elegant Tern eggs were left abandoned at Bolsa Chica Ecological Reserve near Los Angeles, California, in May after a drone crashed into the breeding colony.
The terns, which nest in dense colonies with nests just 20-30 cm apart, were disturbed by the drone, fearing they were under attack by a predator on 13 May, ultimately leading to thousands of adult terns deserting an estimated 3,000 eggs [UPDATE 7/6: a revised estimate from the Bolsa Chica team suggests 1,500-2,000 eggs]. Instead of being a noisy tern colony with hatching chicks, the beach is currently empty occupied only by thousands of egg shells.
"In my career, I have never seen such devastation, so that was really hard," said Melissa Loebl of the California Department of Fish and Wildlife.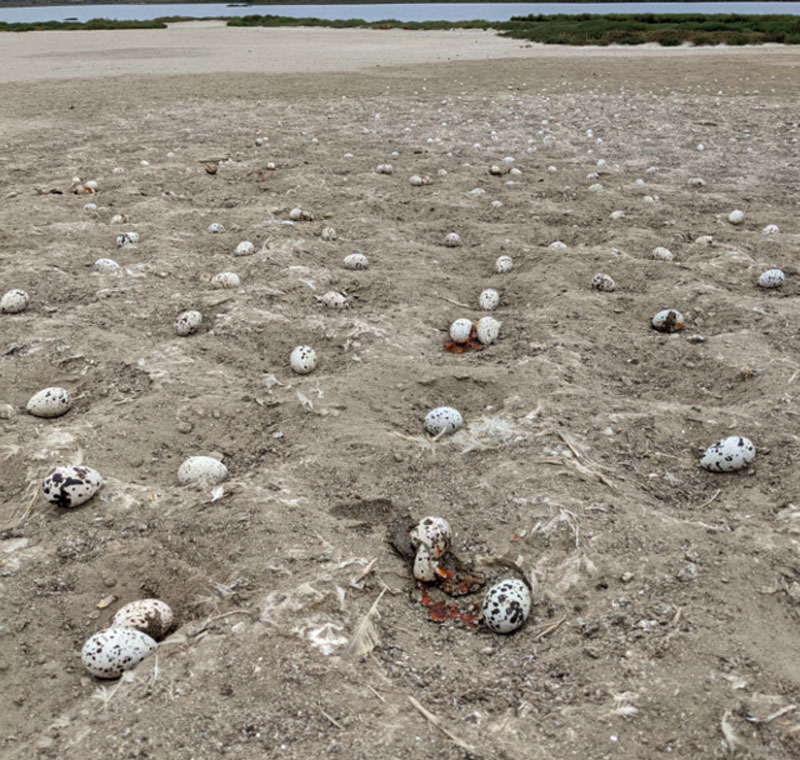 Thousands of Elegant Tern eggs were abandoned after two separate drone crashes disturbed the adults (Bolsa Chica Ecological Reserve).
Another drone that crashed in the reserve on 13 May landed in a Least Tern colony. Fortunately these diminutive birds proved more resilient than their larger cousins – while the drone temporarily flushed the birds from the colony, they quickly returned to their nests.
Despite being prohibited, drone use in the reserve's airspace is on the increase – along with other forms of disturbance associated with a rising volume of visitors, such as off-lead dogs and bicycles straying from paths.
The COVID-19 pandemic has encouraged more and more people to use outdoor spaces, with Bolsa Chica no exception – last year saw about 100,000 visitors, up from about 60,000 in 2019, according to Loebl.
The 500-ha Bolsa Chica reserve is the largest remaining saltwater marsh on the Pacific coast between northern California and Mexico, and is an internationally important area for a wide range of birds and other wildlife, including its nesting Elegant Terns.