Divers saved by wind farm withdrawal
fd3ec667-86a4-484f-867d-14a1f91e415e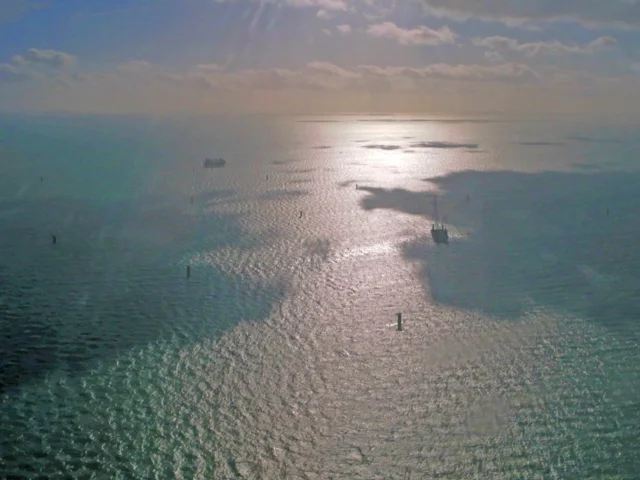 A proposed expansion of the London Array offshore wind farm has been withdrawn to protect the internationally important numbers of
Red-throated Divers
that use the seas in the region.
Phase 1 of the array consisted of an offshore area of 60 square miles with 175 wind turbines, two offshore and one onshore substations, nearly 280 miles of offshore cabling. It should provide 630 MW of electricity, which is enough to power around half a million homes per year – the equivalent of two thirds of the homes in Kent, with CO2 savings of 925,000 tonnes every year.
London
Array, the consortium behind the wind farm scheme, submitted a proposal to The Department of Energy and Climate Change (DECC) in October 2012 to give the go-ahead to Phase 2 of the project, but in April 2013 the consortium asked the DECC to wait while bird monitoring data was acquired and assessed.
London Array's General Manager, Mike O'Hare, said: "Phase 2 has always been subject to a condition requiring London Array to demonstrate that any change caused by the additional turbines to the habitat of the Red-throated Divers that overwinter in this part of the Thames Estuary would not compromise its status as a designated environmental Special Protection Area.
"There is no guarantee that we will be able to satisfy the authorities that any impact on the birds would be acceptable. In the absence of any certainty, our shareholders have decided to surrender The Crown Estate agreement for lease on the site, terminate the grid connection option and concentrate on other development projects in their individual portfolios. Our existing operations at Ramsgate and staffing levels are unaffected."
Harry Huyton, RSPB Head of Energy Policy, responded to the decision by saying: "Climate change is the biggest long term threat to wildlife and we need an urgent transition from fossil fuels to low carbon renewable energy. Wind power technology as a vital part of our renewable energy mix in the UK. We believe that renewable energy, like every other industry, must be developed in harmony with the natural environment. Critical to this is avoiding damaging developments in sites that are particularly special for nature. The area around the Thames Estuary is internationally important for wildlife and supports 38 per cent of the UK wintering population of Red-throated Diver, so it is vital that any development in this area is planned sensitively.
"We support the first phase of the London Array which opened last year, having worked closely with the developers to ensure the development would not harm wildlife in the protected area nearby. However we have raised concerns over the second phase of the London Array because of the displacement impact on the diver. This scheme is one of six which have come forward within this internationally important site and we are pleased that it is possible to build five of those schemes.
"We need to increase the number of renewable energy projects going ahead in order to meet our climate obligations, but we must ensure these are built in the right places. We are calling on the industry and government to do more to ensure this happens, starting with greater investment in understanding which parts of the sea are most ecologically appropriate for offshore wind, and how birds and other wildlife are affected by these schemes."
Content continues after advertisements