Cypriot police ignore mass bird slaughter
d91513f2-caeb-43c3-b653-e2c55bf655e0
A mass killing of birds has gone ignored by Cypriot police, according to reports, with hundreds of European Bee-eaters among the casualties.
The massacre of protected birds has been undertaken by hunters in Meneou. After an initial recovery of two dead Swallows and 72 bee-eaters, further searches revealed dead European Roller, Common Kestrel and Black-crowned Night Heron, plus 100 more bee-eaters and a handful more Swallows.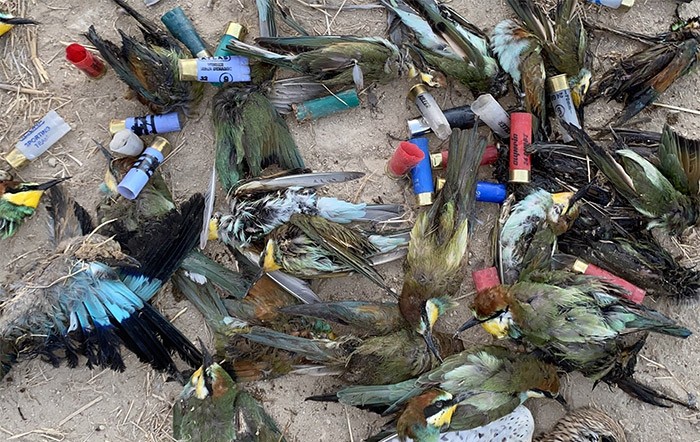 Some of the birds killed in Cyprus, including European Roller, European Bee-eater and Common Kestrel (CABS).
"Up to 50 hunters gather in the area every day, mostly over the weekend," said Bostjan Debersek, an investigatons officer for the Committee Against Bird Slaughter (CABS). "They don't deny at all the fact that they are killing bee-eaters and other protected species. They seem to feel they are entitled to break the law. Although we collected video and material evidence of the crimes, the police station in Kiti refused to investigate further or maintain a police presence in the area."
CABS notes that it is not the first time the Kiti police has failed to fulfil their statutory duties in a hunting related matter. In autumn 2019, dozens of hunters were observed using illegal electronic lures to hunt Eurasian Skylarks and, when they came to realise that they were being monitored by CABS volunteers, the hunters started threatening the activists with a tirade of death threats. A police patrol was called to the site, but instead of collecting the evidence of the illegal hunting and the threats, they shouted at the activists, demanding they erase all the audio material.
"It's clear that this attitude is not respectful of both Cypriot and European law and reflects a common sense by some authorities that hunting shouldn't be disturbed, whether legal or not," added Alex Heyd, CABS CEO. "If hunters so blatantly break the law, it is pretty obvious that none has ever implemented the law here. This is the ultimate failure of the allegedly successful amendments of the hunting law made in July 2017."