Cornish Cirl Buntings enjoy best year yet
9bbfabe3-6e5b-4d16-8216-4b141852ba51
Cornwall's reintroduced population of Cirl Bunting has seen its best ever breeding productivity, with 39 pairs producing over 100 fledglings at Roseland. With the population showing every sign of becoming established, this unique project to reintroduce a passerine in Europe has so far been a great success.
RSPB Cirl Bunting Project Manager, Cath Jeffs, welcomed the news: "These are encouraging signs that the population is on its way to becoming self-sustaining, and as the first passerine reintroduction to take place in Europe the project can be considered a huge success."
Since the first hand-reared birds were released in 2006, the Cirl Bunting population and range have been steadily increasing in Cornwall, with new breeding territories discovered each year. By attaching coloured leg-rings to all the released birds, it has been possible to monitor their movements to discover their habitat preferences and breeding success. The last birds were released in 2011, and in 2012 the population was 44 pairs. Following a wet summer that year and a reduction in numbers to 28 pairs in 2013, the population has subsequently increased again.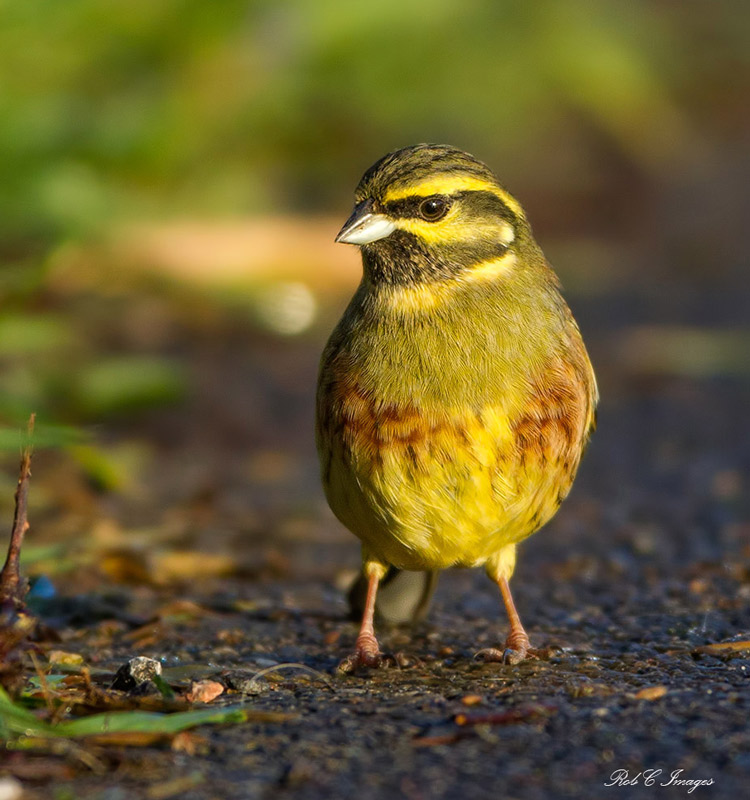 Cirl Bunting, undisclosed site, Devon (Photo: Rob Cross)
Ms Jeffs said: "The success of this reintroduction represents a fantastic example of collaborative working. A partnership project, the RSPB works with local farmers along with the National Trust to increase the amount of suitable habitat for the birds, and a farmland advisor works with landowners to secure further habitat for the wider, natural spread of birds through Natural England's agri-environment schemes."
The Cirl Bunting chicks were hand-reared by staff from Paignton Zoo, Devon, and their health closely monitored by the Zoological Society of London (ZSL). The project has been jointly funded by the RSPB and Natural England, as well as receiving £173,670 from the SITA Trust (set up by a major recycling company) and £5,000 from the BBC Wildlife Fund.
This year a long period of fine summer weather provided the best possible conditions for breeding success for the species. Just 21 per cent of pairs failed to produce fledged young compared to an average of 29 per cent for all previous years of the project, and far more pairs than usual successfully fledged more than one brood. One pair even managed to fledge three broods, only the second time this has been recorded on the project.
Next year, it is predicted that the population will pass the milestone of 50 pairs, and by 2016, it is unlikely that there will be any remaining colour-ringed birds, meaning the population will be 100 per cent Cornish. The key to the future of the project is ensuring that the right habitat is provided through the delivery of agri-environment schemes. If the habitat is there, the birds will continue to flourish.
Ian Carter, Ornithologist at Natural England, said: "Reintroductions have already helped restore species as diverse as Red Kite, Osprey, Large Blue butterfly and Pool Frog to England. Cirl Bunting also needed a helping hand in order to re-colonise suitable habitats in Cornwall, and we are thrilled that such a complex project, involving a bird that is very tricky to work with, has proved to be so successful."