Conservation works for Sage-grouse
149030e4-0ef6-469c-b760-5472a2aa972c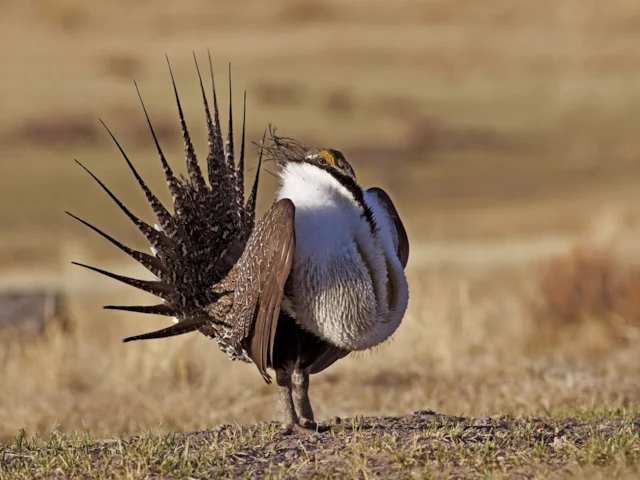 The U S Fish and Wildlife Service has announced that Sage-grouse is no longer considered in danger of extinction after conservation measures have ensured its future.
America's largest grouse declined over the last century from 16 million birds to perhaps as low as 200,000, due largely to habitat loss.
In neighbouring Canada there are believed to be somewhat less than 120 individuals left
. However, this trend has now been reversed according to the National Wildlife Refuge Association (NWRA) and the species is no longer a candidate for listing under the Endangered Species Act.
The NWRA has commended the U S Fish and Wildlife Service (USFWS) on completing its science-based evaluation of Sage-grouse. Yesterday (Tuesday 22 September) it was announced that listing the species is now "not warranted", due to the innovative conservation partnerships developed among federal and state agencies, private landowners and local partners over the past five years. This has set the stage for further restoration and management of the American west's great sagebrush landscapes to benefit its unique wildlife for many years to come.
David Houghton, president of the NWRA, said: "I commend the USFWS for using sound science to make a decision that supports years of collaborative conservation efforts. It's inspiring to see how much progress has been made by private landowners, local and state governments, non-profit organisations and others to conserve Sage-grouse habitat. A new model of conservation is emerging in America, where people work together to protect our landscapes, wildlife habitat and heritage to ensure they are all viable long into the future."
Over the past three years, commitments by the Natural Resources Conservation Service (NRCS), the USFWS's Partners for Fish and Wildlife Program, the National Wildlife Refuge System, the Bureau of Land Management, state wildlife agencies, private landowners and non-government groups across the west have resulted in an unprecedented investment in sagebrush habitat conservation, restoration and management. This has included more than $425 million invested by the Sage-Grouse Initiative, the participation and matching funds of private landowners, and extensive planning and outreach work by the Bureau of Land Management, state agencies and local working groups.
While Sage-grouse occupies a range as vast as 165 million acres over 11 western states, the birds are found in much greater densities in some areas than others. The NWRA is continuing to work in those landscapes where national wildlife refuges play an integral role in land and water management and can offer support to collaborative landscape conservation efforts, including refuges in South-eastern Oregon, Northern Nevada, South-western Wyoming and eastern Montana.
These places are not only hot-spots for Sage-grouse at certain stages of their life-cycle, but also support over 350 species that rely on unfragmented sagebrush habitat, including Mule Deer, Pronghorn, Pygmy Rabbit, Sagebrush Sparrow and Sage Thrasher. As recent work demonstrates, they are also places where striking a balance between working lands and wildlife is not only possible, but preferable.