Concern over further delays to new Environment Bill
67a38e08-993a-41bb-8589-63ef368e4049
Following the long-awaited publication of the new Environment Bill on 15 October, The Wildlife Trusts has commented that it is concerned that the Bill must not be delayed further if we are to tackle the serious environmental challenges we face, with cross-party support needed to trigger nature's recovery.
The recent State of Nature 2019 report revealed that one in seven species in the UK are at risk of extinction and 58% of species are in decline. The Wildlife Trusts has long called for ambitious new laws to allow nature to recover and so is delighted to see that the new Environment Bill will include legally binding targets for biodiversity.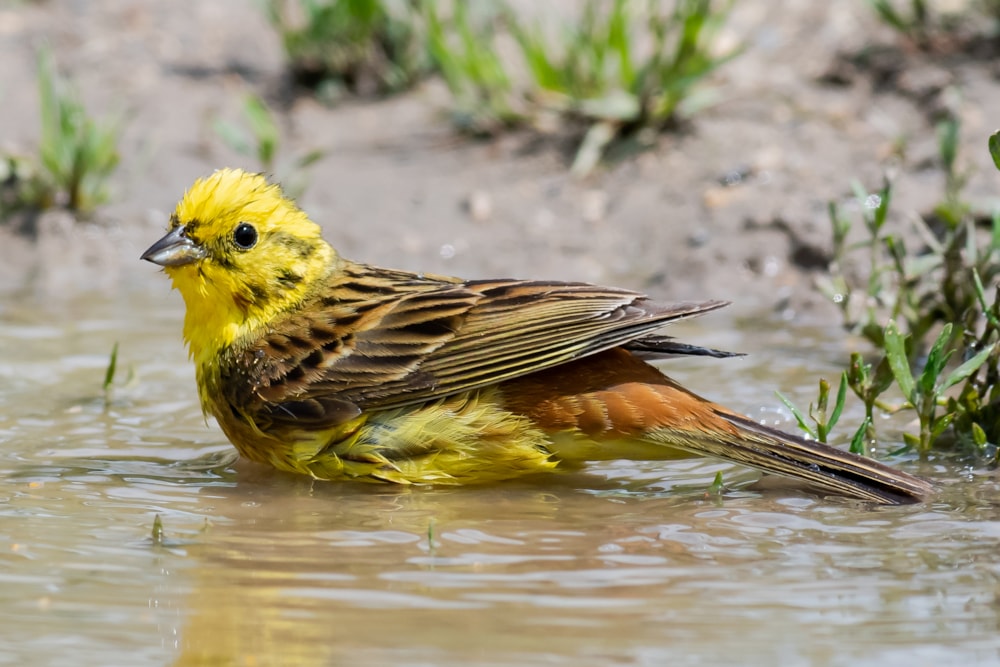 Yellowhammer is one of many birds in decline in Britain. The species, Green-listed in 1996, has been Red-listed since 2002 (Geoff Snowball).
Dr Sue Young, head of land use planning and ecological networks for The Wildlife Trusts, said: "We're really pleased to see a commitment to creating local nature recovery strategies for the whole of England to support a Nature Recovery Network. It's very positive to hear that these will identify opportunity areas which show where action needs to be taken so that nature can recover.
"However, we are disappointed that major national infrastructure projects will not be subject to net gain – this means that the new legal requirement to make developers actively improve nature will not apply to the most damaging schemes. While we welcome the clauses strengthening the Natural Environment and Rural Communities Act – saying all public bodies must have regard to conservation and enhancement of biodiversity – we believe that this should also apply to national government when they decide on the planning of national infrastructure projects such as HS2.
Content continues after advertisements
"Additionally, there have been few guarantees on the independence, resourcing or the strong enforcement powers of the new watchdog, the Office for Environmental Protection. This must change if the Government's proposals are to effectively ensure the protection of the natural environment and meet the ambition needed to turn nature's recovery from an aspiration to a reality."
In a short film for The Wildlife Trusts, calling for powerful new environmental laws and for a Nature Recovery Network, Sir David Attenborough, president emeritus of The Wildlife Trusts, said: "A wildlife-rich natural world is vital for our wellbeing and survival. We need wild places to thrive. Yet many of our systems and laws have failed the natural world.
"We now live in one of the most nature depleted places on the planet. Nature urgently needs our help to recover – and it can be done. By joining up wild places and creating more across the UK we would improve our lives and help nature to flourish – because everything works better when it's connected."
For many years we've known that nature reserves alone are not enough for wildlife's recovery. Too often we've seen wildlife forced into fewer and smaller pockets of wild space, surrounded by urban development or intensive agriculture. This reduces nature's resilience to climate change. Sir John Lawton, who led a Government review of England's wildlife sites in 2010, said: "There is compelling evidence that they are generally too small and too isolated. We need more space for nature."
To allow nature to recover, we need to reconnect the fragmented sites that remain – stitching back together Britain's tattered natural fabric of wild land and creating more space for wildlife.
A Nature Recovery Network would act as a strategic spatial planning framework to map, plan and deliver what nature needs to recover, allowing targeted delivery and investment in nature's recovery and for translating national objectives into real change on the ground. Aligning funds such as Environmental Land Management payments and "net gain" contributions will provide value for money and allow businesses to have confidence in where and how to invest for long term environmental gain.