Common Nighthawk reaches London
0fc5dfbc-ba53-4675-ad1f-ca57157eb4ec
A Common Nighthawk was photographed at Bushy Park, Greater London, early afternoon on Saturday 19 October, representing one of the more surprising rare bird occurrences of recent years.
The bird was photographed in flight by the Diana Fountain in the royal park by Lewis Newman, who shared his discovery on Twitter. According to Lewis, the bird appeared from the direction of the River Thames at roughly 12.26 pm, flew around for several minutes minutes before departing north-east in the direction of Richmond. Lewis has promised to soon post further images of the bird on his Instagram page.
RT Pretty sure this looks like a common nighthawk just flew over bushy park,London!? Someone help identify I'll make the shadows better when I have it on Lightroom later @Natures_Voice @Birds_UK @SurreysWildlife @WildlifeTrusts pic.twitter.com/TqEni3mqLF

— Lewis Newman (@lewisjnewman) October 19, 2019
Incredibly, comparison of photos show several strong similiarities to the recent male observed at Galgorm, Co Antrim, from at least 4-17 October, which had possibly been present in the area since mid-September. The obvious feature is what appears to be at least one missing central tail feather, which is quite distinctive in images where the bird's tail is spread and gives the impression of a much deeper fork than is normally shown by the species. This, along with various intricacies such as wear and damage to wing and tail feathers, plus similarities in the extent of the white patches in the primaries, confirm it to be the same individual. This represents a sensational relocation of some 340 miles in a south-easterly direction.

The Common Nighthawk at Galgorm, Co Antrim, appears to be missing a couple of central tail feathers, most obvious in images where the tail is spread (Lee Fuller).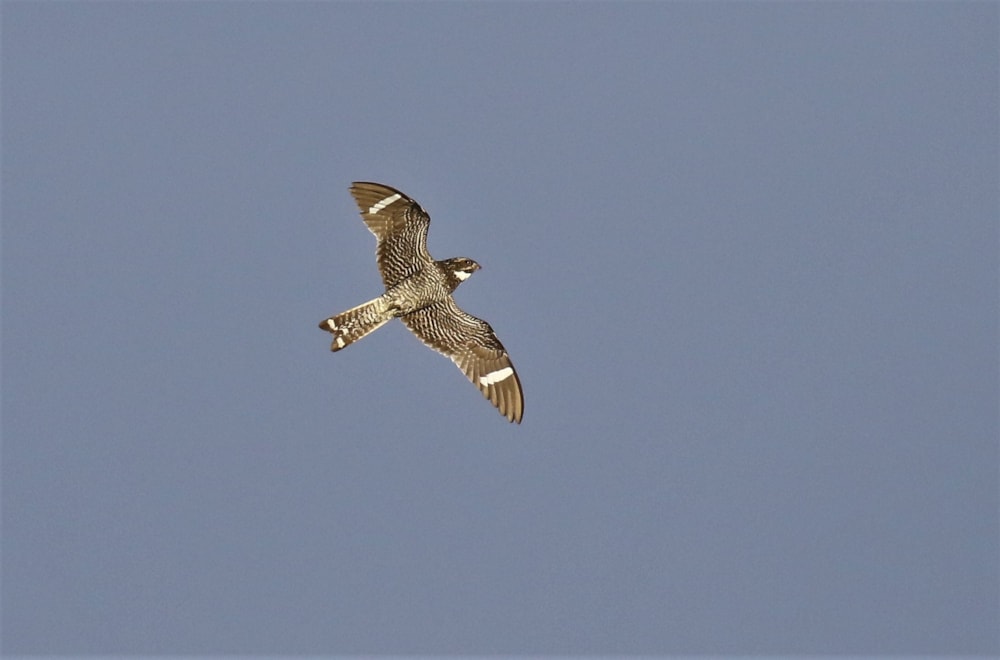 Another image of the Galgorm bird (Ian Wells).
Presumably the nighthawk, a male, was on active migration, perhaps following the River Thames and stopping briefly at Bushy Park to feed up. Another observer has subsequently claimed to have seen the bird at Bushy Park at roughly 12 pm, while another birder reported seeing what they thought could be a Common Nighthawk at Richmond Park a couple of hours later. However, there has been no surefire sighting since the bird was photographed at Bushy Park.
Pending acceptance by the BBRC, this bird will in fact represent the second Common Nighthawk for Greater London. The first, also an adult male, was found at Barnes Common (and thus is also on the Surrey list) in weak condition on 23 October 1984 by a dog walker, whose dog flushed it. The bird was then taken to Putney RSPCA, where it remained until 28 October when it died.
It was put into a freezer, and only identified on 9 November when it was collected for a skin specimen. It represented the first American landbird for the London recording area (though not for Surrey).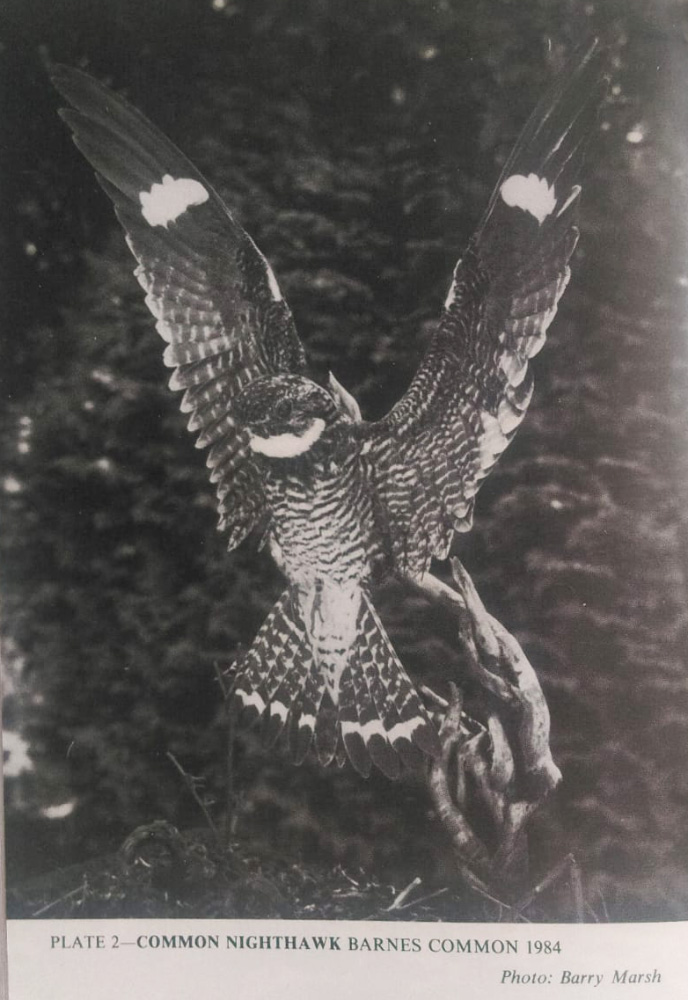 The Barnes Common Nighthawk, which was found exhausted by a dog walker and died in care several days later.