Colour-ringed Waxwings - A request for sightings
3721f575-437e-46ff-a691-9235ee7fbd0c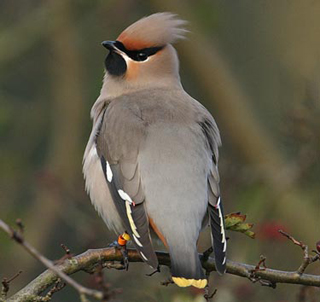 Waxwing: The Netherlands. Ringed near Aberdeen on 30/10/04 and photographed in the Netherlands on 9/11/04 (Photo: Arie Ouwerkerk)
A request for sightings of colour-ringed Waxwings was previously posted through various channels. We have now colour-ringed nearly 300 birds in and around Aberdeen City, with the majority of birds ringed during the initial influx of Waxwings into the UK during the end of October and beginning of November.
It appears that the birds which arrived in our region during the initial influx have now left northeast Scotland as we can only find a few of these birds around the city. Sightings of colour-ringed birds in Fife, Glasgow, 2 in Lancashire (from Burnley and Barrow) and 1 in the Netherlands confirms this and that the recent arrival of birds into North-West of England probably involves these initial birds. It seems likely that there are now many more colour-ringed birds in central Scotland and south of the border than several weeks ago.
We would be very keen to receive any further sightings of colour-ringed birds and ask observers to check all birds for colour rings. Can I ask that this request be also published on local web-sites that I don't have access to so that this request reaches as many observers as possible.
Content continues after advertisements
Many thanks to those observers who have already reported sightings. Any sightings will be acknowledged and a history of the bird will be supplied, detailing ringing data and movements (if any previous).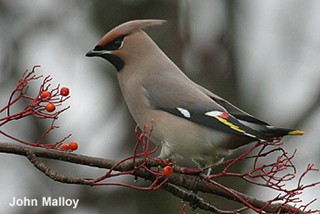 Waxwing: Cramlington, Northumbs. (Photo: John Malloy)