Coastal housing and birds protected
0b56023a-4daf-4198-aaf6-7277a1c44161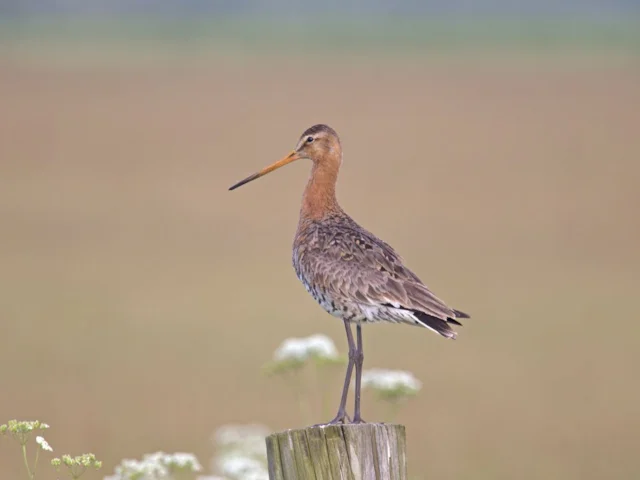 Britain's largest ever coastal flood realignment scheme has been completed this week in West Sussex, protecting housing and creating more wetland habitat.

The £28 million scheme at Medmerry will protect 350 properties, two holiday parks and a water treatment works from coastal flooding, and provide 180 ha of habitat for waders like Black-tailed Godwit, and other protected species like Water Vole.

The scheme is due to open to the public later this year. The RSPB will manage the wildlife habitat and the Environment Agency (EA) will manage the flood defences. Led by the EA, 4.5 miles of new walls were built behind the old defences, which were breached, creating 180 ha of coastal habitat, equivalent to more than 300 football pitches. The completion of the scheme will double the amount of man-made coastal habitat in Britain once the 400-ha Steart Peninsula project opens in Somerset next year.

David Rooke, Director of Flood and Coastal Risk Management at the EA, said: "With one in six people at risk of flooding in England, schemes such as Medmerry have a key role to play in protecting people and property. They also have an important role in the local economy by encouraging more visitors to the area. Creating large-scale habitat is vital to ensuring the survival of the country's endangered species, improving water quality and reducing carbon."

Mike Clarke, RSPB chief executive, said: "This ambitious project is a fantastic example of how we can create habitat for threatened wildlife, benefit local communities and deliver value for money for the taxpayer. The UK is internationally important for coastal wildlife, particularly the millions of migrating birds that rely on saltmarsh and mudflats. Saltmarsh is disappearing as a result of sea level rise. This project will become a thriving wildlife haven and a big draw for nature lovers. We should take confidence from the success here at Medmerry and help to secure our and nature's future by investing in these sort of landscape scale projects."

Other examples of natural coastal flood schemes completed by the EA in the last few years include Frieston Shore RSPB on the Wash, Lincolnshire, Alkborough Flats on the Humber estuary, Lincolnshire, and Plusterwine, Gloucestershire, on the tidal Severn.