Chinese to build railway across Amazon rain forest
d81db51b-8d09-49ae-a662-1d7b520ce852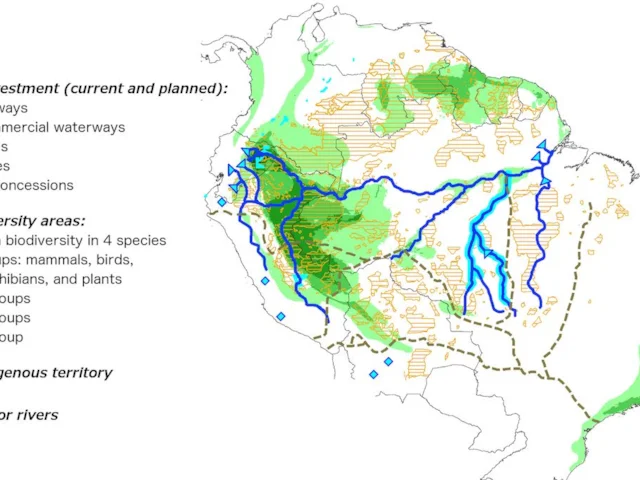 Chinese Premier Li Keqiang has defended the country's plan to build a trans-continental railway across South America through the Amazon rain forest.
He claimed the scheme, which will run from the Brazilian port of Santos in the eat to the Peruvian port of Ilo in the west, would be a way to protect the environment and bring further growth to the region's economy, as he arrived in Peru's capital, Lima, last week. Chinese investment in the $10 billion project would not threaten the environment, he said.
"The three countries agree on the fact that the viability of this project will not only be favourable to our common development but will also protect the environment. China respects Latin America's biodiversity. To create the infrastructure, it is necessary to protect the environment," Li said.
The Chinese leader's remarks came shortly after he presided over several dozen other deals in Brazil, including a $7 billion investment in Petrobras – the Brazilian petrochemical giant – and $4 billion in finance for mutlinational mining corporation Vale. The Chinese will also lift a ban on Brazilian beef.
The deals were embraced by Brazilian President Dilma Rousseff, as his country's economy is currently undergoing a period of instability. "China and Brazil are playing a leading role in the construction of a new global order," he said.
Environmentalists are understandably extremely concerned about the railway building project, which will run through some remote and comparatively lawless regions opening some of them up to unregulated exploitation.
"This massive project will cut straight into the heart of the biologically richest real estate on the planet – the western Amazon. It will also slice through endangered habitats in the Brazilian Atlantic rainforest and
the rapidly vanishing Cerrado savanna-woodlands
," Bill Laurance, an ecologist at James Cook University, Queensland, Australia, told
environmental new service Mongabay
. "By penetrating into these remote regions, it could open a Pandora's Box of environmental evils, including deforestation, poaching, illegal mining, and land speculation. Everything about it says 'environmental disaster in the making'."
Construction projects in the Amazon have a history of causing heavy environmental impact, with poorly planned roads enabling colonisation of previously remote areas by illegal loggers, miners, and land speculators. The railway could repeat history by creating a 'gold rush' of land-grabbing and speculation. The massive investments could result in further road-building to enable the extraction of mineral and timber resources, particularly if the Chinese corporations and Peruvian and Brazilian admininstrations don't properly enforce operating standards to reduce environmental impacts. A
recent report
suggested that: "by and large, Chinese firms operating in Latin America thus far lack the experience or policies in place to lessen the impacts of their investments in the region."
Content continues after advertisements