Caspian Gull Added to Category A of the British List
04106592-f234-4852-9c5c-775289a759c0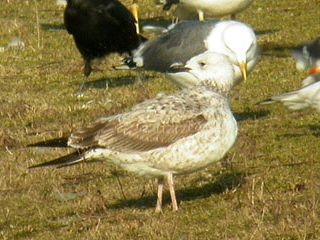 Caspian Gull: 1st-winter, Dix Pit, Oxfordshire. (Photo: Nic Hallam)
The British Ornithologists' Union Records' Committee (BOURC) has added Caspian Gull (Larus argentatus cachinnans) to Category A of the British List following the acceptance of a bird seen at Mucking, Essex on 4 September 1995.
Dealing with a series of records, the problem faced by the BOURC was to establish which of the records could be accepted, unequivocally, as the first for Britain. Interest in the 'large white-headed gull' complex has increased enormously in recent years resulting in a series of papers dealing with identification criteria for L. a. cachinnans and other taxa within the group.
During circulation of the records, discussion revolved around three issues. Firstly, we had to be aware of the dangers of basing our perceived knowledge of the identification of this taxon purely on records of vagrant birds. Secondly, the question arose of possible intergradation may occur between taxa within the group and thirdly, a decision was required on just which criteria were essential to establish a particular individual as a first for Britain.
The committee considered that the identification characteristics of L. a. cachinnans were now well-established on the basis of papers relating to birds of known provenance. They also considered that it will never, in practice, be possible to eliminate the possibility of the genetic influence of some other taxon in any individual and that the only pragmatic solution is to accept records of cachinnans provided that an individual displays no anomalous characters. On the question of just which were the necessary criteria for acceptance, a majority of the committee felt that a description of the pattern of the 10th primary (on adults) was essential in addition to all the other well-documented 'jizz' characters. On that basis, an earlier record from Mucking on 16 August 1995 was thought to not quite meet the rigorous standards to be accepted as the first record for Britain, but that the record of 4 September did.
Debate on the taxonomy of the 'large white-headed gull' complex continues and the BOURC is well aware that its continued treatment of Caspian Gull as a race of Herring Gull is no longer considered valid by many observers. The taxonomic status of Caspian Gull (and related taxa) is currently under active investigation by the Committee's Taxonomic Sub-committee.
This decision does not affect the British List totals and the number of species on the British List remains 565 species (Category A = 542; Category B = 14; Category C = 9).
BRITISH ORNITHOLOGISTS' UNION
The Natural History Museum, Tring, Hertfordshire HP23 6AP, UK
Tel: +44 (0) 1 442 890 080
Fax: +44 (0) 20 7942 6150
Email: bou@bou.org.uk
Website: www.bou.org.uk/www.ibis.ac.uk
British Birds Rarities Committee
Bag End, Churchtown, Towednack, Cornwall TR26 3AZ.