Car technician's bumper find
6c78b034-7af0-48f5-9857-9a83bec014e1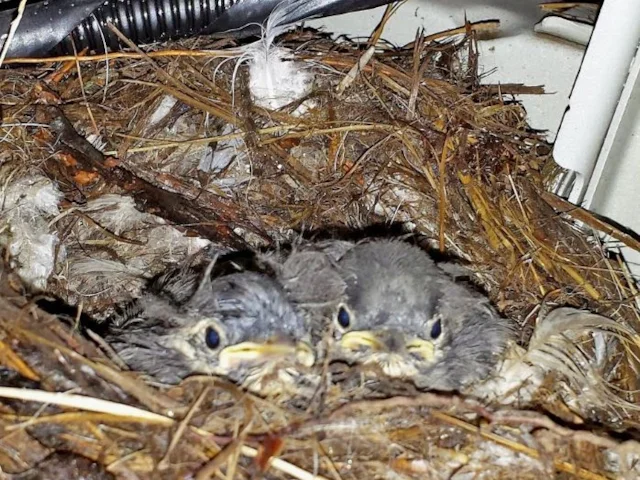 A Nissan car technician in Bournemouth found a nest containing three Pied Wagtail chicks behind the bumper of a car he had in for service.
Westover car technician Jon Brooks was about to start an oil change on the Nissan Pixo when he heard chirping. Thinking it came from birds in the garage he continued, but then kept hearing the chirping and realised it was too near to be anywhere but in the car.
Looking behind the bumper, Mr Brooks and his colleagues saw a nest balancing on part of the car's under tray. He carefully dropped the tray and scooped the nest onto cardboard before transferring it into a box. Mr Brooks then asked one of the reception staff to call the RSPCA and inspector Graham Hammond came out to collect the tiny birds.
Inspector Hammond identified the birds as Pied Wagtails. They were very young nestlings, but had some feathers and were seemingly unscathed, despite having travelled in the car's undercarriage for about five miles to the dealership on Wallisdown Road, Bournemouth.
The birds were taken to a nearby Wildlife In Need centre, where they were fed with waxworms. They are now being sustianed on a rehydrating mix to give them as much strength to survive without their parents as possible. The rescue organisation say that it is common for Pied Wagtails to nest in vehicles, having seen them come in on tractors and cars, and even a boat.
Mr Brooks said: "When I heard the chirping I thought it must be pigeons inside the workshop but then realised it was coming from much closer to us. We couldn't believe it when we saw the nest under the car - it was a first for us!
"The car had low mileage so it may have been stationary for some time while the birds built their nest, and no one was even aware they were in there."
Inspector Hammond said: "We're very grateful to Mr Brooks and all the staff at the dealership for acting so quickly and carefully to protect these tiny birds. Thanks to them they have been given the best chance of surviving, but you do have to feel a little sorry for the parent birds who would have come back to find not only their nest, but the whole car gone.
"Of course we would usually ask anyone finding fledglings to leave them alone, as their parents will return to them, but in this case it would be impossible to put them back in the exact place they came from, so they will be given the best of care and released when they are ready."
Content continues after advertisements