Canadian delta at risk from trading port expansion
6d0b44fc-eee7-4cc7-82a7-d9b98e288841
The Fraser River Delta is one of British Columbia's most vital habitats for migratory shorebirds, yet it is now under threat from plans to build a huge trading port there.
The Fraser River is the longest river in British Columbia, Canada, flowing from Rocky Mountain glaciers down to Canada's western coast. Despite 80 per cent of it having been lost, the Fraser Delta today continues to support millions of birds and Canada's largest migration of wild salmon. In this sense, those living in and around the estuary are blessed with a unique richness of wildlife. At certain times of year, anything up to 100,000 Dunlin or 40,000 Snow Geese can be present.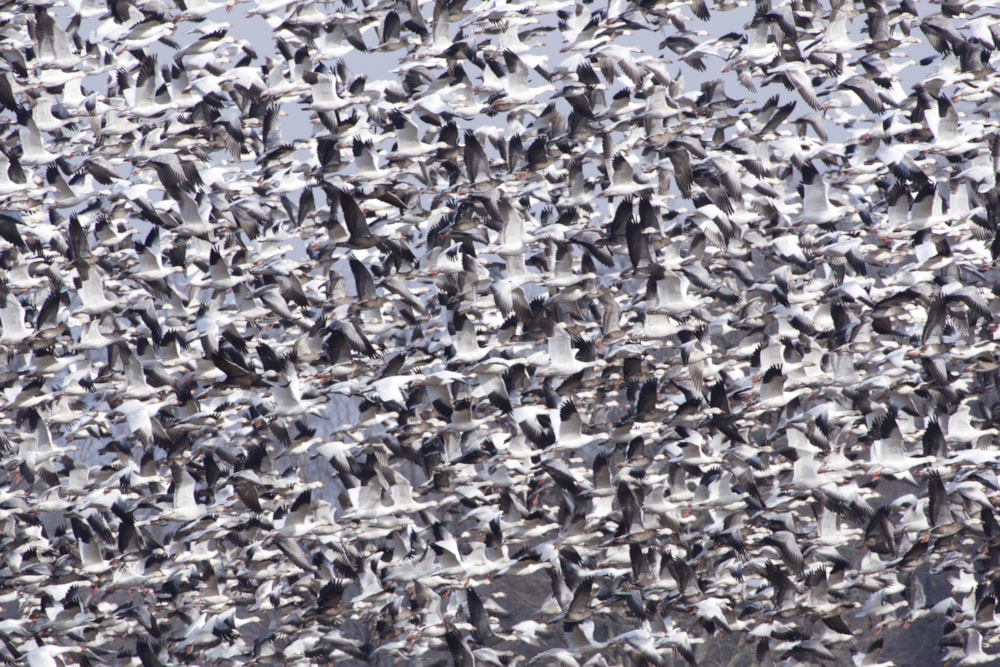 Huge numbers of Snow Geese pass through the Fraser Delta (S Bell).
The importance of the Fraser Delta is well known among the scientific community. It has been designated an Important Bird and Biodiversity Area, a Ramsar Wetland of International Significance, and a Western Hemisphere Shorebird Reserve Site of Hemispheric Importance in an effort to ensure Canada provides the level of protection this site deserves. And in any other part of Canada, this would be enough to secure its position as a National Park. However, the delta mouth's strategic location – opening into the Pacific Ocean – has instead seen the estuary grow into a major transport and trading hub, and it is now known as Canada's 'Gateway to Asia'.
The pressure on the remaining habitats is now immense, with piecemeal development occurring across the entire estuary with no overarching legal framework to protect it. The warning signs of ecological collapse of are there for all to see: populations of several birds are declining, and along the coast local Killer Whale populations are on the borderline of functional extinction. Further up the river, even the wild salmon populations are now threatened. However, the situation may soon become even more desperate for a massive container port expansion, known the Robert's Bank Terminal 2 project, is being proposed for the middle of the estuary.
Content continues after advertisements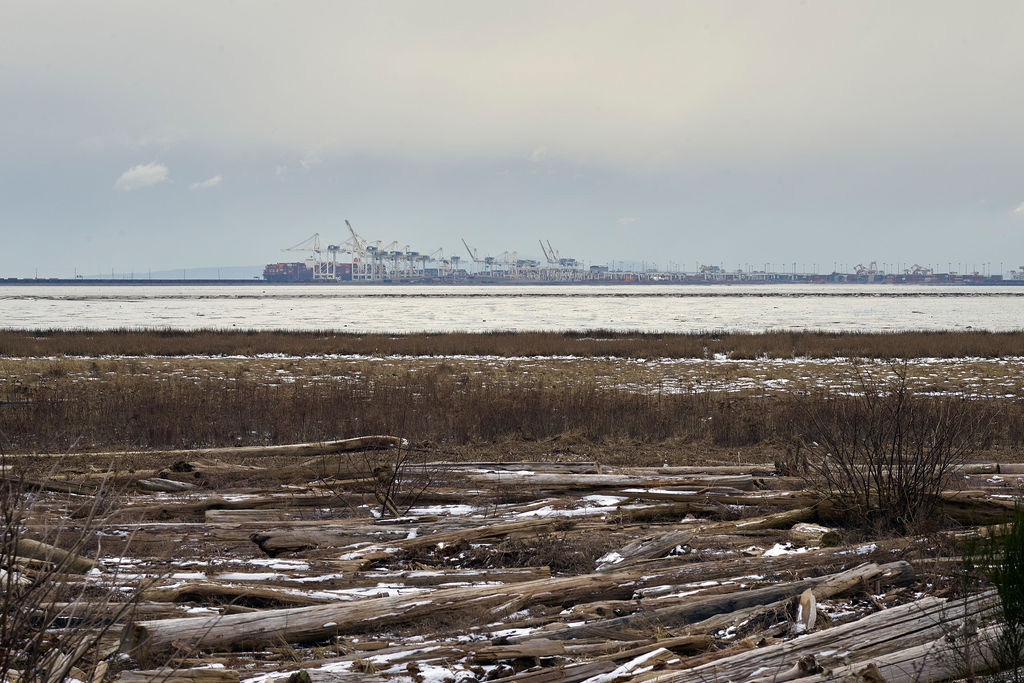 A huge port is planned for the Fraser Delta, which conservationists fear will lead to the collapse of local ecosystems (Philip Jessup / BirdLife).
It was on the Fraser Delta that scientists learned the true value of coastal mudflats to wading birds in 2005, when coastal ecologist Dr Bob Elner, who had spent many hours watching Western Sandpipers at Roberts Bank, realised the birds consumed huge quantities of biofilm – a coating of microorganisms that sat on top of the mud. This has triggered a much more detailed look at the proposed development. In particular, authorities are examining how this project might alter the function of the larger estuary that provides space and nutrients for hundreds of thousands of migrating shorebirds.
The Roberts Bank Terminal 2 project is just one example of how Canada is putting the Fraser Delta at risk without a firm conservation plan to maintain its function. However, Canada's movement to deliver on its commitments to the UN Convention on Biological Diversity and a recent financial commitment to restore salmon habitat in the Lower Fraser give conservationists hope. Two BirdLife Partners, Bird Studies Canada and Nature Canada, has joined forces with British Columbia Nature to introduce the Preserve Our Living Delta campaign, which calls on the Canadian government not to approve any new industrial projects until a comprehensive conservation strategy for the Fraser Delta is in place. Existing projects should be managed to restore biofilm, migratory bird stop-over areas, and salmon habitat.