Cameraman asks Scottish Parliament to make Golden Eagle national bird
5fc01cb1-05b4-4586-9744-eec04e0e8a1b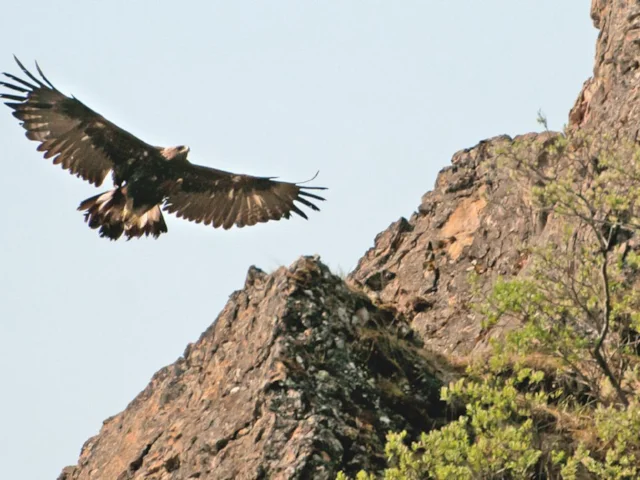 Acclaimed wildlife cameraman and natural history presenter Gordon Buchanan asked Scottish Parliament to formally adopt Golden Eagle as Scotland's national bird.
The RSPB campaign calls for the formal adoption of the raptor species as a new national symbol, placing it alongside the lion rampant, the Saltire and the Scottish thistle as emblems of the country.
The petition
is the 1,500th that the Holyrood Petitions Committee will have heard since the establishment of the Scottish Parliament.
Astoundingly, Conservative MSP Jackson Carlaw then attacked the proposal, that it reminded him of its use by the Roman empire and Nazi Germany, a suggestion refuted by both Buchanan and the RSPB. Carlaw thought that, if anything, Robin – already the national bird of the UK – would be appropriate. RSPB Scotland's Duncan Orr-Ewing said: "Golden Eagle is a true bird icon of Scotland", and argued that highland chieftains, Scottish regiments and the Royal Company of Archers trditionally wore eagle feathers.
Golden Eagle is already hailed as a totem of wild Scotland, and is used on company logos, place names and ancient burial sites.
It was recently voted the nation's favourite animal
in a year-long poll run by the government conservation agency Scottish Natural Heritage and the tourism agency VisitScotland. In the vote for the 'Big Five' (Golden Eagle, Red Squirrel, Red Deer, Common Seal and European Otter), the bird of prey secured an overwhelming 40 per cent of the vote, double that of Red Squirrel, the second most popular contender.
The Petitions Committee evidence session comes in the same week that Parliament has welcomed news that the Scots Pine is to be designated as Scotland's national tree, after a public consultation by the Forestry Commission revealed considerable public support.
There are currently just 431 pairs of
Golden Eagle
s in the whole of Scotland.
Owing to centuries of persecution
, this most charismatic of birds has been almost entirely confined to the remote mountains and glens of the west coast and Western Isles, with numbers at artificially low levels and many territories vacant. Its restricted range in these areas has made it a coveted sight for any visitor to Scotland wild places.
Gordon Buchanan said: "The thrill of seeing a Golden Eagle soaring over a Scottish hillside is an unbeatable experience. For me they symbolise the wildest parts of our country, and there is no other contender for Scotland's national bird. Spending my childhood on Mull meant I grew up with eagles. I've been lucky enough to see hundreds since, but each glimpse of this magical bird is still special. The trouble is, golden eagles should be more common. That is why I'm backing the RSPB's campaign to make Scotland's national bird the Golden Eagle."
Stuart Housden, Director of RSPB Scotland, said: "What better legacy than to officially designate the eagle as Scotland's national bird and join together for its future conservation? It would formally recognise the place this species has unofficially occupied in our culture for many centuries, and show our commitment and desire to protect and conserve it, and our wider national heritage, for generations to come."
Content continues after advertisements