Cackling Goose added to BOU's British List
ecf0c2b1-d36b-4db8-8693-a0e41d1889a6
The British Ornithologists' Union (BOU) has today [9 March 2016] added Cackling Goose to its British list, this becoming the 601st species on the list on the basis of a bird seen at Plex Moss, Lancashire, in November 1976:
Cackling Goose, Branta hutchinsii
Adult, Plex Moss, Lancashire, 28 November 1976 (photographed).
The taxonomy of the Canada Goose species complex has undergone revision, with separation of [Greater] Canada Goose Branta canadensis and Cackling Goose to specific level, with each species proposed to consist of a number of subspecies. The BOU has retained the confusing and taxonomically inaccurate name of 'Lesser Canada Goose' for Cackling, whereas most birders use the former name for the parvipes subspecies of Canada Goose itself.
Having considered a number of candidates it was deemed that the Lancashire individual could be accepted as the first record of Branta hutchinsii. The subspecies was undetermined, but probably nominate hutchinsii ('Richardson's Cackling Goose').
Content continues after advertisements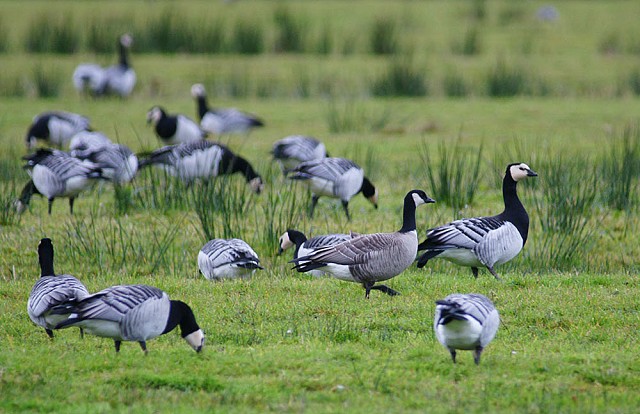 Richardson's Cackling Goose with Barnacle Geese, Islay, Argyll, October 2011 (Photo: Steve Percival)
Cackling Goose breeds in northern North America, migrating to winter further south in Canada and the USA. It is generally accepted that the species is a rare but regular vagrant to the British Isles, with a handful of birds seen annually — primarily among Barnacle Geese in North-West Scotland and western Ireland, but occasionally also with other species such as Pink-footed Geese. Most birds appear to be of the subspecies hutchinsii, though convincing candidates for minima ('Small Cackling Goose') and taverneri ('Taverner's Cackling Goose') have also been documented.
Cackling Goose should be placed after Greater Canada Goose on the British List. Further details will be published as part of the BOURC's 46th report, which is due to be published in Ibis in January 2017, and upon publication, the British List will stand at 601 species (Category A = 583; Category B = 8; Category C = 10).