Buzzard found shot in Powys
1610918f-22f7-4d59-b2e3-7ee2e4cd57ee
The RSPB has expressed its concern after a Common Buzzard was found illegally shot in Powys.
The bird was found dead on the ground by a walker near Llanrhaeadr-ym-mochnant on 10 February, and it was reported to the police. The bird was x-rayed by a local vet and found to contain at least eight pieces of shot.
Common Buzzard, like all birds of prey, is protected under the Wildlife and Countryside Act 1981. To kill or injure one is a criminal offence and could result in an unlimited fine or up to six months in jail.
Forty-one reports of wild bird crime in Wales were made to the RSPB's Investigations unit in 2016, according to their Birdcrime report, published last November. The report also revealed that there were no prosecutions for bird of prey persecution in the UK during 2016.
PC Adrian Ward, of Dyfed-Powys police, said: "To treat an animal in this way is absolutely appalling. Dyfed-Powys Police officers are carrying out enquiries into this incident. I would urge any member of our community who knows who is responsible for this crime to please come forward and tell us by calling 101."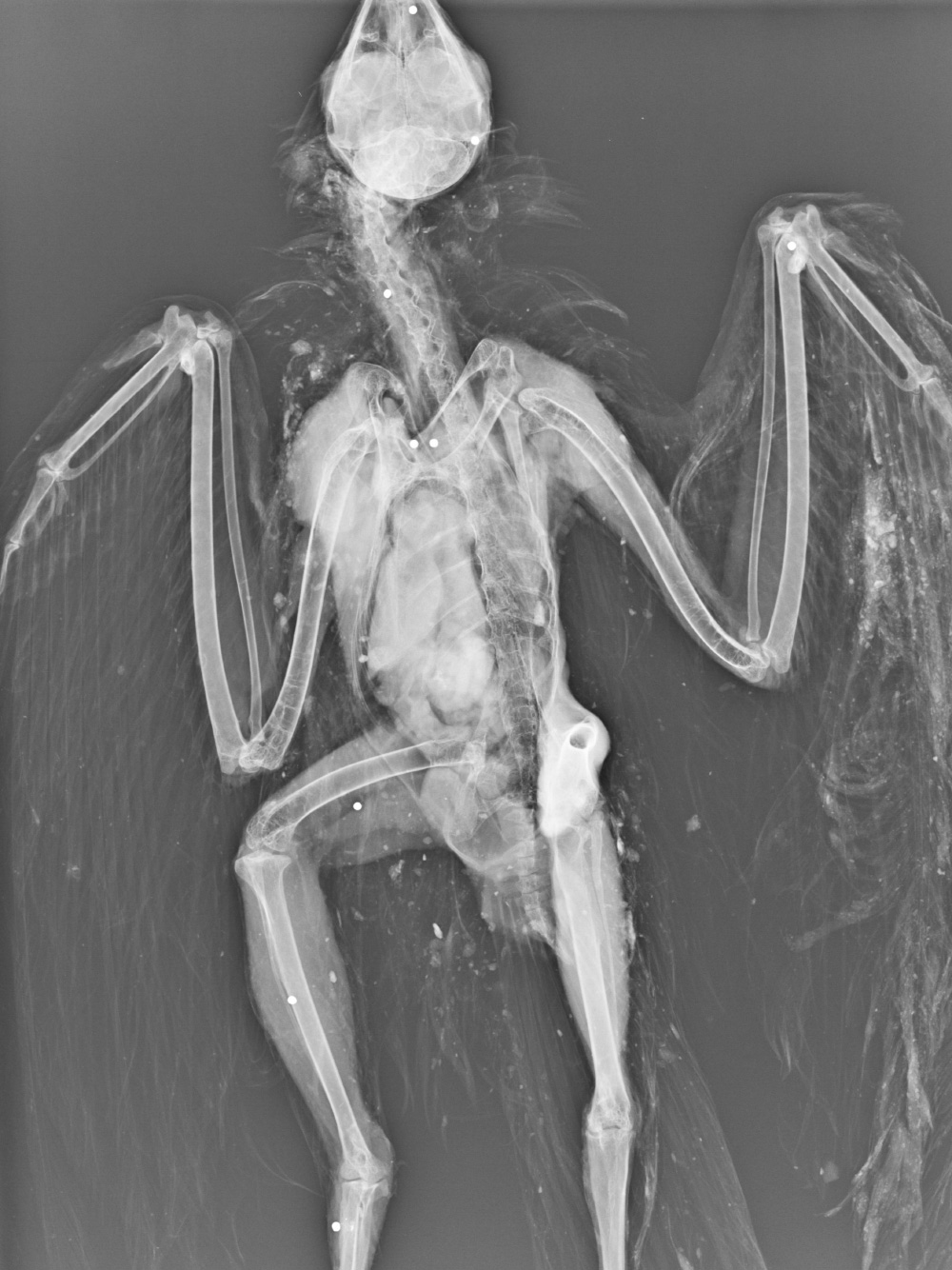 Several shotgun pellets are clearly visible as sall white circles in the X-ray of the dead Common Buzzard (RSPB).
RSPB Investigations Liaison Officer, Jenny Shelton, said: "It is saddening and concerning to hear that another protected bird of prey has been shot. This is a serious problem in Wales and the rest of the UK, and one which the RSPB employs a specialist team to tackle. We recently launched a hotline to provide a means of reporting crimes against birds of prey in complete confidence. Someone out there will know what has happened to this bird – please speak out and help end this brutal and illegal behaviour."
RSPB Cymru Biodiversity Manager, Stephen Bladwell, said: "Knowing another bird of prey has fallen foul to persecution in Wales is disheartening. The latest Birdcrime report showed Powys was joint second highest UK County for raptor persecution from 2012-16 – with 22 confirmed incidents during the period. It seems there is a real problem in the county that needs addressing quickly if we are to protect the area's wildlife. Our investigations team will continue to support Natural Resources Wales and the Rural Crime Team to address the issue."
If you have any information relating to this incident, contact the RSPB's Raptor Crime Hotline on 0300 999 0101.
If you find a wild bird of prey which you suspect has been illegally killed, contact police on 101 or the RSPB immediately.