Bulgaria receives eagle conservation award from European Commission
5a77470c-5674-4b62-9dcb-2bd2203e6ee9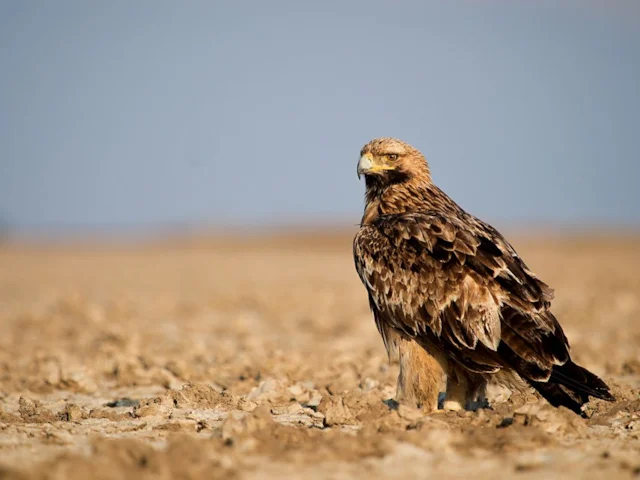 Work by the Bulgarian Society for the Protection of Birds (BSPB, BirdLife in Bulgaria) to protect Eastern Imperial Eagle was recognised this week with a Natura 2000 Award for Conservation.
The Natura 2000 Award was organised for the very first time this year by the European Commission to celebrate and promote best practices in nature conservation in Europe. Five winners, one for each award category - Communication, Conservation, Networking and cross-border cooperation, Reconciling interests and perceptions and Socio-economic benefits – were rewarded at a ceremony held in Brussels on 21 May. BSPB won in the most competitive category, Conservation, with 56 nominations and six short-listed projects.
Eastern Imperial Eagle is a globally endangered species, its population continuing to decrease worldwide. In Bulgaria, the species used to be one of the most common birds of prey 200 years ago, but today only 24 pairs remain in the country. This decline is mainly due to changes in land use triggering a colossal loss of habitat and food sources for the species.
However, one of the most serious threats to the remaining eagle population in Bulgaria is electrocution from badly designed and sited electricity pylons. Between 2009 and 2013, these caused the death of 67 per cent of the birds in the country's Sakar region, which is home to half of the country's Eastern Imperial Eagle population.
In order to address the issue, BSPB decided to engage with the Bulgarian electricity grid sector. Founding a joint project with the power company EVN, BSPB was able to get 595 hazardous electricity poles insulated. BSPB provided insulation caps and EVN mounted them. As a result, no more electrocuted eagles have been found, and the number of breeding pairs has increased by 25 per cent. Convinced of the mutual benefits of this initiative, EVN has decided to go further and is planning to convert 29 miles of overhead power lines into underground cables, replace another 9 and a half miles of bare line with insulated cable and retrofit 2,740 pylons.
The Natura 2000 Award jury praised the project, its successful outcomes and the fact that it was a model applicable everywhere in Europe.
The ongoing conservation efforts of the two Iberian countries to protect
Spanish Imperial Eagle
are featured in
this June's Birdwatch
, on sale now.
Content continues after advertisements