BUBO Listing
cafd019f-bc03-414e-a8f3-e09e85315542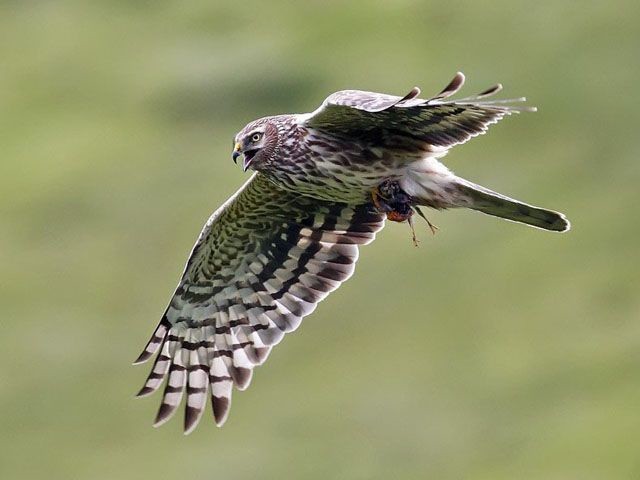 Hen Harrier: Have you seen one this year? (photo: Pete Hadfield).
Did you see the Long-billed Murrelet? Have you seen a Hen Harrier this year? What's the easiest bird you still haven't seen in your home county?
Such questions are the stuff of everyday "birding chat" and comparing sightings and lists has always been part of the fun of birding. But how can you compare your lists with other listers? Now there is a new way to keep track of your birding lists and to engage in some friendly competition with other birders. A new website, BUBO Listing, has been set up by two keen birders, Andy Musgrove and Mike Prince. Simply go to www.bubo.org/listing and register free to use the site.
BUBO Listing is an attempt to provide a free, flexible and simple-to-use site for the comparison of birding lists. The more people that use BUBO Listing, the better it will become for all users. The ethos behind the site is that individual birders maintain their own lists, and that all records are entirely transparent (with the exception that details of rare breeding birds are kept confidential).
In short, the idea is that a birder logs in and can input a full bird list on the system - not just the total, but the complete composition of the list, ideally along with a date and location for each species. The list might represent a Life List covering Great Britain, or it might represent a Year List covering Norfolk. The birder can also record lists representing only self-found birds. One of the perennial questions in listing is deciding which species are acceptable to count; to allow flexibility here BUBO Listing is not prescriptive but allows lists based on a number of 'authorities'. The list maintained by the British Ornithologists' Union (BOU) is the standard authority but lists can also be based upon those published by Birdwatch Magazine and the UK400 club.
Having entered a list (or lists), the species entered are then immediately visible to everyone. Birders can obviously update their lists as and when they see new species. However, the added advantage of the system is that the birder can then compare their lists with those of other birders using BUBO Listing. This is not just restricted to a basic comparison of totals; if you are interested in Fred Bloggs's 1987 Northamptonshire Year List, you can go in and look at which species were involved, and where, and when, they were recorded.
But BUBO Listing is even more powerful than that. The birder can also query the list database by species. For example, if you wished to find out how many BUBO Listers had seen Siberian Rubythroat in Britain, this would be a few clicks of the mouse away. In fact, at the time of writing, 14 birders had this species on their BOU Life Lists. You could even see when, and where, those lucky few had added it to their lists. Similarly, whilst keeping your year list, you might want to keep an eye on your key remaining target species.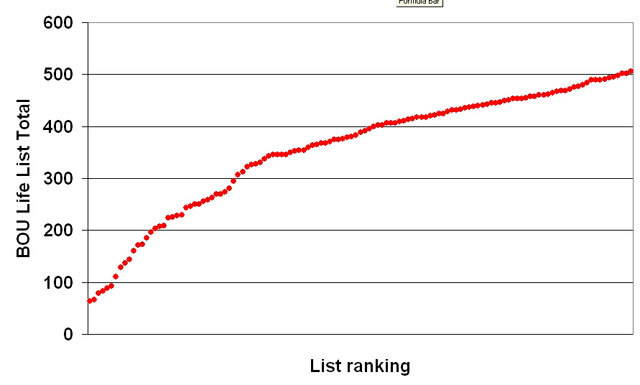 BOU British Life List totals on BUBO Listing (as of 10th August 2007)
BUBO Listing has been running for a few months and a total of 461 lists have been entered already. Some of the most popular types of lists have been:
BOU British Life Lists: 142
BOU British Year Lists: 77
UK400 British Life Lists: 40
Birdwatch British Life Lists: 20
BOU Norfolk Life Lists: 15
BOU British Self-found Life Lists: 14
Obviously, it is early days but we have been pleased with the response so far. BUBO Listing has no elitist threshold - you can enter lists of any size you like. Most British Lists entered so far have been in the 300-500 range, but lower or higher (!) lists are welcome. The chart of BOU British Life Lists shown here suggests that we are missing proportionally more "under-300" listers, so don't be shy - get logged in.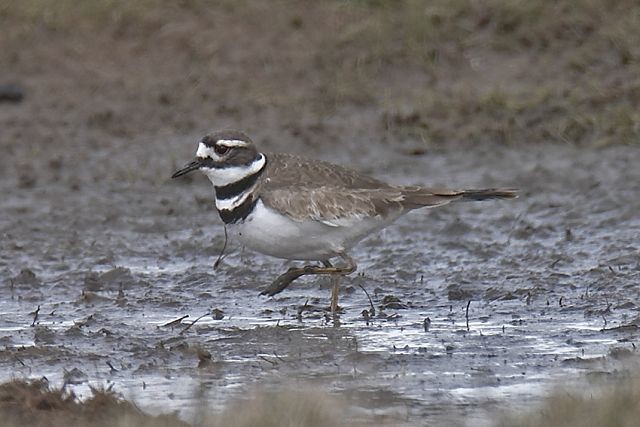 Killdeer (photo: Steve Morgan).
As of the end of June 2007, a combined total of 535 species had been recorded on BOU Life Lists, of which six have been recorded by a single lister each. Additionally, 340 species had been recorded in 2007 by BUBO year-listers. Some of these species had been seen by only one lister, including Black-browed Albatross, Gull-billed Tern and Great Spotted Cuckoo. Of recent interest, 17% of the year lists contain White-tailed Lapwing.
Whilst BUBO Listing is now fully operational and proving popular for British bird listing, we don't intend to stop there and have many developments planned for the future. For example, we will be introducing international bird lists shortly, as well as lists for non-avian groups such as moths and dragonflies.
So, what are you waiting for? It's free, easy and fun. All you need to do is:
Go to www.bubo.org/listing.
At the login box on the left-hand side, click on "Register".
Enter your details here and click on "Submit details".
You will then receive an automated email from us. Click on the link in this email to finalise your registration and then you are ready to go - easy as that.
Oh, and from the questions at the top, 45% of BOU Life Lists currently contain Long-billed Murrelet, 51% of Year Lists currently contain Hen Harrier, and one of the authors had better see a Norfolk Bluethroat one of these days...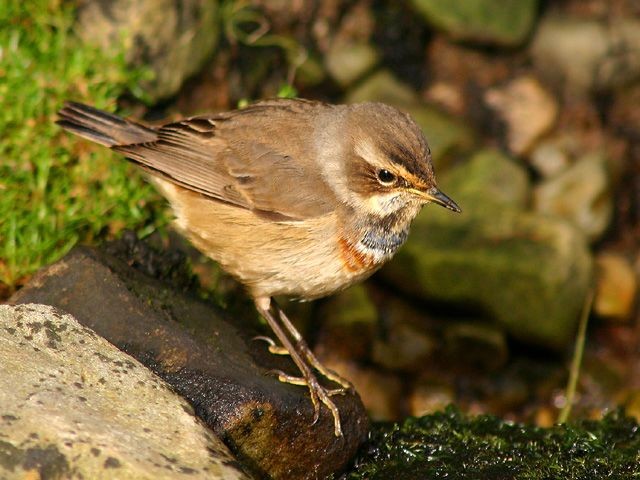 Bluethroat: An increasingly difficult species to see nowadays (photo: Russell Wynn).