British Montagu's Harrier population remains on brink
7bfbaa3c-0189-440d-9705-694306fc98e3
The RSPB has announced that the British Montagu's Harrier population remains precariously low, with just five pairs located during the 2017 breeding season.
Of these, four were successful, producing a total of 12 fledged youngsters. The fifth pair, in south-west England, failed after the male suddenly disappeared for unknown reasons.
One of the nests was a relay, as the first clutch was predated while at egg stage. One pair was in Norfolk, with the others elsewhere in England. Sally, the satellite-tagged adult female from Norfolk, which was featured on BBC Winterwatch, recently vanished in suspicious circumstances. Once the chicks had hatched, all four nests were fenced to deter predators and enable farming operations to continue without any accidental damage. Harvesting successfully took place at all four sites before any of the juveniles were flying.
All 12 juveniles were fitted with unique lettered Darvic rings, bringing the total to 25 juveniles fitted with rings over the past two years. One of the birds, ringed in south-west England on 20 July (ring code 'FX') was seen on Vlieland, The Netherlands, on 21 August – a surprising easterly movement. Interestingly, another seen at Winterton, Norfolk, on 24 August was from the same brood, but the full ring details could not be read. The RSPB is urging birders to look out for rings on any Montagu's Harrier they are fortunate to enough to encounter; these can be reported to montys@rspb.org.uk.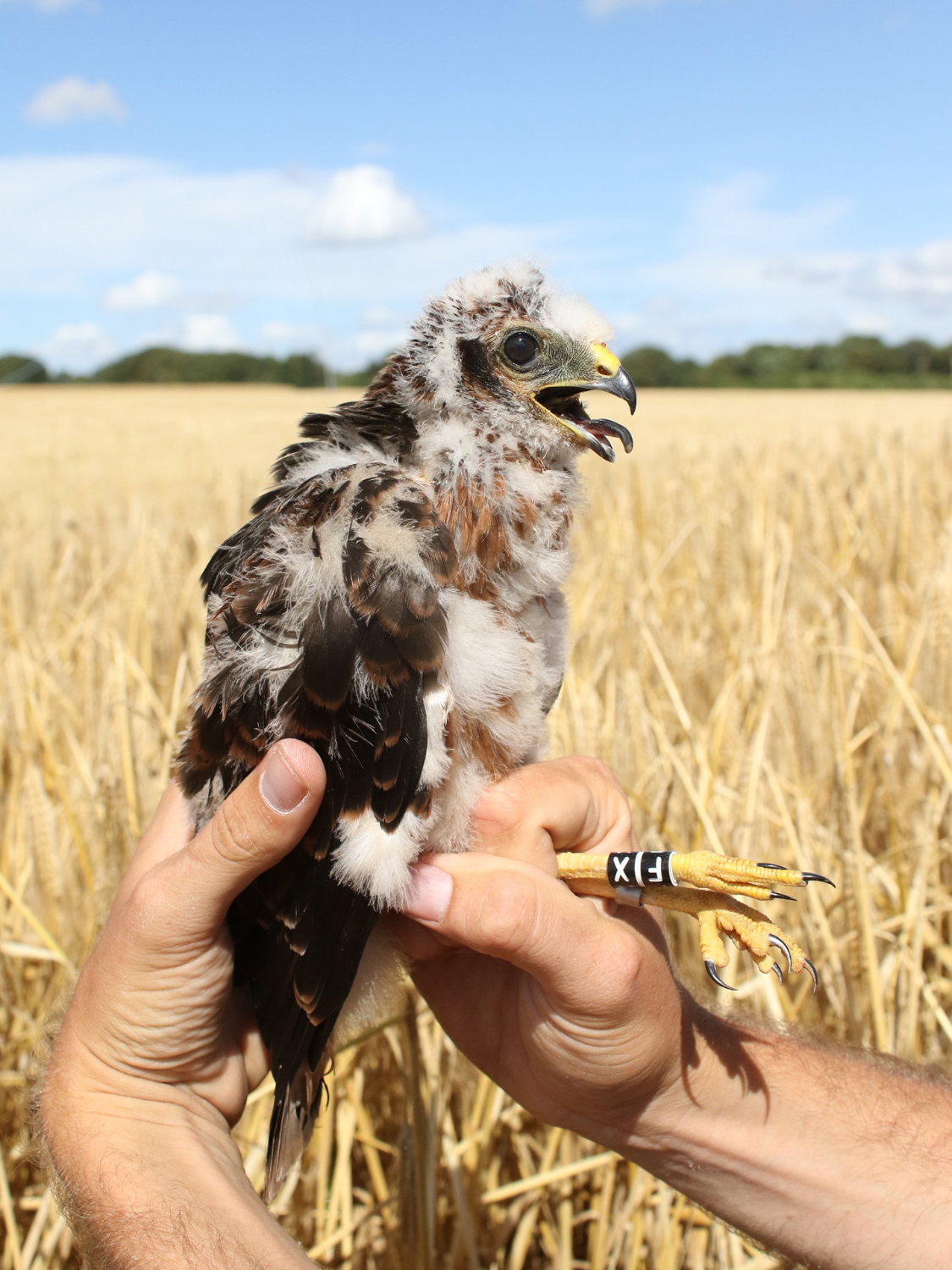 Juvenile 'FX' was ringed in south-west England on 20 July and later seen in The Netherlands on 21 August. Photo: RSPB.
Four birds previously satellite tagged in England returned to breed, including Mark (2014), Roger (2015), Beatrice (2016) and Sally (2016). Mark is the longest-standing tagged harrier, but the aerial from his tag fell off this year – though he again produced four juveniles.
The RSPB cited that catching two new adult females, Ruth and 'GL', was the highlight of the year. Both were found to be wearing BTO rings and transpired to be sisters from a brood ringed in Dorset in summer 2004. Ruth hadn't been knowingly seen since 2004, but 'GL' had toured around southern England for a few summers, had attempted to nest on the Humber in 2015 and has been breeding successfully in the South-West for the past two summers. These recoveries set a new UK longevity record for the species and also demonstrate that Britain has a small and defined population of returning adults which requires continuing conservation effort.
You can keep up to date with the movements of the satellite-tagged Montagu's Harriers on Twitter: @UKmontagus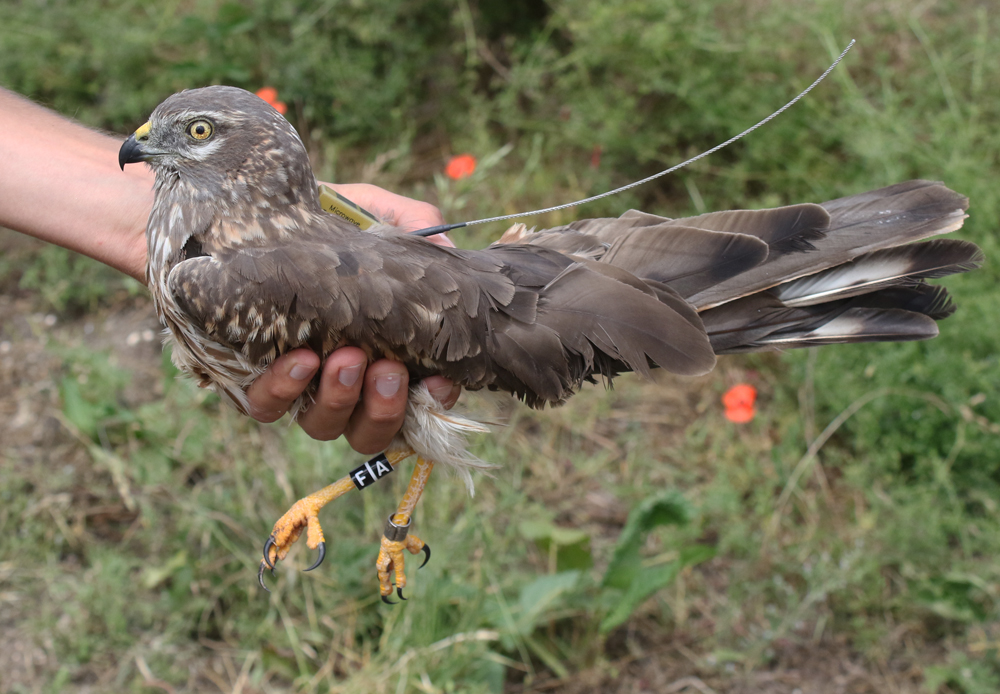 'Ruth', now bearing a black darvic inscribed 'FA', was discovered to be 13 years old, having been ringed as a chick at a nest in Dorset in 2004. Photo: RSPB.