British cuckoos still in the jungle
dd051e81-7e99-41bd-84d6-49fcfdfdca0c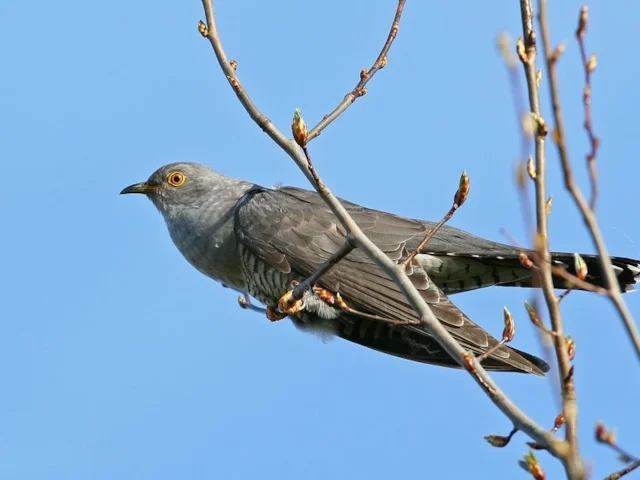 Several of the BTO's radio-tagged Common Cuckoos are alive and well in West Africa, as the birds continue to reveal their migratory secrets.
In early January, several of the
cuckoos
had made northerly movements, though it is still too early for them to be heading back to Britain. There are, however, indications that conditions have not been as good in the rainforest this year and this may yet have an impact on their return journey.
All the birds have been given names by their various sponsors
. Signals show that the bird named
Patch
moved away from Lake Mai in the Democratic Republic of Congo (DRC), and travelled 200 miles north-west to a location within the Cuvette region of Congo.
BB had been on a similar latitude to Patch in neighbouring Congo and also recently moved a short distance northwards from its location close to the Alima river. Poor quality signals on 8 January indicated it had moved and was close to Patch's new location. BB was the last of the cuckoos to finally move to a location within the Congo rainforest, joining the other cuckoos in early December, several weeks after the majority of them arrived.
Derek is in the same area as Patch and BB, having left the swamp forest early in December. As for Waller, by the evening of the 27 December it had travelled 150 miles north-west, leaving the DRC and travelling to Congo itself. He was just south of the edge of the Likouala Aux Herbes National Park, in which Chris has previously wintered.
Whortle also has moved northwards from his location within DRC, though he has remained within the country. In addition, Skinner has made a move north and is now 67 miles north of his last and most southerly position in Angola.
Skinner's visit to Angola constitiutes the first time since the beginning of the project that any of the tagged cuckoos have transmitted from that country, but a greater surprise occurred when the older bird called Chris joined it there. Chris had spent the previous two winters in the Congolian swamp forests but it looks like it has opted for a change this year. It seems likely that poor conditions prompted it to look for another location as other cuckoos using this area have also moved away. Both Chris and Skinner have remained in Angola throughout December and are currently near the country's coastal capital, Luanda, with just 17 miles separating the two.
David's tag last transmitted on 28 December, revealing it had moved slightly and was in the very south of the Salonga National Park. It has been in and around this area since 5 October but has travelled around within the north and south parks. Livingstone spent Christmas in Congo but moved 250 miles to the Woleu-Ntem region of Gabon on 30 December. He is now further west than any of the other tagged Cuckoos. Ken also remains in Gabon, having moved there in October.
Tor and Chance were just west of the Téké Plateau but have not been heard of since the 30 November and 4 December respectively. They were last located within dense forest, which can obscure the solar charging system and interrupt tag transmissions. The longer the silence the more likely that something may have happened to them but other cuckoos have reappeared after silences of many weeks.
For the latest news and locations visit
www.bto.org/cuckoos
.
Content continues after advertisements