Britain's rarest breeding duck has history written in loch sediments
4eaf47da-9bfc-4500-a87c-50204b30a422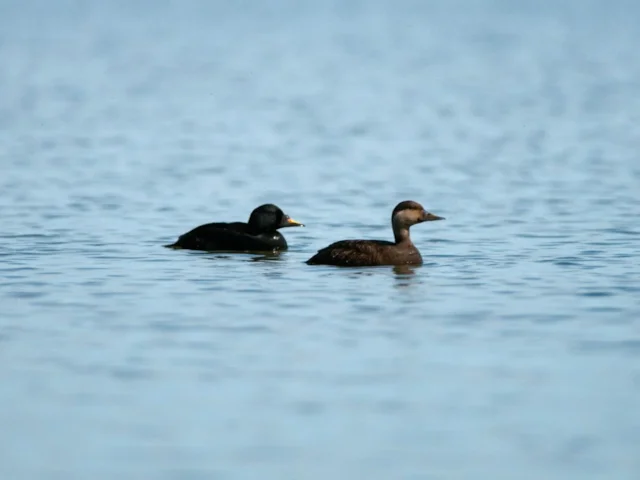 The decline of Common Scoter, Britain's rarest breeding duck, is being uncovered in the sediment at the bottom of lochs in Sutherland's Flow Country.
Scientists from the Wildfowl and Wetlands Trust (WWT) and University College London (UCL) have been driving a giant sediment corer known as 'Big Ben' into the bottom of the lochs in the UK's largest expanse of wetland. Big Ben removes cores made up of the layers that have built up over 30 to 50 years.
Digging down through recent time, the WWT's Hannah Robson has painstakingly sliced the cores and is currently analysing each layer for microscopic fossils. By looking at what food was available and other factors, she can reconstruct the ecological history of the lochs and compare those where scoters still nest with those that have been abandoned.
Over the same period, the number of Common Scoters breeding in the UK has fallen steeply and is down to just 40 pairs confined to remote parts of Scotland, though the species is still relatively common offshore in winter
when its numbers are inflated by the arrival of breeders from other parts of Europe
.
Hannah said: "The wetlands of the Flow Country are an incredible place. More than double the amount of carbon is stored here than in all the UK's forests combined, and many of the UK's most at-risk birds breed here. But the one that brings me here is the biggest concern of all: the inappropriately named Common Scoter.
"There's much speculation as to what has pushed the UK's breeding scoters so close to the edge, but so far [there is] no definitive answer. So we're taking a painstakingly detailed approach, analysing the sediment that builds up over decades at the bottom of the lochs for the microscopic fossilised remains of insects, aquatic plants and algae. We hope to reveal the causes of the scoter's decline and also, crucially, [to] be able to recommend what needs to be done to help it recover."
One of Hannah's supervisors Dr Viv Jones of UCL explains: "We use lake sediments to record pollution and climate change in locations around the world, but this is an exciting opportunity to examine the reasons for a species' decline in one of the UKs most unique ecosystems."
The research into breeding scoters in the Flow Country is a partnership between WWT and UCL and is co-funded by the Natural History Museum and Scottish Natural Heritage and supported by Royal Society for the Protection of Birds.
Content continues after advertisements