Brighter future for rainbow bird?
50fb1486-3578-4428-8eff-90d5fccefc41
Up to 1986, one of the world's most beautiful birds hadn't been seen for over three decades. But, now, researchers in southeast Asia estimate there are several thousand territories of the multicoloured Gurney's Pitta in Thailand and Myanmar. A recent paper published online in BirdLife's journal Bird Conservation International provides strong evidence that the global population of Gurney's Pitta — a Starling-sized bird of lowland rainforests — is much greater than was previously estimated. However, conservationists also warn that with the loss of lowland forest to oil-palm plantations the bird's future is far from secure.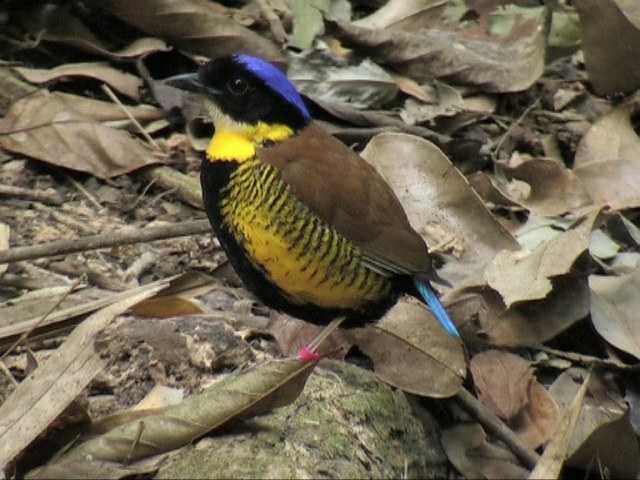 Gurney's Pitta (Photo: Paul Hopkins)
The only bird species confined to peninsular Thailand and Myanmar, Gurney's Pitta was considered extinct by some before the rediscovery of a single small population in Thailand in 1986. Classified as Critically Endangered by BirdLife on behalf of IUCN, the discovery of populations in Myanmar led to its downlisting to Endangered in 2008, recognising that the species still has a very high chance of facing extinction. Nine of the world's 31 species of pitta are facing extinction. Some members of the family, which occurs principally in tropical Africa and Asia, are known as rainbow birds because of their kaleidoscopic plumage.
The recent research, led by Dr Paul Donald of the RSPB (the BirdLife International partner in the UK), confirmed that almost all of the world's population of Gurney's Pitta is located in Myanmar. The research has shown that the previous population estimate for Myanmar was too low and that it in fact is likely to be between 9,300 and an astonishing 35,000 territories, although it probably lies around a mid-point of 20,000 territories. The research also showed that the species occurs further north than previously thought, and at higher altitudes.
The research, funded by the UK Government's Darwin Initiative, also involved the Forest Department, Biodiversity and Nature Conservation Association, a local Myanmar non-government organisation and the Indochina programme of BirdLife International.
Dr. Donald said: "This project represents an example of where well-targeted conservation research can bring about an improvement in the conservation status of a threatened species through better knowledge. Our increased knowledge of the status, distribution and ecology of this species will guide future conservation investment. Of course, we must remember that although the Myanmar population is larger than previously thought, it is declining due to forest loss and is not yet secure."
Recent conservation effort by the same project — involving the Bird Conservation Society of Thailand, The Department of National Parks, Wildlife and Plant Conservation and Chiang Mai University — has stabilised the remnant population in southern Thailand, estimated at between 15 and 20 territories. However, it was discovered that nesting success in Thailand remains very low, due to heavy nest predation by snakes. The Thai population, although small, is located in a protected area: Khao Pra Bang Kram Wildlife Sanctuary. However, the Myanmar population remains unprotected, although it is hoped that with the eventual establishment of Lenya National Park this situation will change.
"Lowland forest continues to be lost throughout southeast Asia, principally for the establishment of commercial oil-palm estates. This is the principle threat to the Gurney's Pitta in Myanmar, although for the moment there is evidence of a decline in the rate of clearance, which may be linked to the global economic downturn", said Jonathan Eames, Programme Manager for BirdLife in Indochina.
Interestingly, habitats supporting the species in Myanmar are rather different to those at occupied sites in Thailand. This means the species might inhabit a wider range of altitudes, slopes and forest types than previously thought, and so it might persist in previously unsurveyed areas. The results suggest that the species also is tolerant of, or even benefits from, a degree of forest disturbance, though it certainly cannot survive in oil palm plantations. This affords hope that the species will be found at new locations in both Myanmar and Thailand. This will be the goal of further research to be conducted next year.
Reference: Paul F. Donald, Sirirak Aratrakorn, Thurawin Htun, Jonathan C. Eames, Htin Hla, Somying Thunhi-korn, Kriangsak Sribua-Rod, Pinyo Tinun, Sein Myo Aung, Sa Myo Zaw and Graeme M. Buchnanan. 2009. Population, distribution, habitat use and breeding of Gurney's Pitta Pitta gurneyi in Myanmar and Thailand. Bird Conservation International doi:10.1017/S0959270909008612