Birdwatch Artist of the Year 2019 announced
ae21ab04-8b07-4bf8-8400-52b4206c7f5f
The winner of the 2019 Birdwatch Artist of the Year award was announced on Wednesday [23 October] at London's Mall Galleries, at the opening of the annual Society of Wildlife Artists' (SWLA) Natural Eye exhibition.
After careful deliberation by a judging panel that included well-known wildlife artists Chris Rose and Bruce Pearson, as well as Birdwatch Editor Rebecca Armstrong, among others, it was finally decided that Ben Woodhams's intricate portrait of roosting Tufted Duck in Denmark – Tufted Ducks on icy water, January, Ronne – would be crowned victorious. Ben has several pieces in the exhibition, all of which are to a very high standard, but the judges were particularly impressed with this watercolour. They commented on the sense of movement conveyed by the artwork, as well as the use of light to perfectly capture the feeling of a bright January morning. Like most of the artists on display at the exhibition, Ben works in the field and this piece was painted on a frosty morning at Rønne Harbour, Bornholm, Denmark.

Ben Woodhams's Tufted Duck portrait saw him crowned Birdwatch Artist of the Year 2019.
An impressive list of runners-up included High tide lapwings by Richard Allen and Phalaropes, Shetland by Lisa Hooper. In fact seabirds were well represented, with the shortlist also including Razorbills, European Shag and a dramatic capture of the cliffs at Fowlsheugh RSPB.
Look out for December's Birdwatch magazine, on sale 28 November, for a fuller, illustrated summary of the exhibition and relevant award winners.
The SWLA's Natural Eye exhibition runs at the Mall Galleries until 3 November 2019. Entry costs £4, but is free to Friends of Mall Galleries, SWLA Friends and those under 25 years of age. More information can be found here.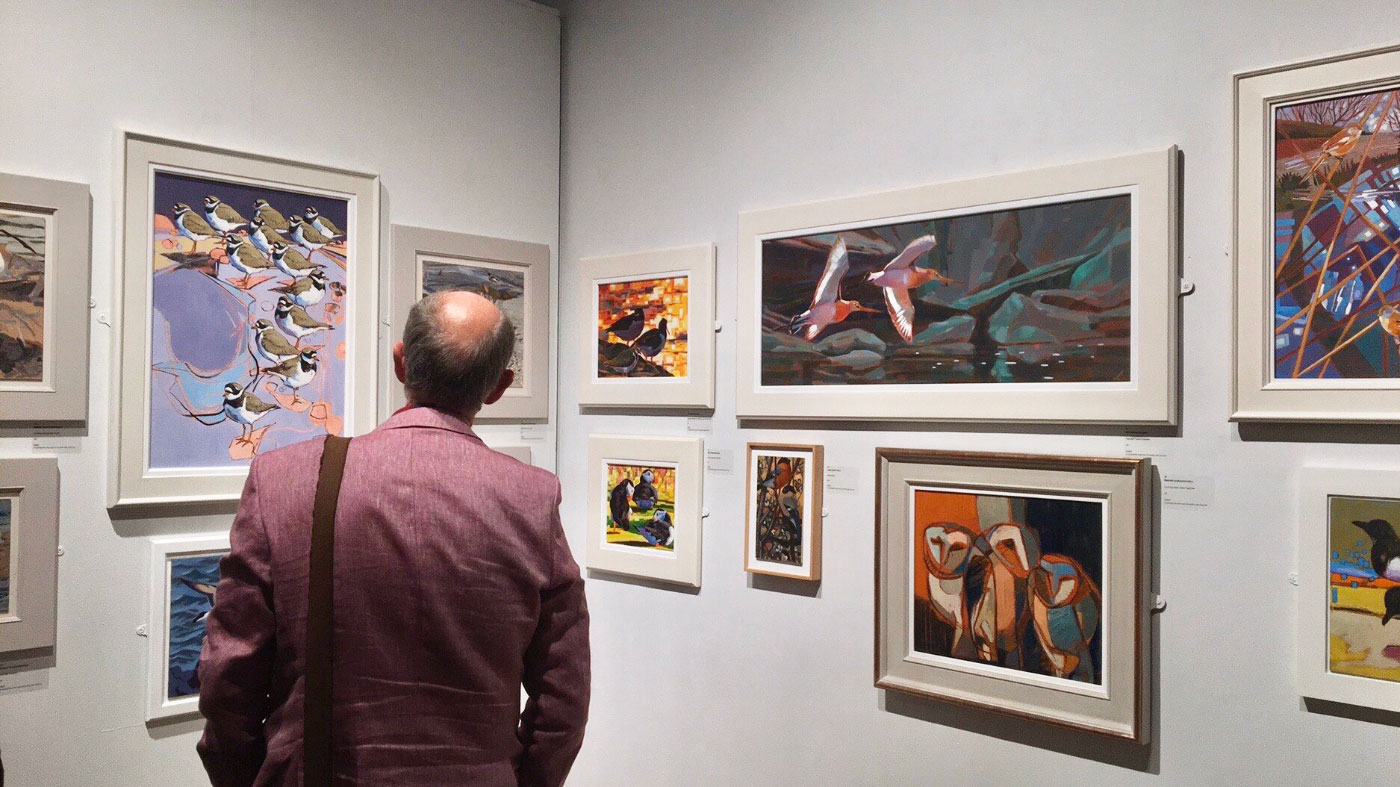 A striking selection of wildlife art adorns the walls and floors of London's Mall Galleries until 3 November – a visit comes highly recommended.