BirdLife vulture fund nearing target
4b33aa2a-33dc-400a-9507-f72d074388f4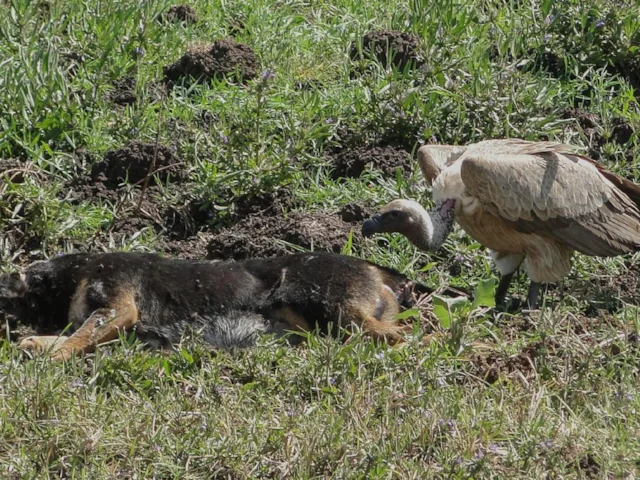 BirdLife International's fundraising fight to stop vultures becoming extinct has now reached 79 per cent of its target of £20,000.
With its funds now approaching the level at which they can be used to properly fund the conservation campaign, the vultures and the conservation organisation still need more help. To keep the interest building, BirdLife have launched a video (see below), asking for
public support to help us stop vulture poisoning now
.
As the video begins, vultures are seen soaring gracefully in the sky and Dr Mark Anderson (Chief Executive of BirdLife South Africa) opens with the thought: "I can't imagine the African skies devoid of vultures." This no exaggeration –
vultures in Africa, Asia and Europe could soon become extinct in our lifetime
. The video has been put out to encourage public support for BirdLife's campaign to protect these unique birds.
Vultures are important and essential for human and ecological health. "Vultures play a fundamental role that no other birds do: they clean our landscapes," said Iván Ramírez, Head of Conservation for BirdLife International in Europe and Central Asia. Yet they are facing new and massive threats across Europe and Africa.
"We have discovered that [vulture-poisoning veterinary drug] diclofenac is available in two EU countries. Diclofenac is now a global problem," warns Ramírez. As well as the impending threat of diclofenac, "in Africa they are facing many, many threats, and [these are] very different across the continent," said Dr Anderson.
The BirdLife Partnership, which has coordinated action through local Partners in Asia, Europe and Africa, is uniquely and very importantly placed to address the threats. "Solutions exist," adds Ramírez. "The first step in Europe is to get a referral from the European Commission in order to achieve an EU ban on veterinary diclofenac."
Public support is vital to this work and will make a real difference to its success. BirdLife are asking ordinary people to dig deep, donate now and help keep vultures flying as high as they should be. Please give your support at:
www.justgiving.com/stop-vulture-poisoning-now
.
Content continues after advertisements