BirdLife tries to halt construction of Nigerian super-highway
a8cfdf3a-e3c3-4ba2-866e-e077588a1c67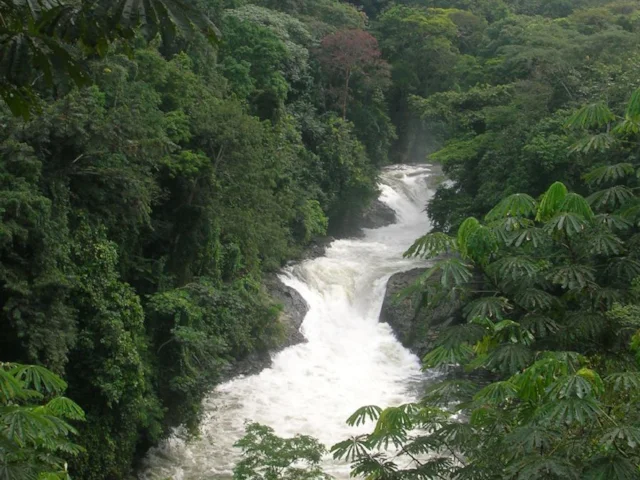 Cross River National Park, one of the most biological diverse sites in Nigeria and an Important Bird and Biodiversity Area (IBA), is currently being threatened by the construction of a Super-Highway.
BirdLife International has written a letter, following the request of its BirdLife Partner in Nigeria, the Nigerian Conservation Foundation, to the President of
Nigeria
, H E Muhammadu Buhari, outlining concerns over the construction of the proposed Cross River State Super-Highway, appealing for the stopping of preparatory works and the finding of a suitable, less damaging alternative route.
The Super-Highway as currently planned will pass through the heart of the pristine Ekuri rainforest and communities whose livelihoods depend on the area. This region is an ecological buffer zone to Cross River NP, an IBA identified for its outstanding importance for birds, people and other biodiversity.
Cross River NP contains over 350 bird species, including the globally threatened Grey-necked Picathartes, and 18 primate species, making it one of the richest sites for apes and monkeys in the world. The park has one of the oldest rainforests in Africa and has been identified as a biodiversity hot-spot.
Some of the concerns surrounding the construction of this highway are that the road is likely to attract farming, logging and hunting on a massive scale, which will destroy the area´s rich biodiversity. The lives and livelihoods of the human forest communities also depend on this natural ecosystem; their food, water, shelter, medicine and culture is inextricably linked to the ecosystem services provided by the forests.
Birds could suffer serious declines, and are a key indicator of the health of any ecosystem. The Ekuri forest is also contiguous with the Cameroon Mountains Endemic Bird Area which holds 21 restricted range bird species, including eight that are Red Listed.
The Governor of Cross River State is a member of the global Governors' Task Force on Climate and Forests, a coalition of authorities with the goal of stopping deforestation in their jurisdiction and mitigating the impacts of climate change. Constructing the road will actually increase deforestation in a wide corridor along the planned route.
As a result of complaints by BirdLife and others, the Federal Government of Nigeria has temporarily stopped the construction of the Super-Highway with the help of the Cross River State Governor, Professor Ben Ayade, pending the results of the Environmental Impact Assessment (EIA). It is critically important that the EIA is completed in an open and transparent manner, including consultation with all the relevant stakeholders at local and national levels.
BirdLife International has thanked the President and Federal Government of Nigeria for intervening in this project and taking into consideration the high biodiversity of Cross River NP and Ekuri Forest. It hopes that the Governor of Cross River, in co-operation with relevant government bodies, will find an alternative route that will avoid deforestation and the unnecessary loss of biodiversity.