BirdLife project to prevent African vulture poisonings
2b21c80d-7639-411e-b393-28505231422d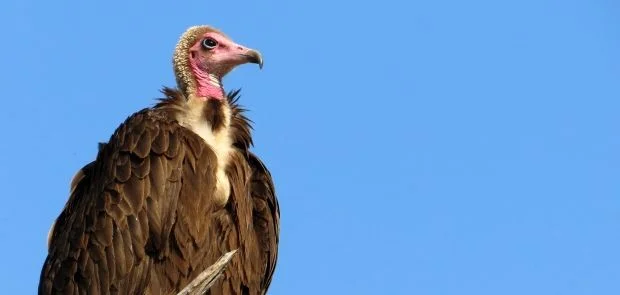 BirdLife's Saving Africa's Vultures, a new project to save the continent's declining vulture crisis, is now up and running, with pilot schemes in Botswana, Kenya and Zimbabwe.
The project aims to find out more about – and significantly reduce – the greatest threat facing African vultures: poisoning.
Eleven species of vulture occur in Africa
, with 10 of these classified as Globally Threatened or Near Threatened by BirdLife and the IUCN. Four species are already classified as Critically Endangered, the highest level of extinction threat: Hooded, White-backed, White-headed and Rüppell's Vultures.
The €226,000 three-year project has received more €150,000 of funding from Fondation Segré, a Swiss organisation dedicated to the protection of the planet's biodiversity through the active conservation of threatened species and their habitat, and the restoration of degraded ecosystems.
"Poisoning is the main threat our vultures face, and the majority of vulture deaths seem to be indiscriminate, a by-product of people trying to poison predators and inadvertently attracting vultures to the carcass," says Masumi Gudka, BirdLife Africa's Vulture Conservation Manager. "With these pilot studies in key areas we aim to learn more about the dynamics of exactly how and why the poisoning is taking place, and to develop tools and mechanisms which will lead to stricter regulations relating to agro-chemicals and toxic compounds. By the end of the studies we aim to have raised awareness of this ongoing environmental catastrophe to local communities and governments, and to have reduced vulture mortality by at least 25 per cent."
The initial Saving Africa's Vultures research and activities will focus on three sites: the Chobe District of Botswana, Kenya's Masai Mara National Reserve, and the Hwange National Park in Zimbabwe. Local BirdLife Partners BirdLife Botswana, Nature Kenya and BirdLife Zimbabwe will be working alongside a variety of other stakeholders including government and academic institutions, and other conservation organisations including The Peregrine Fund, IUCN, and the Endangered Wildlife Trust.
As well as poisoning, Africa's vultures also face a deadly cocktail of other threats, including the illicit trade in the birds for traditional medicine, collisions with power cables and wind turbines, 'bushmeat', an increasing lack of suitable habitat and growing human disturbance.
Content continues after advertisements