Birdfair celebrates 25th anniversary
b3106a44-109a-445e-ae47-cbcb1b163e89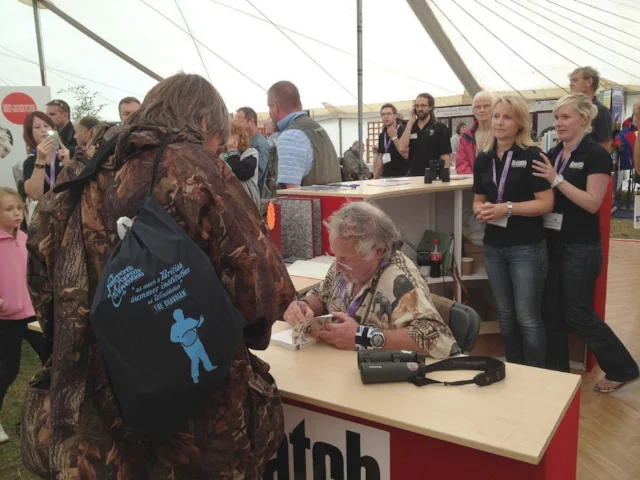 The annual celebration of birds and conservation,
Birdfair
, opens its doors for the 25th time at Rutland Water, Leicesterhire, on Friday 16 August.
Whether you want to travel the world in search of wildlife, try out the latest optics or photographic technology, or hear the latest international wildlife news from many global experts, for thousands of visitors Birdfair – the annual event for everyone involved in birds, wildlife and conservation – is the place to be in August.
Now in its 25th year, Birdfair, held every August at Rutland Water, will be expecting to create even more of a buzz this year. From Friday 16th, the anticipated 22,000 visitors can take in a broad range of entertainments and wildlife lectures from all over the world in the space of three days, browse almost 350 stands, enjoy glimpsing and even meeting wildlife celebrities, and relax on a wildlife cruise.
However, visitors are rewarded by knowing that each year's event builds on previous Birdfairs by raising funds for BirdLife International's Flyways Programme, which will help save millions of birds on their annual migrations. The focus this year will be on the fly-ways between North and South America, and especially long-distance migrant birds dependent on grasslands from 'prairies to pampas'.
The RSPB's Martin Davies and Tim Appleton of the Leicestershire and Rutland Wildlife Trust are the event's co-founders and organisers. Martin Davies said: "A quarter-century anniversary is the perfect opportunity to look both back and forward. We are delighted that over 25 years the event has raised more than £3 million for conservation and helped species as diverse as albatrosses and hummingbirds. But we're hoping to achieve even more for conservation. The number of species facing extinction has risen considerably; now one in eight of the world's bird species are facing oblivion. If we all focus our efforts, we really can make a positive difference for conservation."
The vast majority of the money raised comes from visitors' entrance fees and, as in previous years, the organisers guarantee that every penny will go to the chosen conservation project. Therefore, just by attending the fair everyone is helping support conservation.
Tim Appleton commented: "For all its serious focus on raising funds and awareness to help some of the world's most threatened species and habitats, we recognise that Birdfair is also great fun. We're delighted that it still has the relaxed and enjoyable atmosphere it did when we started 25 years ago."
The three-day event is expected to attract a host of celebrities including: wildlife cameraman and presenter, Simon King; bird expert extraordinaire Bill Oddie, with his friend, film producer and writer Stephen Moss; and wildlife presenter Nick Baker. Johnny Kingdom, Charlie Hamilton–James, actor Phil Daniels, Ceri Levy and Jonathan Scott will also be enjoying the fun of the Birdfair.
The 25th Birdfair will be held at Egleton NR, Rutland Water, Leics, from Friday 16 to Sunday 18 August 2013 from 9 am to 5.30 pm (with the event closing at 5 pm on Sunday). For further information and to buy advanced, discounted etickets, visit
www.birdfair.org.uk
.
The official programme is sponsored by
Birdwatch
, and is available free with the August issue, in the shops now.