Birders asked to stay away from starling murmuration
26722ad9-6f40-40fb-97d2-d0348d8b235f
Birders who visit the famous Common Starling murmuration in Somerset are being asked by the RSPB to stay away this year due to ongoing risks from coronavirus.
The flock at Ham Wall, in the Avalon Marshes, is well known and hundreds of people are thought to visit each winter between October and March. But the RSPB is keen to keep the numbers down this year due to the pandemic.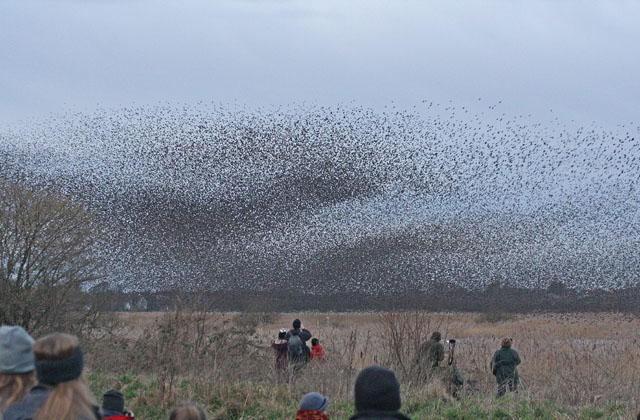 Members of the public enjoying the Common Starling roost at Ham Wall in 2016 (R Luckwill).
Content continues after advertisements
A spokesperson said: "It is with great sadness that this year, for the safety of all our visitors, staff and volunteers, we ask that our visitors please try to visit alternative starling roost sites if possible before choosing to visit us at the Avalon Marshes or RSPB Ham Wall
"While we'd love to welcome you, the government guidelines on social distancing measures and maximum gathering sizes mean we cannot safely accommodate the usual large numbers of people who visit us in the late afternoon and early evening for starlings. If the Avalon Marshes roost is your local roost, we ask that you plan your visit carefully and avoid disappointment by reading our guidelines."
The RSPB's Becca Smith told the BBC: "The starling season hasn't got going yet, but we've already had a fair number of visitors turn out. So we are asking for people to try and find alternative sites to the entire Avalon Marshes site if it is not their local roost. Our busiest times are weekends and Christmas time. So, we're urging visitors to try a morning roost instead at dawn, which is surprisingly late in winter, and weekdays."