'Biking Birder' breaks European green year list record
26213f52-5149-45a7-8aa9-493a213e0396
Chris Boardman, Jason Kenny, Chris Froome and Bradley Wiggins all feature on the list of illustrious British cycling champions... but how about Gary Prescott?
At 60 years old, asthmatic and (by his own admission) slightly overweight, Gary — aka the 'Biking Birder' — cuts a slightly surprising figure as a cycling record holder, but what he may lack in physical prowess he more than compensates for in sheer will and determination. In 2016 Gary gained the European Green Birding crown, recording 318 BOU (315 AERC) species during the course of the year.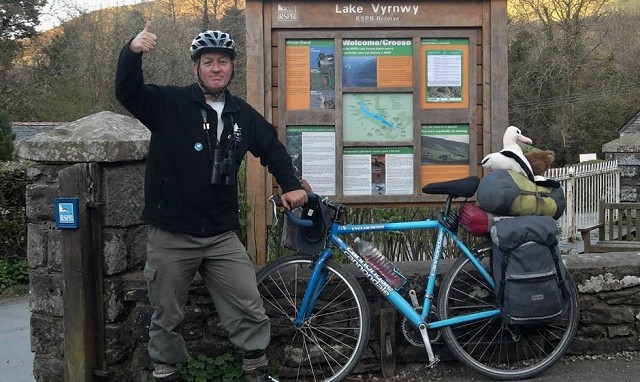 Gary at Lake Vyrnwy RSPB.
Gary, a retired special needs teacher from Worcestershire, has always been a keen birder, cyclist and promoter of environmental causes. Therefore the growing movement of green birding — not incurring a carbon footprint in the pursuit of the birds — came naturally to him. His efforts in 2016 were the culmination of six years of preparation, which commenced in 2010 when Gary took a sabbatical from teaching to cycle around the British Isles, visiting all RSPB and Wildfowl & Wetlands Trust reserves and recording a total of 251 species, matching the British green year list record held by Chris Mills. Following his retirement Gary repeated the feat in 2015, this time recording an impressive 289 species. However the dual lures of 300 species in a year, the benchmark for any decent year list, and the European green birding record of 304 species (AERC) set in 2013 by Ponc Feliu Latorre in Catalonia proved irresistible. As soon as one year-long odyssey was completed on 31 December 2015, another started on New Year's Day.
Setting off from his home patch of Upton Warren, Worcestershire, Gary headed off to the South-West, adding headline birds such as Pacific Diver and Hudsonian Whimbrel, before traversing the south coast. February saw Gary nail Greater Yellowlegs and Penduline Tit among others while March found him up in Norfolk, collecting the county's many winter specialities. From here Gary went to the North-East and across to the Lake District, only to find that the famous final male Golden Eagle was missing, presumed deceased.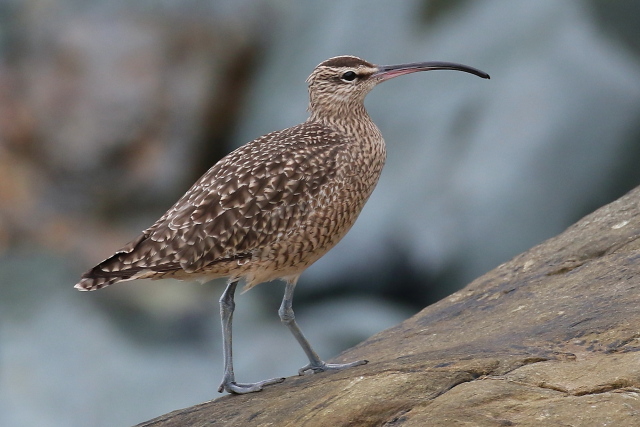 The Perranuthnoe Hudsonian Whimbrel was a classy early addition to Gary's 2016 year list (Photo: Peter Moore)
Heading back down through Yorkshire, attending the RSPB member's weekend as a guest speaker, Gary returned to East Anglia, where highlights included Savi's Warbler at Minsmere. Arriving in Kent in late April, Iberian Chiffchaff in Ramsgate and the Oriental Turtle Dove near Sevenoaks were great bonuses before he returned to Norfolk, taking part in a 'big day' and recording 100 species.
May brought Broad-billed Sandpiper at Frampton Marsh, Great Reed Warbler at Paxton Pits and the Franklin's Gull at Abberton Reservoir. A Greenish Warbler at Lowestoft got June off to a flier. Heading north again, Gary notched Little Bittern at Old Moor and Bonaparte's Gull at Northumberland's Wansbeck Estuary.
Crossing the border into Scotland at the half-way point of the year on 258 species, it was apparent that the initial target of 300 was a realistic proposition. July was spent in adding the Scottish specialities in the Hebrides and Speyside and August kicked off with the American White-winged Scoter just north of Aberdeen. The next three months were to be spent on the Northern Isles, traversing between North Ronaldsay, Fair Isle and the Shetland Mainland.
It proved to be one of the most memorable autumn migrations on record. Gary was fortunate enough to observe a list of rarities too long and mouth-watering to reproduce in full, but personal highlights included finding Fea's-type Petrel and White-billed Diver with Samuel Perfect as well as seeing Siberian Accentor, Lanceolated, Booted, Paddyfield, Radde's and Icterine Warblers, Black-faced Bunting, Isabelline and Pied Wheatears, Pechora Pipit, Citrine Wagtail, Arctic Redpoll, Great Snipe and Northern Harrier.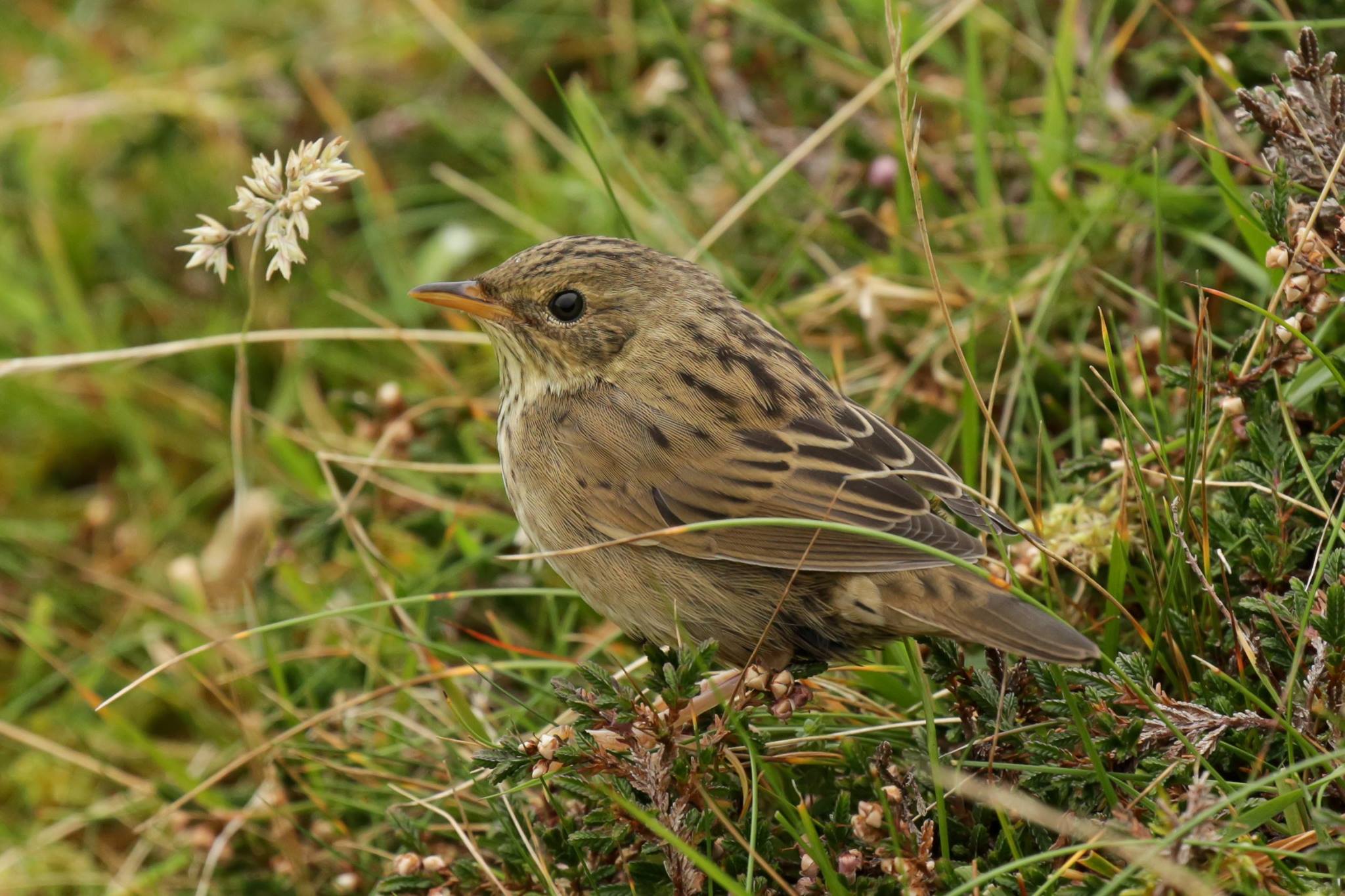 Lanceolated Warbler was one of the many rarities that Gary connected with on Fair Isle (Photo: Lee Gregory)
Content continues after advertisements
The British green record was broken on Fair Isle on 19 September with a Red-throated Pipit. The significant milestone of 300 was reached with an Olive-backed Pipit on the same island on 8 October and, finally, the European record of 305 was secured with Pine Bunting there ten days later. Both the 300 and the European record occasions were shared with Lee Gregory, then Assistant Warden of the Fair Isle Bird Observatory.
The return journey through England in December yielded Pallid Harrier and Dusky Thrush before Gary finished the year off back where it all began, at Upton Warren.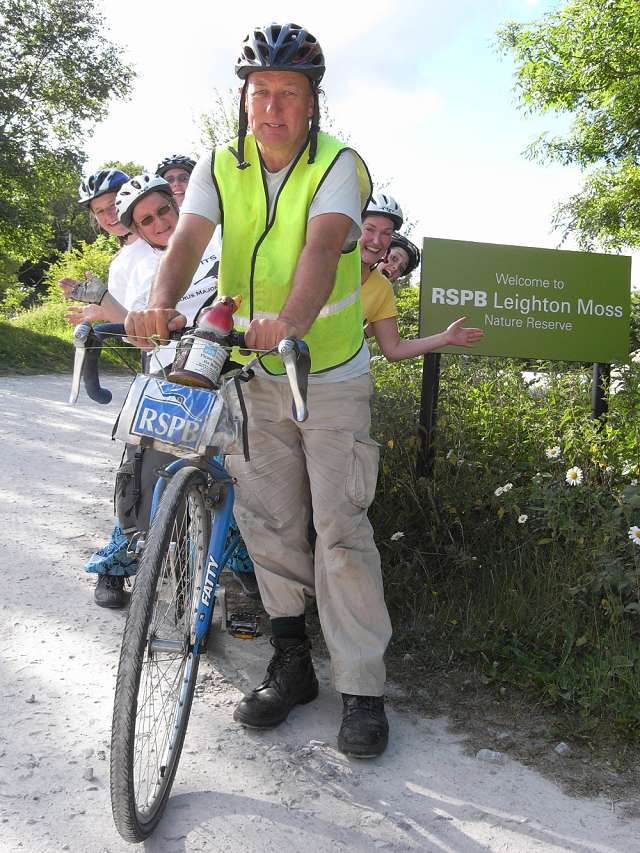 Gary calls in at Leighton Moss RSPB.
In total Gary's epic year saw him clock up over 7,000 miles on his bike. During the year injuries and bike malfunctions added a further level of challenge beyond the usual weather, tarmac and insects. Memorable days were many and varied, but three that stick out in Gary's mind are:
2 October: 'Super Sunday' on Fair Isle produces Pechora Pipit, Red-flanked Bluetail, Blyth's Reed and Radde's Warblers as well as year ticks in the form of Bluethroat, Arctic Warbler and Lanceolated Warbler
18 October: again on Fair Isle, a frantic afternoon adds Bean Goose, Siberian Stonechat and, finally, Pine Bunting to break the European record
30 October: the Northern Harrier on North Ronaldsay was followed by a seawatch which delivered Little Auk, Pomarine Skua and the aforementioned Fea's Petrel, rounded off by a Glossy Ibis found by Larissa, a Canadian Residential Volunteer at North Ronaldsay Bird Observatory, that afternoon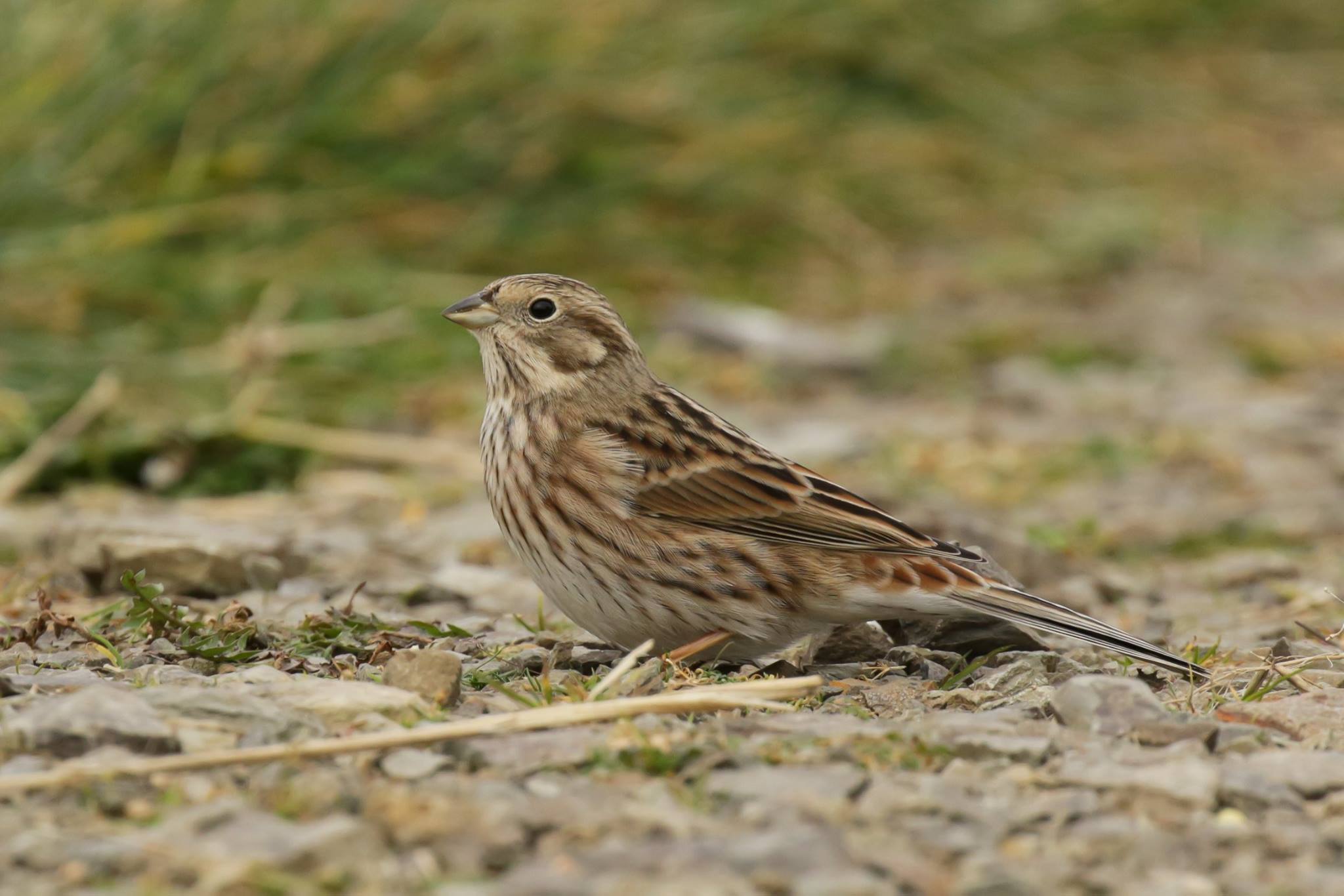 Gary broke the European green birding record when he scored Pine Bunting on Fair Isle in mid-October (Photo: Lee Gregory)
The year was not just about twitching other people's birds and Gary managed to find Hoopoe, Icterine, Barred and Arctic Warblers as well as those already mentioned. Of course it wouldn't be birding without several dips during the course of the year — arguably most gallingly a Kentish Plover, which flew off when Gary was just four miles from the site! Other tantalising misses included Dan Pointon's White's Thrush at Spiggie, Shetland, and a Spotted Crake on Fair Isle, as well as a Red-footed Falcon in Essex — sadly Gary chose to visit on the only afternoon of its protracted stay that the bird didn't show!
All three green birding years have been about far more than just ticking off birds. Gary has been fundraising for four charities close to his heart: the RSPB, the Wildfowl & Wetlands Trust, Asthma UK and for the Chaskawasi-Manu Rainforest project in Peru, raising many thousands of pounds in donations. He has also delivered lectures and given presentations on both his adventures and environmental issues around the country during the course of his journeys, including several guest slots at regional bird fairs and a feature on Springwatch.
So what does the future hold in store for Gary? This year will be taken up with a number of smaller-scale adventures, such participating as part of a green birding team in the Champions of the Flyway bird race at Eilat, Israel, in March with a team of young birders associated with North Ronaldsay Bird Observatory. However, his main focus for the year will involve planning his next big challenge — an attempt at the world green birding big year record in Peru in 2018. Dorian Anderson's phenomenal total of 618 species achieved in the States in 2014 is a very challenging target but, given Gary's single-minded focus, it would be a foolish person who bet against him adding another record to his collection.
All the details of the Biking Birder 2016 adventure can be found on Gary's blog: bikingbirder2016.blogspot.co.uk
Gary's 2016 Year list is detailed on Bubo's Britain Year List for 2016.
For more information about green birding, take a look at Jim Royer's blog: The World of Green Birding
If you would like to donate to any of the charities Gary is supporting, please use the links to be found on his blog.