Beer for Bitterns
1533132c-5ae3-4fa3-bbad-3560eb4d4094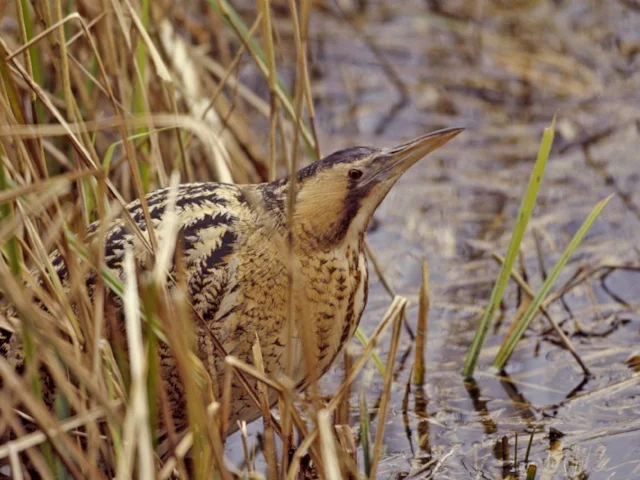 A Barnsley brewery has teamed up with the RSPB to launch a new beer inspired by Bittern, to raise funds for bird conservation.
Acorn Brewery's 'Butter Bump' beer will help Bittern conservation in the North of England, with Acorn donating 5p to the RSPB for every pint sold. The first pint of Butter Bump was pulled at the award-winning Old No. 7 pub in Barnsley, South Yorkshire, by David Woodhead of nearby Sheffield, who won a competition to name the new beer.
David explained: "I did a bit of research and found that Butter Bump is an old English name for the
Bittern
, which was commonly used in Yorkshire. It's also a great name for a beer and after sampling I'm delighted to say that it tastes terrific."
In addition to pulling the first pint, David will also be joining the team at Acorn to help brew some of the beer, as well as enjoying a guided tour of the RSPB's Old Moor reserve, one of the few places where Bitterns are known to breed.
Acorn Brewery Manager David Broadhead commented: "It's great to be involved in this project to help the RSPB. Old Moor is not very far from the brewery, and the RSPB is doing some fantastic conservation work down there, and it's a wonderful visitor attraction for the area. I'm really pleased with the beer, which is a lovely golden buttery coloured ale that will soon be available in pubs across the country. I'm confident that it will appeal to beer and bird lovers alike."
The RSPB's Mike Harris said: "The money that the society will receive from sales of this delicious beer will help us create more homes for
Bitterns
at Old Moor and elsewhere across Northern England. These birds have had a very hard time over the past 150 years, and while their numbers are rising they are still vulnerable. It is vital we do everything we can now to ensure they have a secure long-term future in Yorkshire and beyond."
Bittern is a shy, secretive member of the heron family. Until the early 1800s, it was well-known across Britain for the booming call of the male during the breeding season, which may even have given rise to the expression 'things that go bump in the night'.
By the late 1880s, a combination of hunting and loss of habitat meant that Bittern no longer bred in Britain. Numbers recovered after World War II, when land was flooded to prevent invasion along the eastern coast of England, but collapsed again as reed beds dried out. Numbers were down to single figures by the 1990s, but a massive effort to restore reed beds reversed this decline. By 2011, there were 63 Bittern nests across 26 sites in eight English counties.
Bitterns first successfully bred at Old Moor RSPB in 2012 with one pair raising three chicks. Last year, there was another nest, which produced four chicks.
Content continues after advertisements