Beaver born on Exmoor for first time in 400 years
68ed1e2a-ff46-4233-98ef-b4ef57aa84b0
The first Eurasian Beaver to be born on Exmoor in four centuries has been seen at the National Trust's Holnicote Estate in Somerset.
The young kit was captured on a trail camera just 18 months after NT undertook its first licensed release of beavers in its 125-year history.
Footage from a static camera captured the six-week old kit swimming with its mother, back to the family lodge, while she stopped to nibble a branch.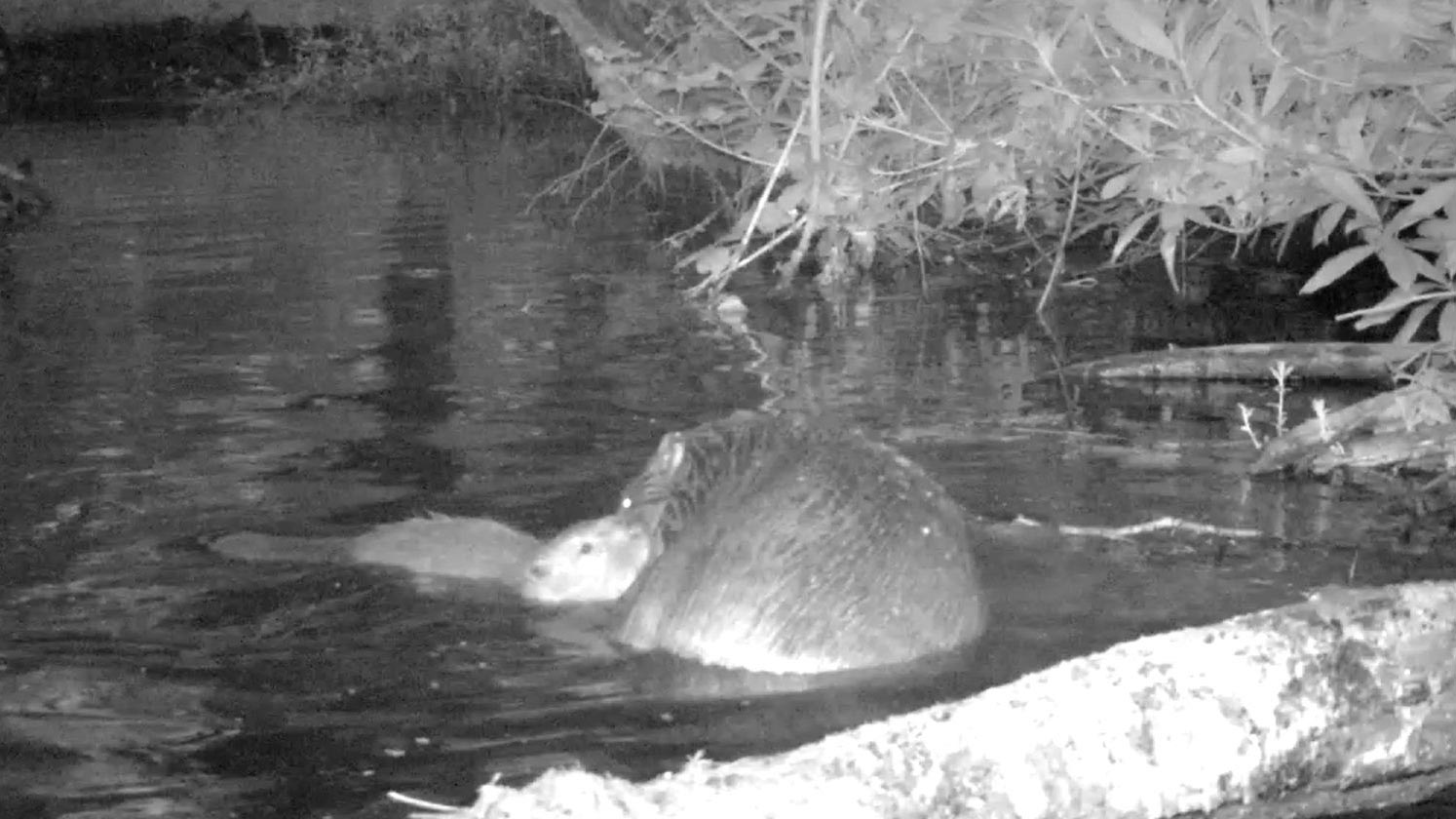 This beaver kit, pictured with its mother at Holnicote Estate NT, is the first to be born on Exmoor in 400 years (National Trust).
Jack Siviter, one of the rangers on the Holnicote estate said: "We first had an inkling that our pair of beavers had mated successfully when the male started being a lot more active building and dragging wood and vegetation around the site in late spring. The female also changed her usual habits, and stayed out of sight, leaving the male to work alone. It was then several weeks until we spotted her again, and this is when our suspicions were confirmed that she had given birth, due to having very visible teats.
"We are particularly pleased for our female, nicknamed Grylls due to her survival instincts, as she didn't have the easiest start to life being orphaned at an early age. As a first-time mum she seems to be thriving and it's great to see her with her new kit.
"The family should now stay together for the next two years before the kit will naturally want to go off to create a new territory of its own."
Thousands of social media users have subsequently voted to name the youngster Rashford, after England football star Marcus Rashford.
Rashford – or, as some social media users preferred, 'Gnashford' – received half of all votes (49.9 per cent), ahead of Banksy, which came in second place (with 17.4 per cent), the latter chosen on the basis of where beavers make their home.
Beavers have already been being reintroduced at several sites around Britain, with plans for further releases over the coming few years. This is in addition to an established population in eastern Scotland.
By holding water back beavers can play a role in reducing the impact of floods and droughts both of which are expected to become more frequent with climate change.