Bats leapfrog into gardens
8ba899bd-45aa-46ea-a256-35a87b4dbdc9
The RSPB's summer wildlife survey, Make Your Nature Count, has revealed some unexpected results in its first few days this year. Over half of participants so far have reported sightings of bats, showing how important gardens are for them. And numbers of amphibians spotted so far are also high, with 54% of participants reporting frogs in their gardens and 30% recording toads.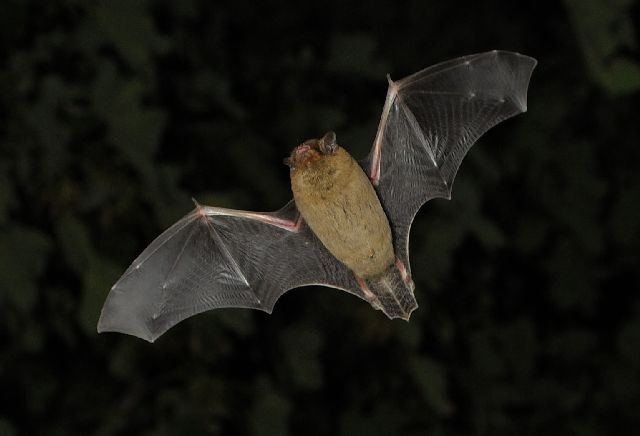 Common Pipistrelle Bat hunting at twilight, Berwickshire (photo: Laurie Campbell (rspb-images.com)).
Make Your Nature Count is a UK-wide stock-take of summer wildlife and gives the RSPB information about the creatures visiting gardens at this time of year. This year, as well as common garden birds, the wildlife charity is interested in creatures that are associated with water, such as frogs, toads, newts and beetles. The RSPB is concerned about how the early dry weather has affected wildlife and wants to highlight how important access to water is for many creatures.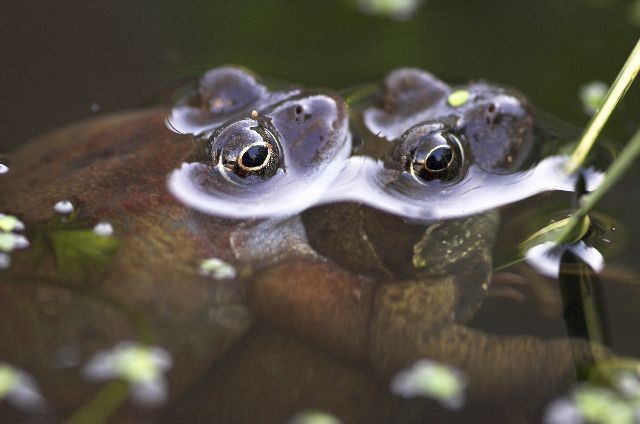 Common Frogs in garden pond, Kent (photo: Jodie Randall (rspb-images.com)).
The survey runs until Sunday and the charity is calling for more records to be submitted to help them paint an even bigger picture of garden wildlife in the summer.
Richard Bashford, RSPB Make Your Nature Count Manager, says: "Many people probably don't even realise how much wildlife they have in their gardens — and now is a great time of year to sit back and discover who's visiting your patch. Of course we know that lots of people regularly see frogs and bats, but it's great that more than half of those taking part in the survey get to enjoy them and we didn't anticipate the numbers being that high. It just goes to show how vital gardens are for our wildlife, and that you never know what you might get in your own backyard."
Although the survey has already shed some light on the numbers of creatures such as bats and frogs, the RSPB is still particularly interested in numbers of common garden birds at this time of year.
Content continues after advertisements
Make Your Nature Count follows on from the popular Big Garden Birdwatch in January which gives a picture of winter bird numbers, but information on garden birds in summer will complete the picture. The RSPB is also interested in the numbers of baby birds that are in gardens at this time with the breeding season well underway. The charity is asking about Blackbird, Robin and Song Thrush chicks, as they are fairly easy to identify and tend to stay close to their nest sites for longer than some other chicks.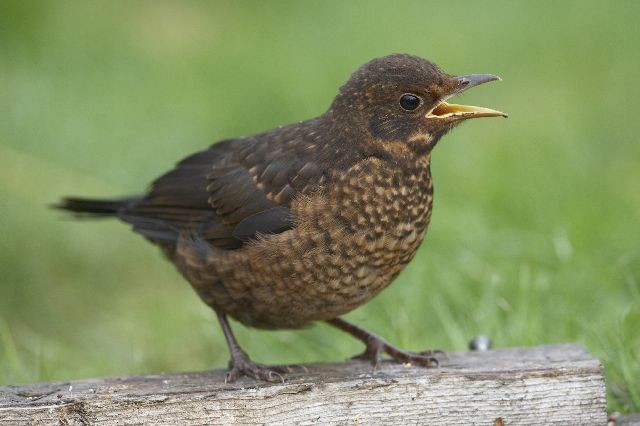 Juvenile Blackbird (photo: Mark Hamblin (rspb-images.com)).
Participants simply need to record the highest number of each species seen at any one time — not the total number seen over an hour as the same bird may visit several times. Only birds that land in the garden should be recorded, with the exception of swifts and house martins.
As well as the more common garden wildlife, participants so far have recorded sightings of Polecats, Slow Worms and Wildcats among other unusual creatures.
Laura Stevens, Make Your Nature Count participant, says: "My boyfriend and I have been enjoying seeing a Badger in our garden recently, but I noticed something else in the undergrowth last week. I thought it was probably too large to be a Stoat and when I looked into it I believe it was a Polecat. I live in an unassuming garden in Cambridgeshire and am pleasantly surprised that we host something so unusual. If we do, you probably do as well, you never know what's out there!"
Richard Bashford says: "Already, after just a few days, we've had information that we couldn't have predicted. It's fascinating, and I'd encourage everyone to help us by taking part this weekend."
To take part in Make Your Nature Count visit www.rspb.org.uk/naturecount.