Arsonists deface hide in Dumfries and Galloway
b0c44454-b3db-48e5-8861-00fe8e67ba54
The National Trust for Scotland has spoken out about rising levels of vandalism on its properties after a hide was set on fire.
The structure at the Threave Estate, Dumfries and Galloway, was attacked by vandals who smashed two windows and then tried to set it ablaze. It will remain closed for several weeks, just as the summer holiday season begins.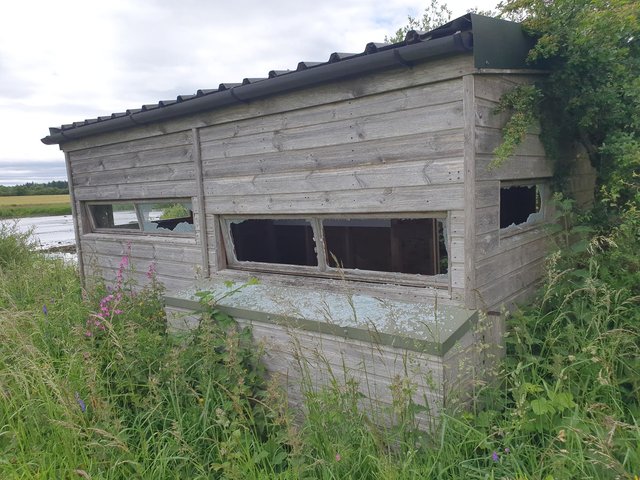 The defaced hide at Threave Estate (National Trust for Scotland).
David Thompson, Estate Manager for Dumfries and Galloway at NTS, said: "As dawn and dusk are the best times to enjoy wildlife, our hides on Threave Estate are open 24/7. We want to keep it this way, but regularly we're finding our hides damaged by attacks like this. Our teams are working hard to repair this vandalism, but precious time and money is being lost in the process."
Fire retardant paint helped to limit the damage at the hide. The attack follows a long list of vandalism at the hide, with bills to fix graffiti, damaged doors and broken windows amounting to around £10,000 over the past few years.
It comes just days after Threave Estate featured in the launch of a new NTS campaign that urges visitors to "love this place, leave no trace" and aims to educate people on how to minimise their impact on the countryside.
Last month, the Dark Skies Observatory in East Ayrshire was completely burned to the ground in a suspected arson attack. Samuel Gallacher, NTS Operations Manager for Glasgow and Ben Lomond, Dumfries and Galloway, said the fire at Threave Estate had come at a "terrible time" as the summer holidays get underway.
Mr Gallacher said: "It's one of the most accessible hides we have and has wheelchair access. It's a real pity as some of the plans that we had for increased visitors are now ruined. It's really disheartening, both for the team and everyone who loves and visits the estate. We work so hard to protect these places in the best way possible and to face this situation is a slap in the face for everything that we are trying to achieve."