Appeal to save rare Kenyan bird
324db9ff-cb0a-40d9-9b17-d99bcbd82f45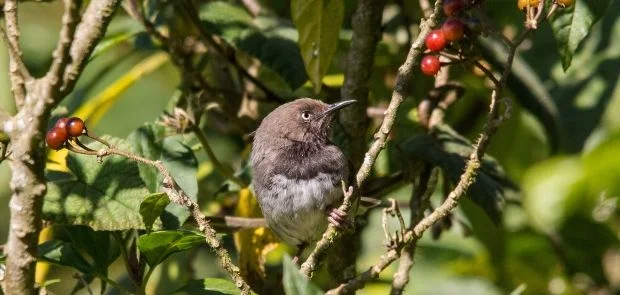 Taita Apalis is one of the rarest birds in the world, with only 100-150 individuals left, and is the subject of a BirdLife appeal to raise funds for protection.
The warbler species lives only in the forest fragments at the tops of the Taita Hills in south-eastern
Kenya
. It is considered Critically Endangered in the IUCN Red List because it has a tiny occupied range of 500 ha. The very small population of the Taita Apalis has been fragmented into extremely small sub-populations and may consist of only 100-150 individuals. The future of the Taita Apalis depends on how quickly the current habitat can be restored, expanded and protected. Actions include land purchase or lease, active restoration of degraded areas and engaging local people in protecting this unique species.
Nature Kenya (BirdLife Partner in Kenya) has leased Msidunyi Forest, a 6.28 ha private forest fragment located on the western side of Vuria peak of the Taita Hills. This small forest fragment will secure six per cent of the world's Taita Apalis population. Funding for the lease was secured from the World Land Trust, the RSPB and the African Bird Club.
In addition, Nature Kenya, working with local communities, plans to restore 115 ha of degraded Vuria Community Forest, which is contiguous to Msidunyi and is held in trust for the local people by the Taita-Taveta County Government. Nature Kenya is also looking for more private land to buy or lease to secure the Taita Apalis habitat for perpetual survival.
The amount that needs to be raised is 10 million Kenyan shillings (the equivalent of £70,000), but with many individual contributions of a small amounts, BirdLife believe that the figure can be met.
At Nature Kenya, they are doing all they can to ensure the Taita Apalis is not the first endemic species Kenya loses, but they need your help to do it – so please donate now and help towards the targets of buying or leasing land, restoring degraded habitats and empowering local people.
There are various ways to make a Donation. Visit
the special website created for the appeal
for more information.
Content continues after advertisements