Appeal for information on colour-ringed Twite
c1e1cb70-48fb-4ff8-b8e4-32fa0384c46a
Back in 2006 the BTO, BirdGuides and a group of bird ringers together appealed for information on sightings of any colour-ringed Twite (Linaria flaviostris) that had been reported (but not submitted!) in large flocks along the East Coast and beyond. Eight years later and we're doing very much the same as we undertake another project on these birds.
The marked Twite were ringed in the South Pennines in the summer of this year and so far look to have enjoyed a productive breeding season, with nearly two thirds of those caught being juveniles. One of those juveniles has already been resighted on the Lincolnshire coast just three weeks after ringing (thanks to Chris Atkin), while others are still within 20 km of us.
One of the birds we caught had been colour-ringed under a previous productivity project on the population and was later worked out to be 5 years and 3 months old, just a few months off the age record (thanks to Nick Wilkinson)!
We are using colour-ringing as a method (as those before us did) to determine winter movements of Twite out of the Pennines, as well as those that stay on the moors to overwinter. We will also be using the individual marking, in conjunction with the RSPB, to monitor productivity of birds returning to breed.
We are using plain colour bands, with a single colour ring over the BTO metal ring on the left leg and two plain-colour rings on the right leg. The colours used are as follows — red , green, yellow, black, white, orange, blue and pale/pastel blue.
Content continues after advertisements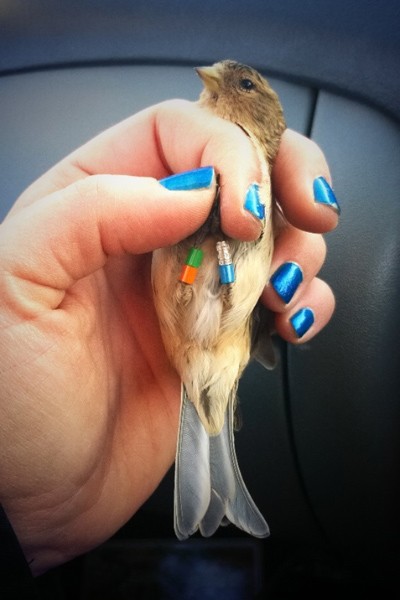 Colour-ringed Twite (Photo: Gillian Dinsmore).
So, if you are lucky enough to live on the East Coast where these flocks are regularly reported, especially between Lincolnshire and Kent, please do make sure you're double-checking birds for leg rings. Based on previous re-sightings, the flocks on the north Norfolk coast between Thornham and Morston may be worth checking as well as birds around The Swale (Kent).
Sightings can be reported to Jamie Dunning on 07984237822 or via email, or alternatively to Steve Christmas. We will get back to you with details of the project and life history of the bird you've seen. Please also do feel free to get in touch with any questions or for further information.