American wildlife system to suffer massive budget cuts
a1209ebd-47e4-4116-9936-f1c6e9e6d030
Just days after the US Refuge System celebrated its 114th birthday, the Trump Administration has announced dramatic and damaging cuts to conservation programs.
"Like a hurricane wind used to blow out a birthday candle, the aspirational dreams for an invigorated Refuge System were snuffed with today's budget proposal," said Geoffrey Haskett, Acting President of the National Wildlife Refuge Association. "Instead of a birthday gift that would alleviate the current budget crisis in the Refuge System, today's proposal would close refuges and bar public use to the very people it was designed to serve."
The just-released Fiscal Year 2018 Budget Blueprint includes a 12 per cent cut (about $1.5 billion) to the Department of the Interior. If passed by Congress, and taken across all programs, such a cut would mean the closure of refuges across the nation, loss of staff and the elimination of hunting, fishing, environmental education and other public use programs. Volunteer efforts would also be slashed, as the Refuge System would be forced to take those who oversee such work to focus on other mission critical programs.
Content continues after advertisements
"Visitation to our national wildlife refuges increases every year, yet this budget would turn Americans away at the gate," said Haskett. "But it's not just visitors, it will also cut into the wildly successful volunteer program that contributes an extra 20 percent of work to the Refuge System every year. Our Refuge System simply cannot afford such cuts."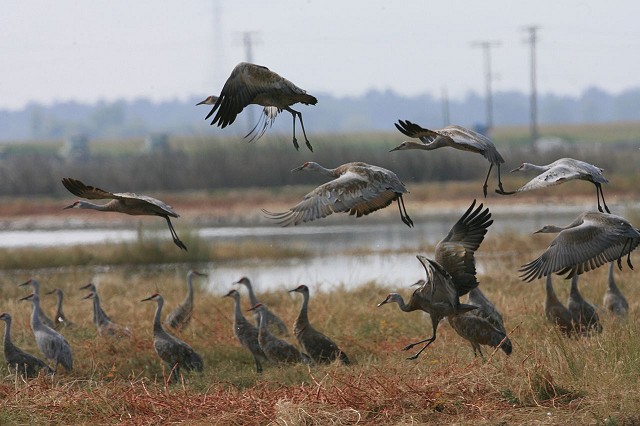 Sandhill Cranes at Merced National Wildlife Refuge, one of many expansive nature reserves scattered across the US, essential in protecting the country's declining animals and plants (Photo: Lee Eastman/wiki commons)
President Trump's budget would also gut land acquisition in the Department of the Interior with a proposed 75 percent cut ($120 million). At this level, essentially all new land acquisitions would halt with funding only reserved to complete existing transactions. Without funding for new acquisition, the US Fish and Wildlife Service will lose the ability to work with willing landowners to acquire lands for conservation.
The administration has stated that more details will be released in May, and at such time we may find out that the proposed cuts to the National Wildlife Refuge System are even larger than 12 per cent. The National Wildlife Refuge Association says it remains committed to protecting and enhancing the country's nature reserves and intends to work closely with Congress to ensure these budget cuts are not enacted.