Action for nature in Scotland's woodlands
0c7b370f-1330-4e72-b827-34492e9c02d3
Forestry Commission Scotland's new biodiversity programme—Woods for Nature—sets out how the Commission is helping to conserve and expand woodland habitats and species in public and private woodlands. The programme features a mix of long-term planning and landscape-scale action, including restoring and expanding our native woods that will create stronger, more adaptable ecosystems. The Commission has also focused its effort on six key woodland species that will each benefit from a distinct programme of work over the next few years.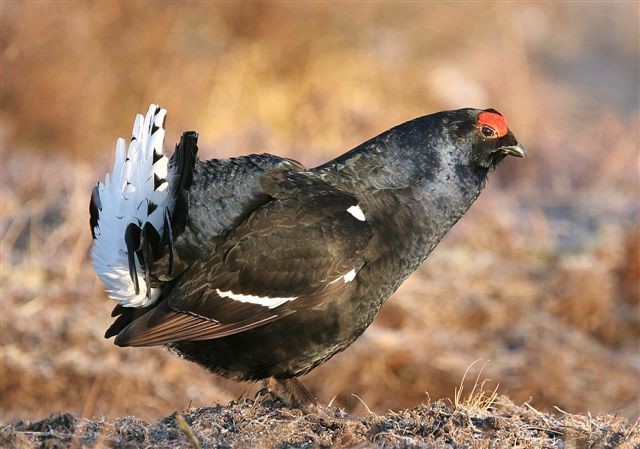 Black Grouse, undisclosed site, Highland (Photo: James Wood)
Three species action notes, also published today, spell out the Commission's work for Capercaillie, Black Grouse and Red Squirrels. Similar programmes for Pearl-bordered Fritillary, Chequered Skipper butterfly and Juniper are being developed and will be published in early 2009.
Launching the programme during a visit to a Black Grouse conservation programme in Galloway Forest Park's Carrick Forest; Mr Russell said, "Woodlands—and the open spaces within them—have a vital contribution to make towards conserving Scotland's threatened habitats and species. We are very fortunate in Scotland to enjoy a wealth of biodiversity that is for the most part robust and healthy. However some elements are extremely fragile and making sure that they thrive will require some large-scale thinking and landscape-scale vision—both of which are forestry sector strengths. It has been great to see today how committed the volunteers and staff are to enhancing the local habitat for the benefit of Black Grouse. I am confident that this level of enthusiasm will ensure that the work FCS is doing in this programme throughout Scotland will really make a difference to our biodiversity and to our enjoyment of it."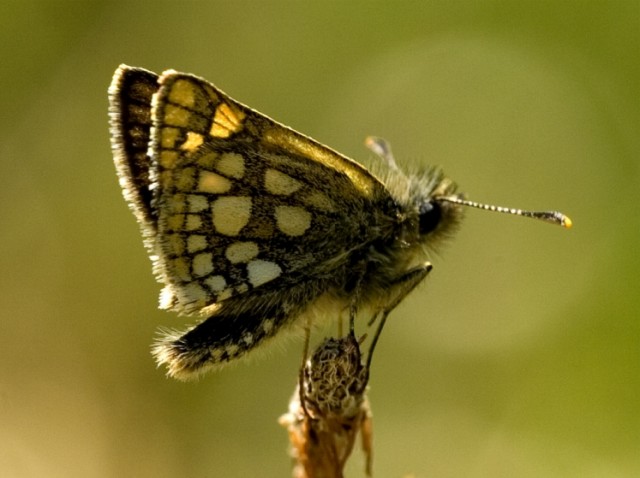 Chequered Skipper. (Photo: John Booth).
Woods for Nature and the three published species action notes set out what the Commission will do both on the national forest estate and to promote action on private woodland. Many of the projects in the programme involve partnership action with bodies such as SNH and RSPB, amongst others.
Woods for Nature: the Biodiversity Programme 2008–2011 will help meet the aspirations set out in the Scottish Forestry Strategy and the Scottish Biodiversity Strategy. See
www.forestry.gov.uk/woodsfornature
.