February 2018: Eurasian Sparrowhawk or Northern Goshawk?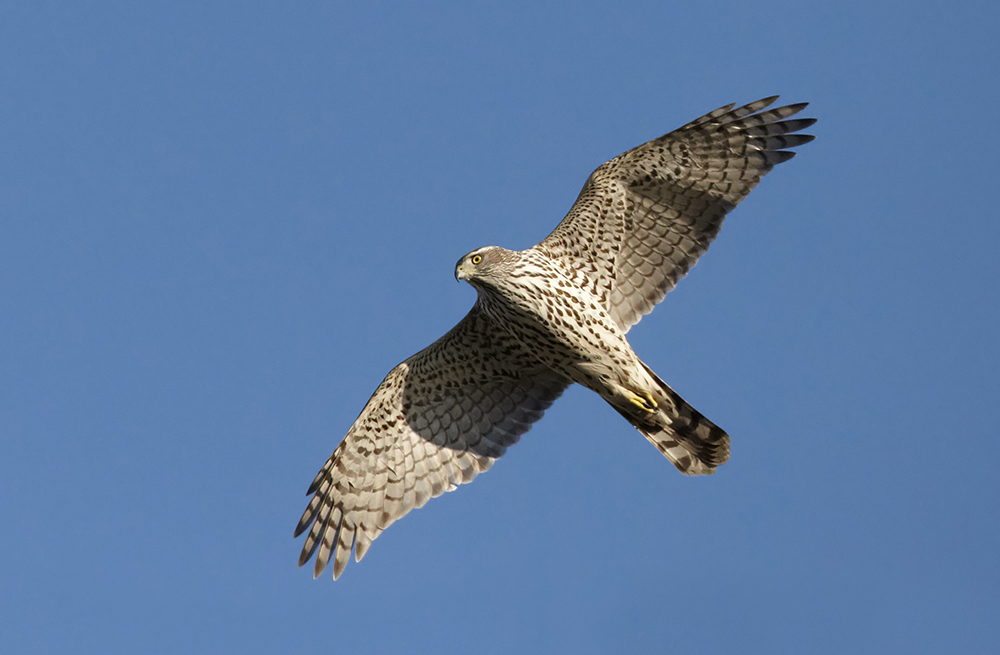 The question
Walking through a mature woodland on an early spring day out, you see a raptor flying between the tall trees. Its general shape and plumage suggest that it is a hawk, but it is hard to judge its size without other birds with which to compare it, but you think it could probably be called 'medium to large'. It is obviously either a Eurasian Sparrowhawk or a Northern Goshawk. You see it well enough to observe its head pattern and the details of its underpart feathers, as well as the shape and proportions of it wings and tail; you can even see its eye. Which species is it?
The answer
This is a Northern Goshawk. The photo was taken in October 2011 in Finland by Tomi Muukkonen.
The winner
Andrew Rodwell of London correctly identified the mystery bird. He wins a copy of Winter Birds by Lars Jonsson.
January 2018: Common, Golden or Lady Amherst's Pheasant?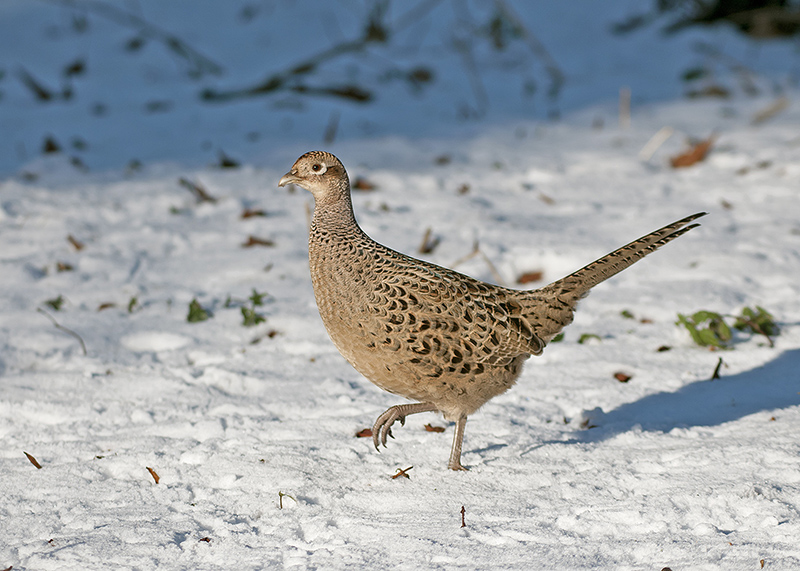 The question
You're enjoying a winter's day out birding in the countryside, when a large brown gamebird runs across the snow. Poised and alert in the open, the bird is nervous but stands still long enough for you to take a diagnostic photo. From its size and longish tail, you know it is a pheasant of some sort, but which one is it? The bird is at the paler end of the brown spectrum and scaly looking. You note the details of its body feathers, tail pattern, head markings, and proportions – is this enough to tell you which of the three possible species found in Britain it is?
The answer
This is a female Common Pheasant. The photo was taken at Crosby, Lancashire, on 8 January 2009 by Steve Young.
The winner
Gillian Hitchen correctly identified the mystery bird. She wins a copy of Lost Kingdom by Stephen Moss.
November 2017: Which grebe: Great Crested, Red-necked, Black-necked or Slavonian?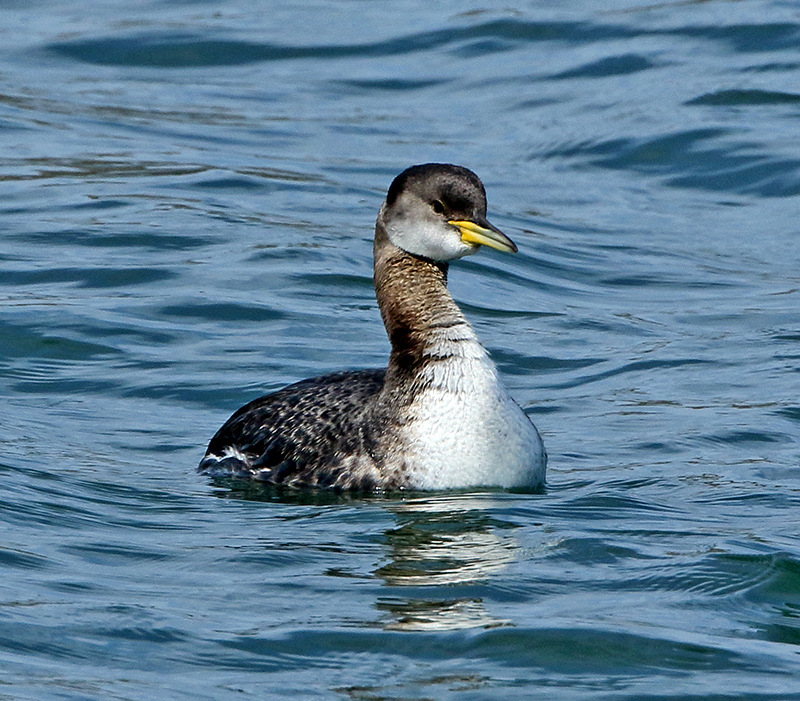 The question
A winter visit to your local reservoir is bound to produce a grebe or two, and so it is the case when you venture out onto the causeway and see one on its own inshore, surfacing often enough for you to note its features.

However, the bird is in its more uniform winter plumage, giving pause for thought. Is it one of the smaller grebes, or one of the larger species? With nothing nearby for comparison, it's hard to tell. However, noting its head and bill shape and colour, and the areas of grey, black and brown on its body feathers, you are soon able to arrive at an identification.
The answer
This is a Red-necked Grebe. The photo was taken by Dominic Mitchell (www.birdingetc.com).
The winner
Phil Darling correctly identified the mystery bird. He wins a copy of Remarkable Birds by Mark Avery.
Previous winners
• October 2017: Allan Fullarton correctly answered Eastern Crowned Warbler
• July 2017: David Wareham correctly answered Pacific Golden Plover
• May 2017: Toby Nowlan correctly answered female Black Grouse
• April 2017: Kevin Marriott correctly answered Common Chiffchaff
• February 2017: Kevin Smith correctly answered Dark-bellied Brent Goose
• December 2016: Paul White correctly answered Herring Gull
• October 2016: David Oulsnam correctly answered Meadow Pipit
• September 2016: Phil Crouter correctly answered Long-tailed Skua
• August 2016: Graham Fullerton correctly answered Kentish Plover
• June 2016: Inga Andersenp correctly answered Common Buzzard
• August 2015: Kay Mantripp correctly answered White-rumped Sandpiper
• July 2015: Joy Kehoe correctly answered Manx Shearwater
• June 2015: Ben Eaton correctly answered Grasshopper Warbler
• May 2015: Christina Palmer correctly answered White-spotted Bluethroat
• April 2015: Anne Newson correctly answered Spotted Crake
• March 2015: The correct answer was Bonaparte's Gull
• February 2015: Stephen Holding correctly answered Cormorant
• January 2015: Catherine Smith correctly answered Cackling Goose