Recent updates
15 October 2017
BirdMap update
We have updated the BirdMap coding so that rarer reports now overlay commoner reports, meaning that they do not become 'lost' among the mass of reports when the map is viewed at a higher scale.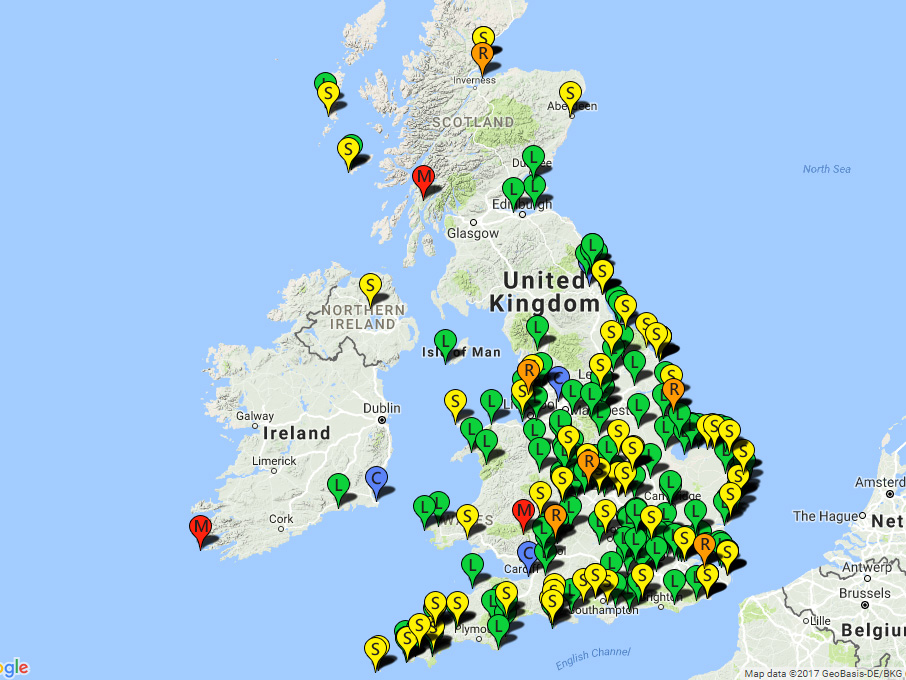 27 September 2017
Multiple destination addresses for Email Alerts
It is now possible to specify up to two email addresses on which you would like to receive Email Alerts. To add these, click on the grey 'Settings' button located to the right of the orange 'Create New Alert' buttons at www.birdguides.com/my-account/my-alerts.

'Nearby' function added to sightings page
It is now possible to add 'nearby' locations to tailor the sightings page even more specifically to your requirements.
Map bug fix
Some users were reporting that maps associated with sighting reports were showing wayward markers in incorrect locations. The bug was identified and has been fixed; now pins should display at the correct locations for all users. Please email us if you are still encountering issues with wayward map pins.
14 September 2017
Revised sightings panel
The Search panel has been revised, with improved search functionality. You can now:
Update your Preferences, such as 'Use My Filters', 'Hide Map' and 'Collapse[/expand] Panel' with just two clicks.
Search by a specific month in any year, or search for keywords in the notes of sighting reports.
Furthermore, the BirdMap has been updated to aid visually impaired users. Each pin on the map is now represented by either M, R, S, L, C and U (Mega, Rare, Scarce, Local, Common and Ungraded reports respectively) as well as the existing colours.
22 August 2017
Simplified image uploads
Our technical team continues to work on enhancements to the website. Many of those in the past week relate to our internal admin systems, helping us to get the news out more efficiently and keep other areas of the site up to date, but one important fix relates to the focus of last week's 'Site Tips and Tricks', Galleries.
When using the photo uploader, after your first image has been submitted it's now possible to upload subsequent images using all the same details – everything from species name, date and location to equipment and your name will be auto-filled in the submission form, making it a simple and much more rapid process to upload multiple images of the same bird taken at the same time. This improvement was requested by some of our many regular contributors, and will allow everyone to get more of their images up onto the site in significantly less time than previously. To see what's been uploaded in the BirdGuides community recently, click the following links to our Birds, Butterflies & Moths and Dragonflies & Damselflies Galleries.
21 August 2017
'Nearby' function on app
The Nearby function app function on the BirdGuides app now uses your location to return reports within a 40 km radius of your position over the past seven days [previously three days].