Artist of the Year
7216580d-3110-4e24-9430-d77b9eea4e9a
This prestigious award, held in association with the Society of Wildlife Artists (SWLA) and Swarovski Optik, is given to the artist whose work at the SWLA's annual exhibition The Natural Eye is considered to be the most outstanding. Submissions must be made in accordance with the criteria outlined by the SWLA.
The award judges are Josh Jones (Editor, Birdwatch), Chris Rose (SWLA), Andrew Stock (SWLA) and Peter Antoniou (Managing Director, Swarovski Optik UK).
The winner is announced at the preview of The Natural Eye, which currently takes place every autumn, and coverage appears in Birdwatch in the following issue (usually the December edition, published late November).
The prize is Swarovski optical equipment of the winner's choice (terms and conditions apply) and a BirdGuides Ultimate subscription.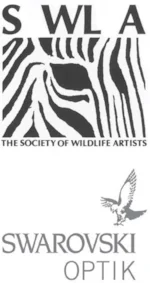 Swarovski Optik and the SWLA
Swarovski
SWLA