"Knowing about the natural world and being in contact with the natural world is the most precious inheritance that human beings can have." It was with these words that Sir David Attenborough opened London's newest nature reserve, Woodberry Wetlands in Hackney.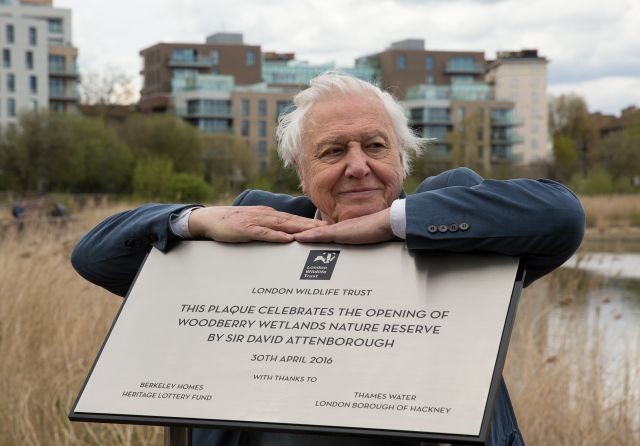 David Attenborough at Woodberry Wetland (Photo: Penny Dixie).
Urban Stoke Newington isn't the first place one might think of to create a nature reserve, but the two reservoirs here have been known for some time to London birders for pulling in some good birds. In fact a Bittern on West Reservoir sparked a Birdwatch office twitch back in 2012. London Wildlife Trust has recognised this potential and turned East Reservoir into a stunning wetland.
The official launch took place on 30 April, with the reserve opening to the public the next day. A small group of journalists were invited and we were lucky enough to have a guided walk around the reservoir with LWT's Conservation Director Mathew Frith. His enthusiasm for the site was both obvious and infectious as he recounted its fascinating history while a Common Chiffchaff sung above our heads.
The two reservoirs were originally built back in 1833 to hold water from the New River, itself constructed in 1613 to carry water from Hertfordshire to the growing capital. They have been providing north-east London with water ever since and continue to do so; the site is owned by Thames Water. Throughout much of the 20th century the water was treated with chlorine and sodium phosphate. Unsurprisingly, the reservoirs were devoid of wildlife.
Then in 1992 the newly privatised Thames Water put both reservoirs up for sale, the idea being that they would be filled in. Local residents and LWT — itself formed in Stoke Newington in 1981 — successfully campaigned to save the two waterbodies. Chemicals were no longer used to clean the water and wildlife returned.

Woodberry Wetlands (Photo: London Wildlfe Trust).
In its near–200-year history the site has never been open to the public — until now. As Frith explained, access is a watchword for LWT. The reserve is very much the brainchild of David Mooney, Development Manager at the trust. Its story really begins back in 2007 when David created a community garden at the north-east tip of East Reservoir and began using it as a resource for local schools.
But it was the discovery of an ivy-covered building bearing an inscription to the New River Company that really kickstarted the idea of creating a nature reserve. The Grade II listed building is an old coal house and now plays host to the Coal House Cafe. Woodberry Wetlands is currently the only LWT reserve to have a café, and after my first trip there as a 'civvy' I can confirm that the food is delicious.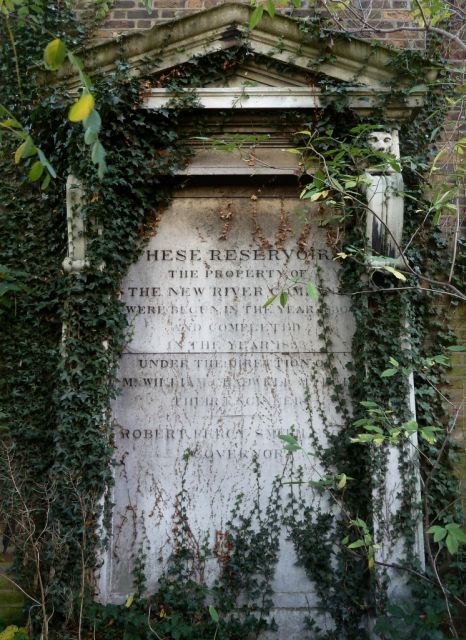 The New River plaque at the Coal House.
Mooney's first challenge was to convince Thames Water to open the site to the public. The company has previously kept the reservoirs firmly private. This is understandable for a site that provides drinking water for hundreds of people in one of Europe's most populous cities. The company eventually gave permission for the nature reserve and even contributed more than £300,000. Further funding came from the National Lottery Heritage Fund and Berkeley Homes. The total cost of the project is £1.27 million; this includes upkeep for the next five years.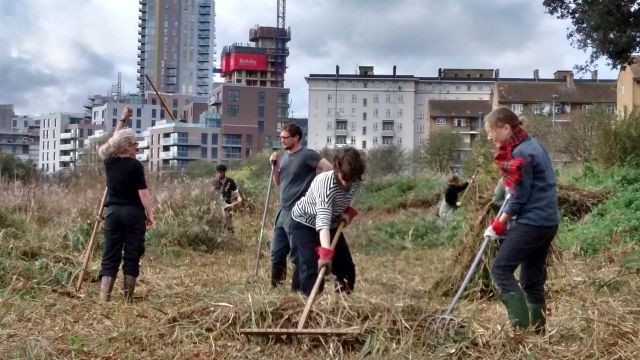 A working party at Woodberry Wetlands.
As well as the cafe, this money has allowed the creation of extensive reedbeds, walkways, improved volunteer and learning facilities, a scrape and islands. These are already providing shelter for breeding Reed and Sedge Warblers and Reed Buntings, the songs of which accompanied us as we walked around the reservoir. More exciting is the pair of Cetti's Warblers — Hackney's first-ever breeding record of this elusive warbler. We heard the species' distinctive call and managed to catch a glimpse of one bird on our tour.
Gadwall, Northern Shoveler, Great Crested Grebe, Little Egret and Kingfisher have also been recorded. It's hoped that Bittern will winter at the reserve — a very realistic hope as this elusive reedbed species breeds close by at Fishers Green in the Lee Valley. We saw Great and Blue Tits on the new Woodland Trail, and a Hobby was spotted on the day that I'm typing these words (13 May 2016).
Inner-city London may not be the most obvious place for a nature reserve, but as Sir David said in his speech: "Everyone should have access to this joy." Some 13,000 animal species have been recorded in the Greater London area. Many of these, Mathew Frith explained, are non-native colonists or escapees, as might be expected in a large international port. The most conspicuous of these is surely the noisy and colourful Ring-necked Parakeet. Familiar to all London birders, we didn't see these birds at Woodberry, but I've recorded them at nearby Finsbury Park. Unlike many conservationists, Frith admits to being something of a fan of these invasives. They reflect, he says, the diversity of London's human population; I can't help but think he's got a point.
Woodberry Wetlands is just the beginning for this corner of north-east London. Next year, LWT is planning on opening the much larger Walthamstow Wetlands, just to the east of the current reserve. This site will also have a cafe, as well as a visitor centre and exhibition space. Better known as Walthamstow Reservoirs, this site has recently recorded Little Tern, Common Sandpiper, Little Ringed Plover, Oystercatcher and Garganey. It's also home to a large heronry.
Developments at both Woodberry and Walthamstow will be something on which we at Birdwatch and BirdGuides will be keeping a close eye — and on which we'll be reporting. Living and working in the local area, we're excited about the potential for 'built-up birding'.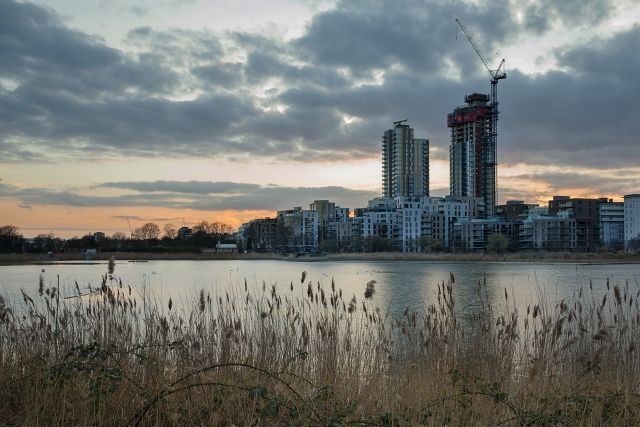 Woodberry Wetlands landscape (Photo: Penny Dixie).