Before 2008, the only reliable site for Cape Gull (Larus dominicanus vetula) within the Western Palearctic was at Banc d'Arguin in coastal Mauritania, where a single adult was discovered in April 1997 and remained until at least 2007. However, the Foreign Office have advised against all travel to Mauritania since 2008 due to terrorism and kidnapping threats, so connecting with both this and some of the other Mauritanian specialities (Grey-headed Gull, Long-tailed Cormorant, etc.) has become all but impossible for Western Palearctic birders.
Therefore, the remarkable news that four displaying Cape Gulls had been discovered at Khniffis Lagoon in southern Morocco in February 2008 was warmly welcomed by the birding community. Over the following two years, birders from across Europe travelled to Khniffis, recording as many as 15 birds, as well as the first documented record of breeding within the Western Palearctic region. Then came the big twist in the tale: on reviewing photos taken on a trip in May 2010, a group of Swedish birders soon realised that the plumage of the birds they had photographed fitted Great Black-backed Gull (Larus marinus) better and, when examining further images taken since the first report in 2008, it soon became apparent that almost all showed that species! Given that Great Black-backed Gulls were thought to breed no further south than France, this was a big surprise: it represented the first breeding record for Africa! Nevertheless, at least one photograph — taken in May 2009 — clearly showed an adult Cape Gull, suggesting that both species occurred alongside each other at the lagoon. The situation at Khniffis is explained in greater detail in Jönsson (2011).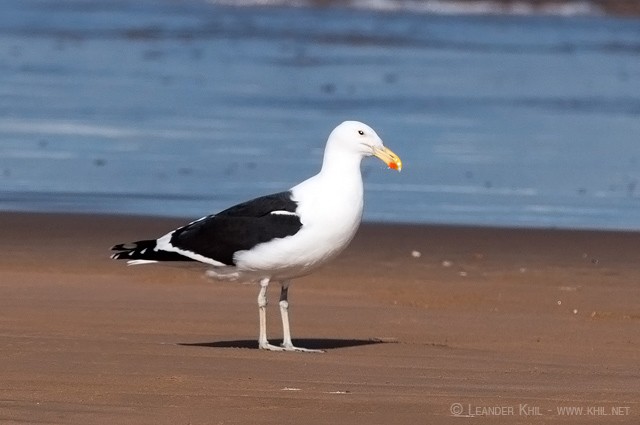 Adult Cape Gull, Akhfennir, Morocco, February 2012. Note the greyish-green legs, heavy bill, dark eye and obvious white trailing edge to the wing (Leander Khil).
Having seen the group of ten "Cape Gulls" at Khniffis in April 2009 and learning of the findings of Jönsson et al. just before our trip, I revisited the site in July 2010 with Richard Bonser, Oliver Metcalf and Dan Pointon. Although no Cape Gulls had been confirmed since spring 2009, we felt that scrutinizing the gull colony was a worthwhile way to spend a morning — particularly given the newly gleaned knowledge regarding Great Black-backed Gulls in the area. Sure enough, we found six Great Black-backeds but also, to our delight, two Cape Gulls. Clearly differing from the nearby L. marinus, at rest the pair were noted to be slightly smaller, and had obvious grey-greenish legs and a bill of a slightly different shade of yellow. In flight, the white trailing edge to the wing was very broad, while white in the primary tips was restricted to a small spot on p10 only. The birds were clearly paired up, the male being particularly territorial from its favoured perch, a small rock pile within the gull colony.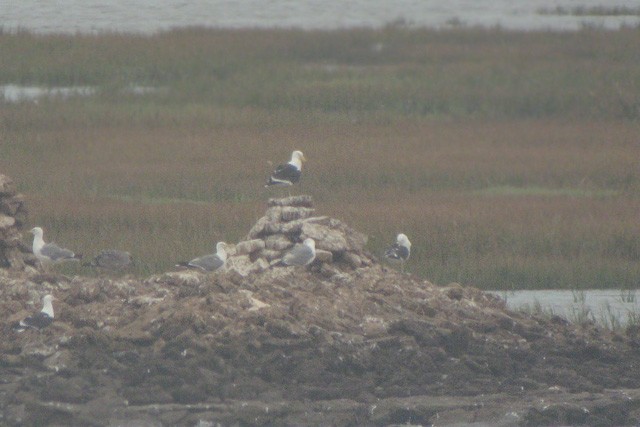 Two adult Cape Gulls (right-hand birds) with Yellow-legged Gulls. This image was taken distantly from the buildings mentioned in the directions below; note that, even at distance, both structure and the broad white trailing edge to the wing are apparent. A third dark-backed gull (bottom left) was not identified at the time; it may be a third Cape Gull or a hybrid (Josh Jones).
Since the 'rediscovery' of Cape Gulls at Khniffis in July 2010, up to two birds have been seen at the lagoon and along the adjacent beach with relative regularity, although just one bird has been seen so far in 2012. Birds have predominately been seen at or around the gull colony, on the rocky island viewed distantly north from the south side of the lagoon. However, this has generally been from March onwards, when the colony is re-inhabited by breeding Yellow-legged Gulls (Larus michahellis) — it's possible that the birds disperse along the coast during the non-breeding season, being less tied to the lagoon itself. In February 2012, Leander Khil et al. recorded a single adult among Yellow-legged and Lesser Black-backed Gulls along the beach towards the nearby village of Akhfennir, c.20 kilometres east of the lagoon. He commented that the bird appeared to be feeding out at sea for much of the time, coming to rest on the beach. Another visit at a similar time also failed to find Cape Gulls at the lagoon, although one was seen again in April 2012.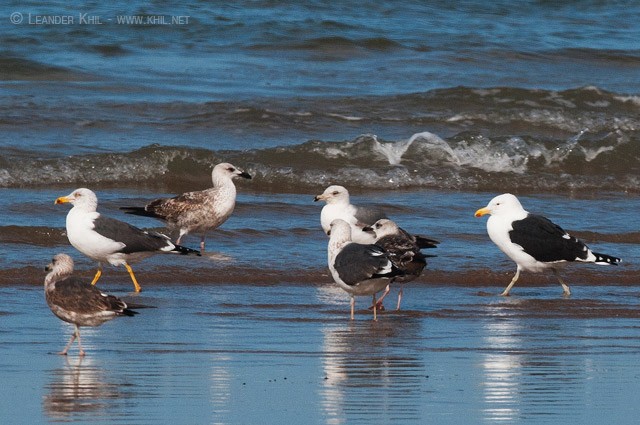 Adult Cape Gull (right) with Lesser Black-backed Gulls, Akhfennir, Morocco, February 2012. As well as being a slightly bulkier and larger gull than the Lesser Black-backs, note the jet-black upperparts and leg colour (Leander Khil).
As with any mixed colony of large white-headed gulls, confusion over records since 2010 has been clouded by the occurrence of apparent hybrids. In 2009, a mixed pair involving adult Great Black-backed and Yellow-legged Gulls was suspected to be responsible for a nest containing a single egg while, from 2010, at least one apparent adult hybrid has been seen. The hybrids appear to show intermediate characters between L. marinus and L. michahellis, with at least one showing a close resemblance to adult Cape Gull. Being intermediate in size between Great Black-backed and Yellow-legged, the birds are generally of Cape Gull size and bulk, with a white mirror restricted to p10. However, the legs are generally a slightly different shade of yellow, while the upperparts are more of a dark grey (cf. Lesser Black-backed Gull) rather than the black of Cape Gull. They also have pale eyes — unusual in Cape Gull — and the white trailing edge to the wing is not broad as in that species. It is interesting to note that all hybrids recorded since 2010 have been adult or near-adult; this suggests that at least one Great Black-backed Gull has been breeding with the local Yellow-legged Gulls since at least the mid–2000s! To confuse the situation further, it is worth noting that the Mauritanian Cape Gull was regularly paired to a Yellow-legged Gull, suggesting that we should not overlook the possibility that this species has also become embroiled in the breeding free-for-all at Khniffis at some point. However, Cape Gull has not been seen paired to any Yellow-legged Gulls in the area.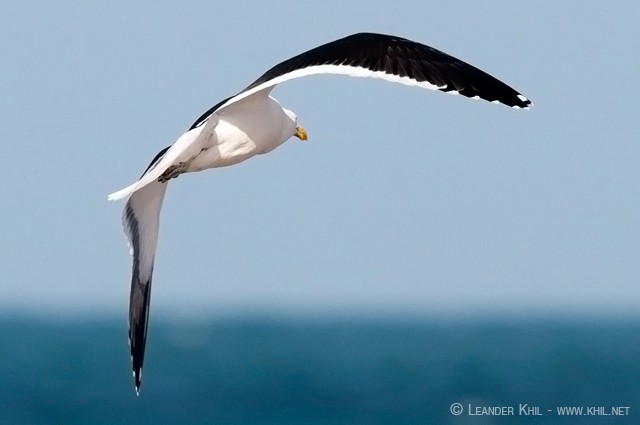 Adult Cape Gull, Akhfennir, Morocco, February 2012. Note the jet-black upperparts, broad white trailing edge to the wing, and white mirror restricted to the outermost primary (p10) only (Leander Khil).
To summarise, at least ten large black-backed gulls have been found regularly at Khniffis Lagoon since early 2008. Initially suspected to be all Cape Gulls, detective work in the early part of 2010 revealed that almost all records refer to Great Black-backed Gulls, with confirmed breeding of that species being a first for the African continent. Nevertheless, two photographed Cape Gulls within this period confirmed that the species was seemingly a rare but regular visitor to the site, and thus the finding of two birds (an obvious pair) in July 2010 was not entirely unexpected. Since then, closer views obtained have also illustrated that at least two adult hybrids (either Great Black-backed × Yellow-legged Gull, or Cape × Yellow-legged Gull) are often present at or around the colony, and could easily be a pitfall for the unwary — particularly if views are distant. As a result, any search for Cape Gull at Khniffis Lagoon should be undertaken with extreme caution and, for the benefit of the Moroccan Records Committee, photographs should ideally be obtained.
Directions, access and other birds
Khniffis Lagoon is situated close to the main coast road between Tan-Tan (130km to the east) and Tarfaya (65km west), and can be reached by taking the signposted turn north off the road at N28°00'15.54", W12°14'29.55". Extensive views of the lake (including the gull colony) can be had from beside the buildings at the end of this track (N28°1'42.87", W12°14'22.74"), although note that most birds are distant and a telescope is essential.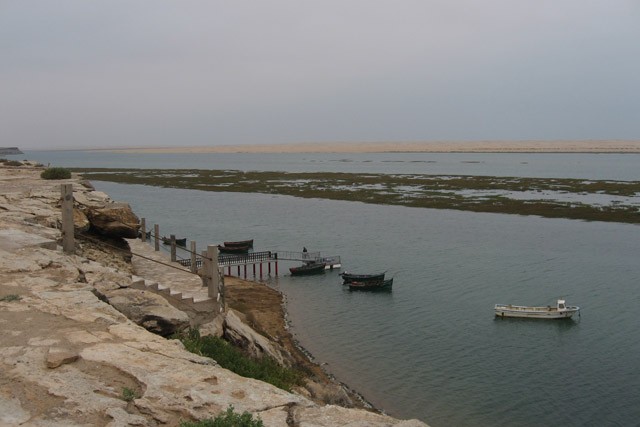 The jetty on the south side of the lagoon; this is the best spot to view the gull colony from land (Josh Jones).
To explore the reserve fully, a permit must be obtained from the nearby village of Akhfennir, on the main coast road around 20 kilometres east of the lagoon. Local fishermen are usually willing to take birdwatchers out onto the lagoon in their boats for a small sum of money; this inevitably gives better views of the gull colony in which the Cape Gulls are so often present. Alternatively, the beach between Akhfennir and Khniffis Lagoon can easily be explored by walking north from the coast road to the cliff edge to view. Please note that this route is the main trans-Saharan highway on the west coast of Africa, and plenty of large goods vehicles use it. Their driving can be described as erratic at the best of times, so it is wise to park sensibly off the road before exploring the area on foot.
Gulls aside, Khniffis Lagoon is a fantastic site for birds, particularly in winter. There are usually varying numbers of Greater Flamingos and Spoonbills present among other waterbirds, which can include waders, terns and the odd Ruddy Shelduck. Larks and wheatears may be found in the deserts surrounding the lagoon; on both visits I have seen Hoopoe Lark and Black Wheatear with relative ease along the approach track mentioned above.
References
Bergier, P., Zadane, Y., & Qnimba, A. (2009). Cape Gull: a new breeding species in the Western Palearctic. Birding World 22, 253–256.
Jönsson, O. (2011). Great Black-backed Gulls breeding at Khniffis Lagoon, Morocco and the status of Cape Gull in the Western Palearctic. Birding World 24 (2), 68–75. www.go-south.org (latest Moroccan sightings and literature)
Travel advice
The British Foreign Office currently offers no restrictions on travel in Morocco or Western Sahara. If planning a trip, it is best to check these websites for the latest advice before departure.